Life, philosophy and the art of sipping in the Cowichan Valley.
By Linda Barnard // Photos by Belle White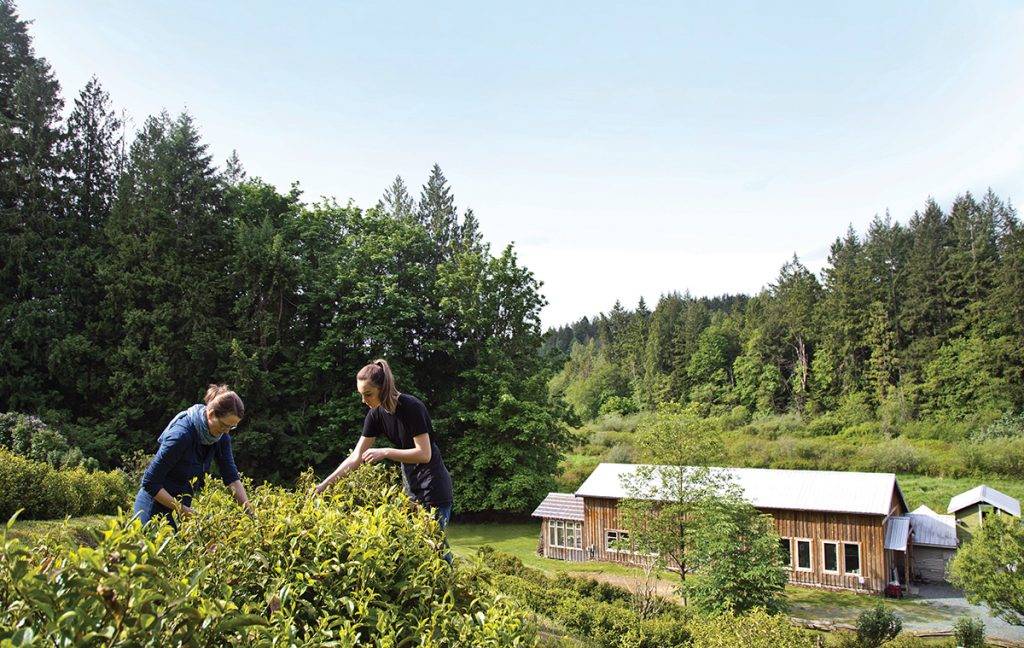 There's nowhere else in Canada that this path exists," says tea grower Victor Vesely as we walk the path between short, terraced rows of squat bushes covered in leathery, serrated-edge leaves.
It sounds a bit over the top. Isn't every path unique?
But this view is undeniably special, overlooking a row of robust tea bushes planted in 2010 in Vancouver Island's bounteous Cowichan Valley.
Westholme Tea Company's fledgling tea estate, run by Vesely and his wife, ceramic artist Margit Nellemann, is turning heads in the tea world. About 10,000 visitors a year come to the farm and tea room just outside Duncan to travel the world — including the Cowichan Valley — via tea.
The 800 evergreen bushes growing in this shallow valley are the same Camellia sinensis plants whose leaves have been plucked, processed and drunk as tea beginning thousands of years ago in East Asia.
This connection to tea history and tradition is the foundation for Westholme, a place whose spirit makes it hard to resist.
Tea and Terroir
Soft-spoken and earnest, Vesely is a compelling storyteller. He says he's been given the nickname "the Daoist raconteur" for being "the guy who tells stories but doesn't do anything."
While the raconteur part fits, the suggestion of a lack of endeavour doesn't. Vesely and Nellemann are devoted to their self-taught work of tea growing, processing and blending.
Vesely says their learning has been marked by "valuable mistakes."
Although it seems all practical knowledge is just a Google search away, Nellemann says there was very little available online when they started out. It was challenging to find information. They turned to other tea growers, tea experts and books.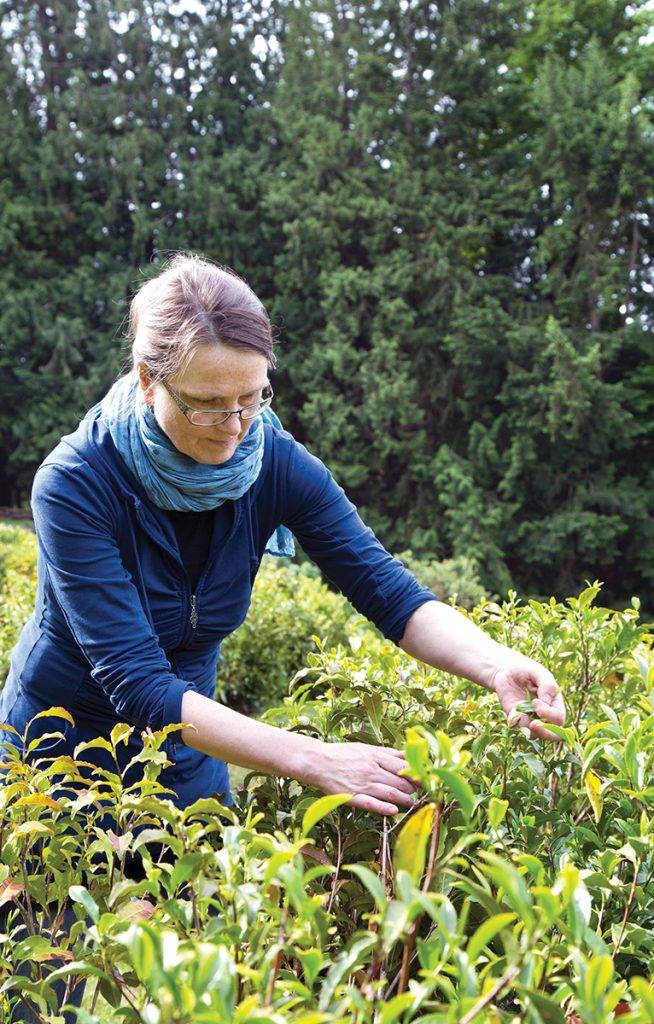 That's changing as tea growing becomes more popular, especially in the American South. "You can even grow tea bushes in your own garden here, with the right conditions," he says.
Success is growing along with Westholme's tea. More bushes were planted in 2014 and 2015, and there are plans to add 1,200 more. The plants are gradually developing a taste profile as the roots extend, reflecting the soil, wind and weather of the Vancouver Island region where they are growing.
Like wine, tea has a terroir. Signature flavours depend on many things, including growing elevation and time of the year when the tea is harvested (plucked). No two harvests taste exactly the same.
Vesely and Nellemann moved to this former dairy farm from Vancouver in 2003, seeking a more restorative pace and a rural lifestyle.
Nellemann, who was raised on a fruit farm in her native Denmark, has worked as a chef. She's also a ceramics artist. Vesely was in communications and coaching in the environmental field.
They started out with Artfarm, growing herbs, flowers, vegetables and lavender for market, combining the agri-business with Nellemann's ceramics studio.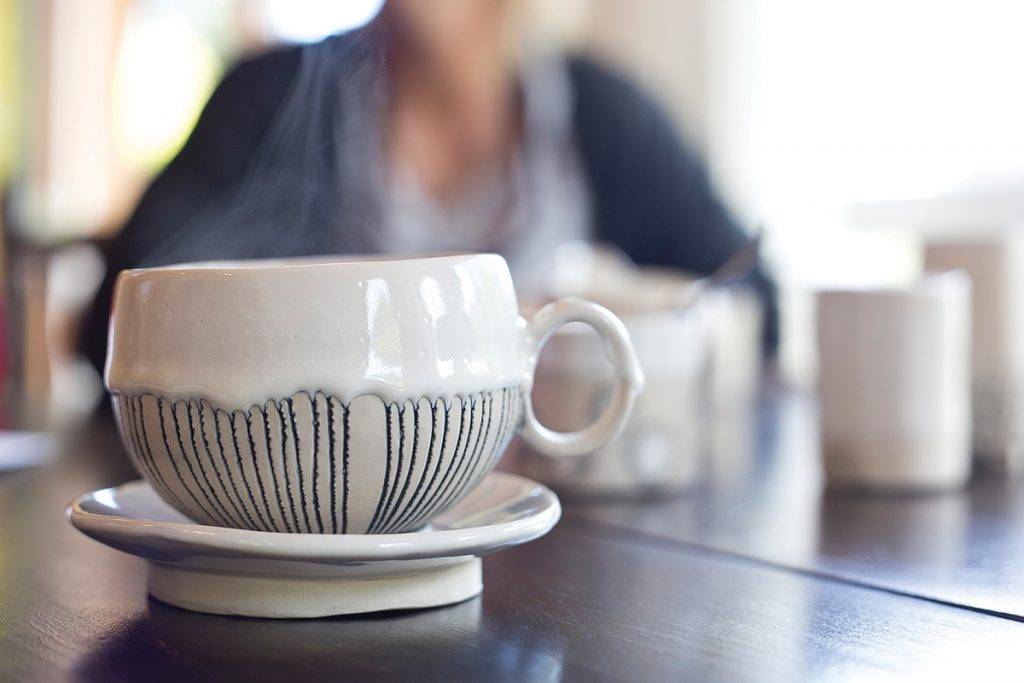 Both are tea lovers. Vesely had spent time in Japan and China, becoming a self-taught tea connoisseur and blender. Nellemann has a robust palate, a deep understanding of flavour and a chef's knowledge of both blending and culinary uses for teas.
Trying to Grow
Tea bushes thrive in many places in the world at high elevations, where it is cooler at night and warm during the day. Perhaps it could work, they thought at the time. But Island winters would push the plants, and
the summers can be warmer than the 20 to 25 Celsius where the bushes are happiest.
Nellemann and Vesely ripped out their lavender plants, building an earthen terrace to plant the first tea seedlings.
They were committed to growing tea with a Canadian flavour profile. It would be different from any other tea in the world, establishing a bona fide regional tea culture.
Turns out, Camellia sinensis can handle the stress of a Vancouver Island winter.
Nellemann and Vesely resisted the urge to pluck when the plants reached maturity at five years, giving them another year to grow.
"The eyes of the tea world had been on us, and it was really important that we didn't compromise on quality or make it a gimmick," says Vesely.
Six years after the tea bushes went into the ground, they plucked their first flush, or growth, creating Westholme Tea Company's debut tea in 2016 with Tree Frog Green. Swallow Tale Oolong came next.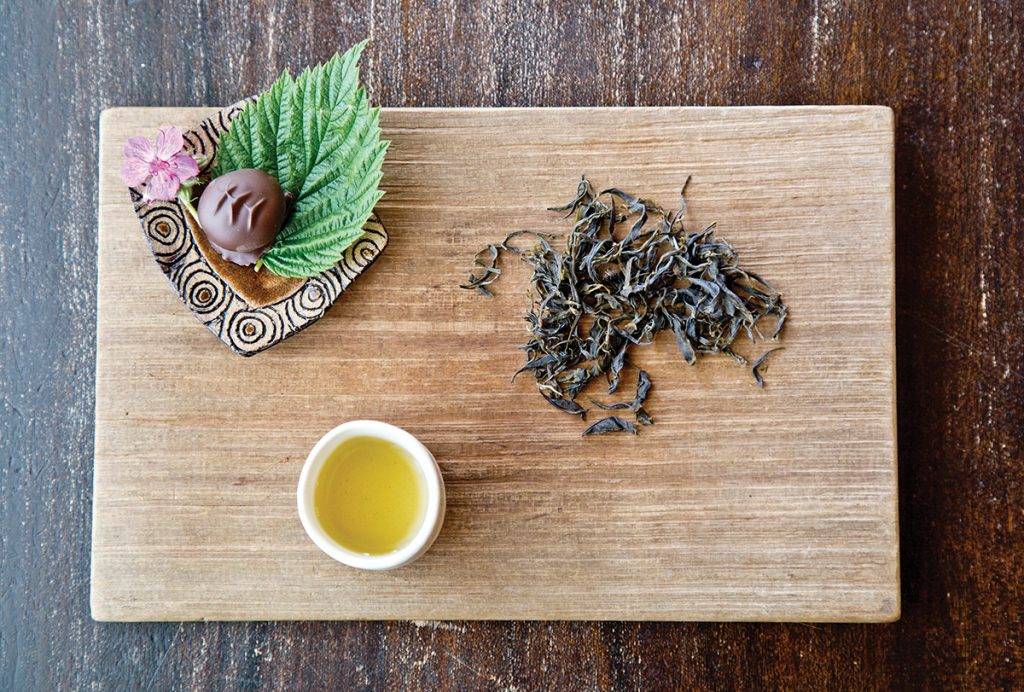 All varieties of tea come from the same Camellia sinensis plant. Processing determines if it will be green, oolong, white or black. Westholme produced the first three varieties for its seven teas made from the estate-grown tea plants. They'll make their first black tea this year.
The bushes are tipped with tiny green shoots on this spring morning as Vesely leads the way along the terraces, planted on hills along the driveway.
A Secret Sensibility
Little Sicker Mountain, Mount Prevost and Mount Richards ring the farm, making it feel like a secret place. A tall wall of golden bamboo leads to the small tea room and shop in the one-time barn. Nellemann's drip-glazed ceramic spheres and globes are placed in the gardens.
It's green and peaceful. Faint wood smoke from the stove inside blends with the rich leathery-floral aroma of osmanthus flowers in the garden. A sign reads: "Steeped in nature."
Vesely and a neighbour transformed the former dairy barn into an airy tea room. There's also a studio where Nellemann makes ceramics, including fanciful teapots that wouldn't be out of place in the pages of a Dr. Seuss book. The former milking parlour is her retail showroom.
Nellemann's elegantly rustic drinking cups have slight indentations, raised surfaces and swirling designs, pleasing to hold as well as to admire while sipping tea.
In addition to growing and processing Westholme estate teas, Nellemann and Vesely import high-quality loose teas from around the world to sell as individual teas, or in one of their unique blends.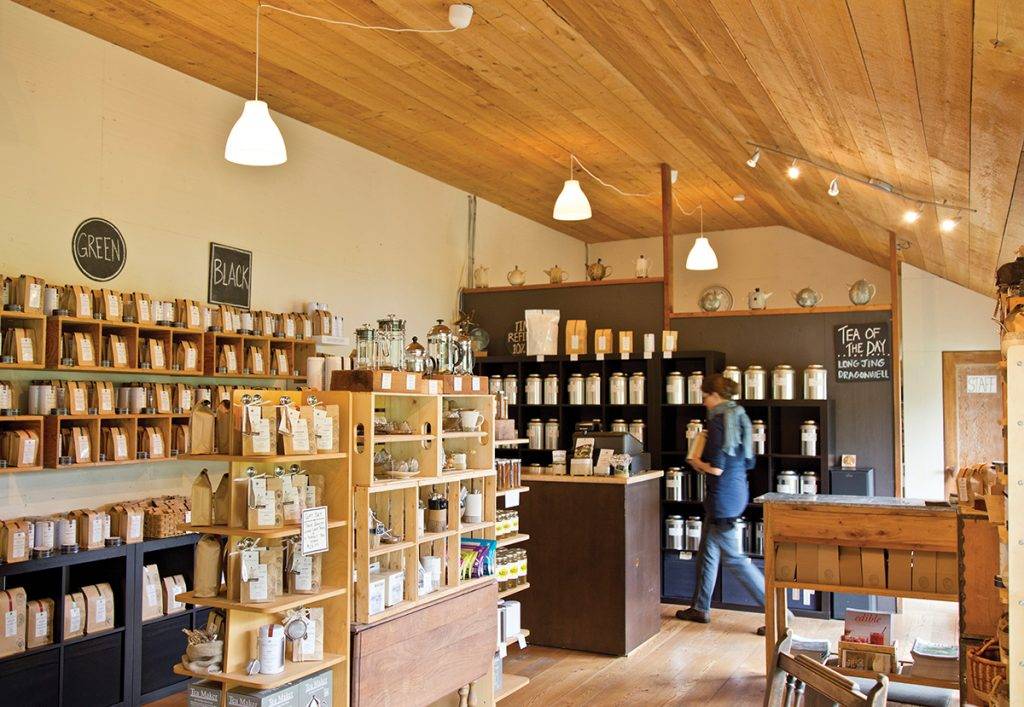 More than 100 teas and herbal tisanes are served by the pot for one, or larger versions for sharing. Nellemann's ceramic cups, bowls and teapots are part of the drinking ritual. Fresh flowers are arranged in tall ceramic vases, also made by her. Like the teapots, the cylinders have whimsical little feet, inspired by the couple's dachshunds, Magnus and Thea.
Customers come to buy teas or ceramics, or to sit over a pot of tea by the wood stove or in the garden. There's a menu of sweet and savoury snacks from Duncan caterer Michelle Plain of Art to Eat. Most have tea as an ingredient. The menu suggests tea pairings.
Created to Share
Sharing and community are key to the farm and the enjoyment of tea, Nellemann says.
So we share a pot of a remarkable Maple Smoked Green, made from tea grown and processed just a few metres from our table.
Vesely was inspired by pine-smoked Chinese Lapsang souchong tea when he created Maple Smoked Green. He was seeking "a true Canadian experience," using Westholme-grown green tea and tea bush twigs that had suffered, yet survived, winter damage.
The tea is cold smoked over Bigleaf maple chips from a tree taken down on the farm, giving the brew a gentle smoky and faint maple-sweet flavour.
Vesely carries the tea service to the table. The steeping tea is presented in a science lab beaker "to honour the experimental nature of it." It also makes it easy to see the mix of leaves and twigs and to admire the rich amber colour.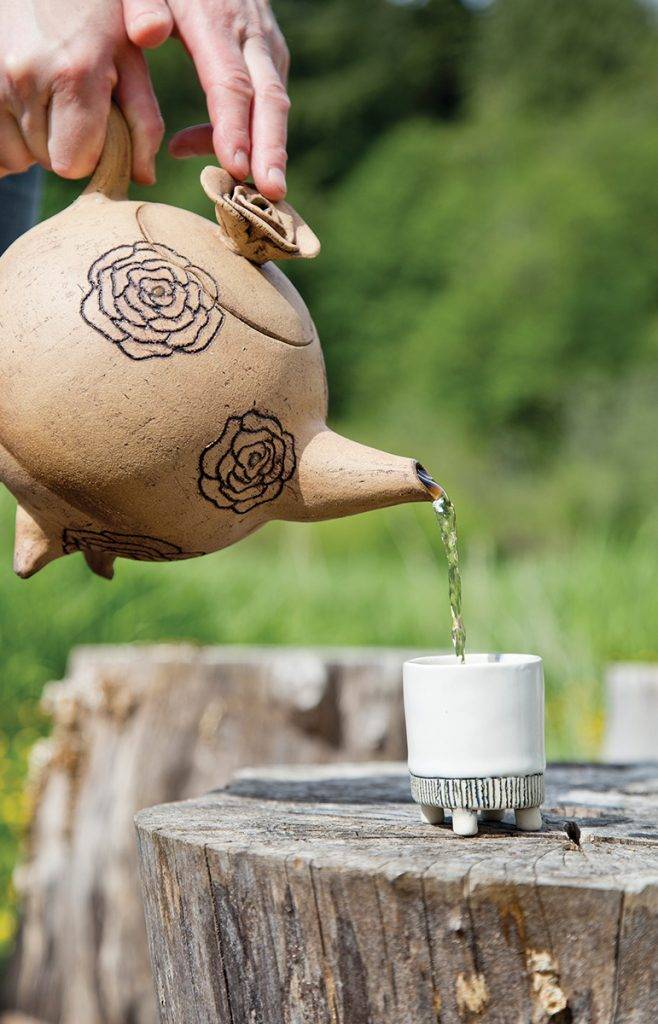 Once steeped, Vesely transfers the liquid into a Nellemann teapot to be poured into her V-shaped cups, designed expressly for drinking the Maple Smoked Green.
V for Victor Vesely and V to concentrate the aroma and flavour.
What does Cowichan Valley tea taste like? Nellemann describes it as vivacious with a nice astringency that shows in a gentle pull at the jawline.
Vesely says there are "hints of muscatel" in the green teas. Some are more tannic.
"There's a softness and a subtlety to all of the teas," he says. "They don't push heavily in bitterness."
He describes them as inviting and approachable. "That's part of the Canadian experience too," he says, talking about how the hardy plants overcome winter.
He pauses and looks a bit sheepish. "It sounds a bit patchouli woo-woo," he says with a chuckle.
But why not?
We pick up forks to share a slice of creamy, pale green matcha cheesecake with a hazelnut crust from the tea pairing menu. The sweetness balances well against the smoky tea.
Land of Buds and Leaves
Nellemann is pleased that local and international "tea geeks" seek them out and that tea growers and experts from around the world have come to the farm.
Newcomers to tea are just as welcome as the experts, says Nellemann. Even if loose tea intimidates them, even if all they've ever had in their cups is Red Rose.
"For us, tea is pleasure and enjoyment," she says. "Enjoy it the way you want to have it. Don't be embarrassed that you like a really good black tea and you want to put milk in it."
But if you want to explore or experiment, the tea room is a good place to start, especially since you will be helped by tea room staff.
Vesely refers to them as family. When the first flush happens, they also participate in the pluck.
"The staff have the privilege of standing on the slopes and plucking tea and connecting with tea from all over the world," he says.
The pluck happens three times a year at Westholme. A perfect pluck is two leaves and a bud. Pale green and fragile, it takes a sizable amount to get any volume. Vesely says a kilogram of Darjeeling tea (plucked from the Camellia sinensis variety Camellia sinensis assamica) has 10,000 bud sets.
Westholme's tea plants yield about eight kilograms of tea, which explains why prices start at $25 for 10 grams.
That's if you can get it. The teas are almost always sold out, although you can sip a cup or share a pot of what's available in the tea room.
"The rare tea collectors don't take us seriously because we're not expensive enough," Vesely says. "And some people walk in here and have a coronary [at the price] and go, 'What?'"
Vesely and Nellemann are also working with local chefs, making tea leaves and flowers available for culinary use. Last year they partnered with Hudson's on First restaurant in Duncan to celebrate the spring harvest with a teamakers' dinner.
Sheringham Distillery's award-winning Kazuki Gin uses Westholme's green tea and tea bush flowers. Boom + Batten Restaurant at Victoria's International Marina will be serving Westholme's teas, including their own signature house blend.
There are plans to expand the estate, adding another 2,200 tea bushes.
Beauty of the Bud
Back amidst the tea plants, Vesely shows me how to pluck the ideal two leaves and a bud from the soft, new green growth.
I follow his example.
"You see the beauty of the bud coming through, and I'm going to invite you to take that and do something that most people will never experience in their lives, and that's to go ahead and eat it," Vesely says.
We pluck and chew. It tastes a bit creamy, like a green hazelnut; slightly bitter and then sweet.
I recall a 1970s television ad for Red Rose Tea. Haughty British tea drinkers sip the Canadian-made blend, love it and are crestfallen when told it's only available in Canada.
"Pity," comes the reply.
And now Canada has its own home-grown tea. How wonderful.
---
This article is from July/August 2019 issue of YAM.