The thrilling, twisting drive to the wild West Coast of Vancouver Island brings you to a T-junction and a question: Turn right to Tofino or take a Ucluelet roadtrip and turn left? Go left for a change.
By Linda Barnard | YAM Magazine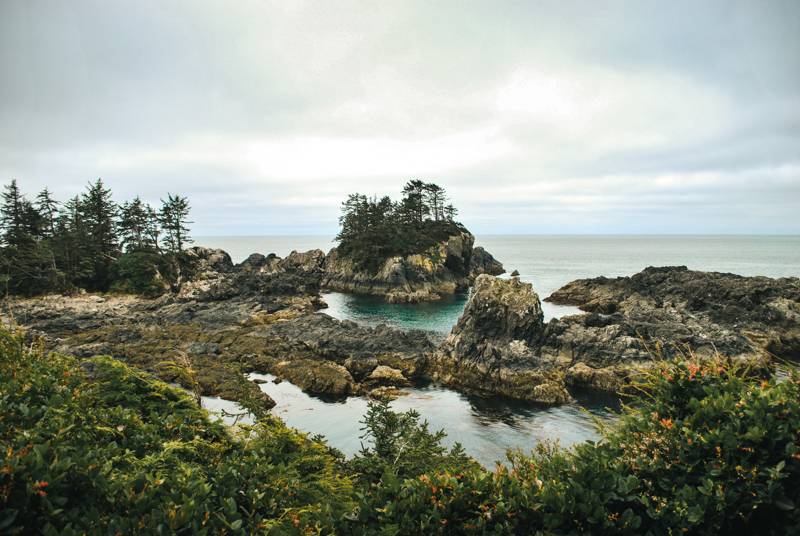 Locals call it Ukee. You will too before long. Think of Ukee as surf capital Tofino's scrappy, free-spirited younger sister. Wild and rugged, open-hearted and a bit rough around the edges, the beaches are rocky and the town takes pride in its blue-collar roots.
Ucluelet "is cool because it's not cool," said Warren Barr, chef and co-owner with his wife Lily Verney-Downey of Pluvio restaurant + rooms on the Peninsula Road main drag.
Pluvio was named one of the best new restaurants in Canada in 2019 by Air Canada's enRoute magazine. Which seems pretty cool to me. The multi-course chef's tasting menu is a delectable, often-playful culinary adventure embracing local, seasonal and foraged foods, along with a lengthy list of house-made items.
Four rooms behind the restaurant include bespoke details by Island makers and providers, including a My Friend Monster stuffie on the bed.
(Hotels, restaurants, activities and retailers visited for this story are all following provincial COVID-19 safety protocols.)
Starting the Ucluelet Roadtrip
I kicked off my Ucluelet roadtrip with a late lunch of local cod and fries at Jiggers Fish & Chips food truck, then walked a couple of blocks to the Ucluelet Aquarium, home of Canada's first collect-and-release collection. I tried not to feel guilty about my lunch.
I also stopped in at the nearby First Nations-owned Cedar House Gallery, where the owner, Nuu-chah-nulth carver and artist Tlehpika Hjalmer Wenstob, shared stories about the artists and their works.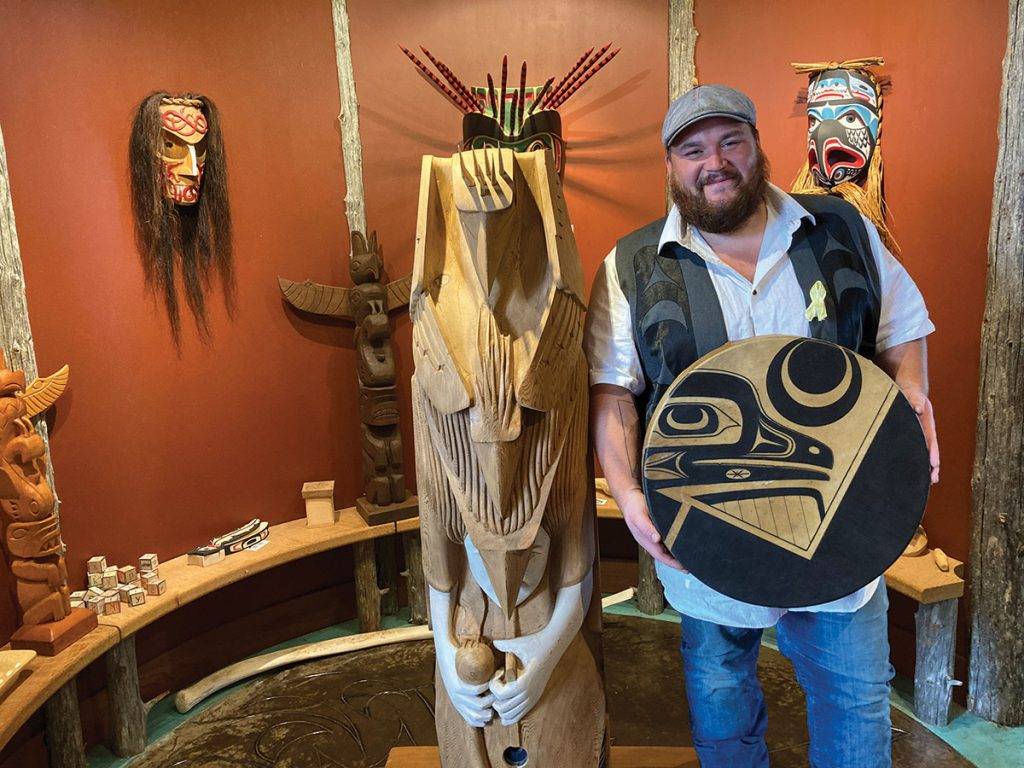 Wenstob has several pieces here, including a graceful totem pole centering on a kingfisher and a whale that tells his family's story.
Wanting to stretch out the kinks after my long drive from Victoria, I took an outdoor drop-in yoga class by The Studio, which was held overlooking Big Beach.
Places to Stay and Things to Do
Across the rocky shore and beach I could see my hotel, the Black Rock Oceanfront Resort. Made of wood, glass and steel and dramatically situated on a rock promontory above ocean swells, the U-shaped hotel is surrounded by rainforest. I fell asleep in my plush bed that night to the murmur of the surf.
"I always say, in my eyes, Tofino has turned into a tourist town, where Ucluelet is a town with tourists," said Hello Nature Adventure Tours guide Cali Mitchell the next morning as we admired colourful sea stars clinging
to black rocks on Ucluth Beach. The beach fronts Indigenous-owned Wya Point Resort, and is a great hiking spot.
The magnificent eight-kilometre-long Wild Pacific Trail has multiple entry points in town. The winding forest paths lead to seascape overlooks where the only sounds are seabirds and the churning ocean.
Later, I'd get a different view of the ocean, paddling a sea kayak on a three-hour harbour tour with Majestic Ocean Kayaking, the Broken Group Islands visible in the distance.
Eating + Drinking
I rewarded myself for all that activity with a stop at the recently opened Ucluelet Brewing Company, housed in the beautifully renovated former St. Aidan's on the Hill Anglican Church.
People were enjoying snacks and tasting flights on the patio overlooking the commercial harbour; others were getting cans or a growler to go from the pickup window.
Head brewer Allan Cukier makes a variety of small-batch craft beers, from IPA to porter. He likes to change things up by using local ingredients. His Sitka Spruce Tip Sour, a tart, limited-edition sip is made with foraged spruce tips.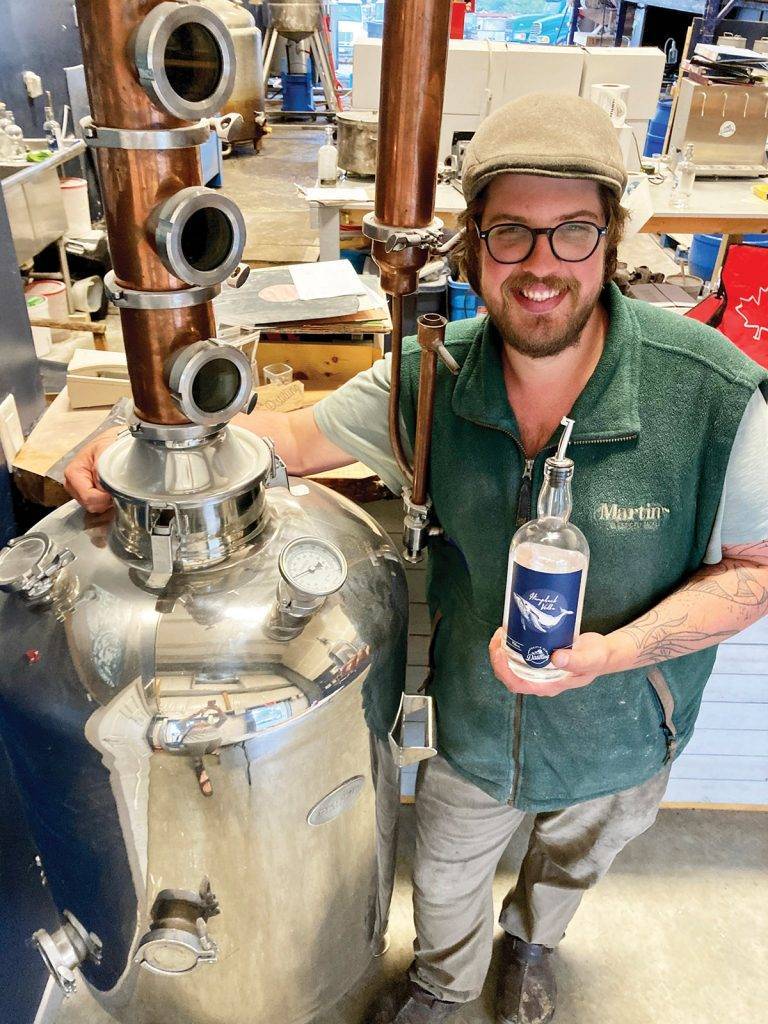 At Pacific Rim Distilling, 28-year-old fourth-generation distiller Luke Erridge makes smooth, small-batch craft spirits, just like his granddad taught him. The distillery is open for socially distanced tastings.
"Ukee is a happening place," said Erridge, who enthusiastically shares the story of how he makes Humpback Vodka and Lighthouse Gin using B.C.-grown malted barley. He forages for eight local ingredients for the gin and cultivates wild yeast around Barkley Sound for fermentation in stills named Patricia and Judy, for his grandmothers. The spirits come in handmade cedar boxes.
"It's a pure expression of the terroir. They're tasting a piece of Barkley Sound," he said.
Yes, they use words like "terroir" in Ukee. There are many creative chefs at work here, including when it comes to breakfast.
Dustin Riley, owner and chef at The Blue Room, A West Coast Bistro, serves his Eggs Benedict with thick chunks of wild steelhead salmon cured with a cumin dry brine, then wood smoked.
People are drawn to this area because it's the California of Canada, he said. "It's just Ukee," Riley added. "We're so proud of where we live."
Did you enjoy this article about taking a Ucluelet roadtrip? Continue reading… Take a Weekend Trip to Sooke, B.C.