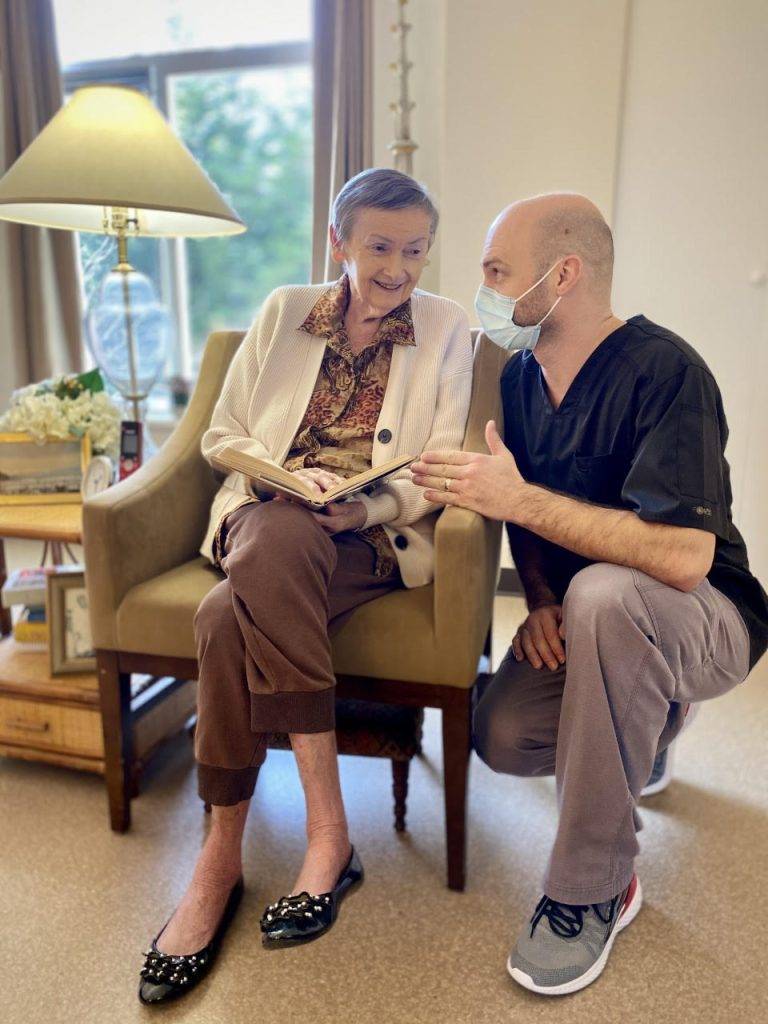 When is the right time to move a loved one into care? When you decide that it is, how do you have "the conversation" with them? These are two very good questions.
Starting the moving-into-care conversation with an aging parent or loved one is never easy. The idea of leaving home and everything they are familiar with brings with it a great deal of uncertainty and unpredictable reactions.
What to consider before you begin
Perhaps the most important of our caregiver tips is to not go it alone. Enlist a network of support; family members, Senior Living Advisors, local support groups, and friends can assist in the decision-making process. It is crucial to gather all the facts before you have "the conversation".
When discussing things with your support team, it's important to remember family members aren't always going to agree on everything. Someone who isn't necessarily as present in the day to day lives of parents as others may not fully understand their parent's changing needs or limitations.
The key is communication. Give everyone a turn to speak, hear them out, don't make it personal, and work together towards a consensus. When it's time to speak to your loved one, the same rules apply. Listen to their concerns, keep things positive, and engage them as much as possible in the decision-making process.
The next step – Sidney All Care Residence
When you've reached an agreement that it's time to seek out the best option for your loved one's care, it's time to reach out to us at Sidney All Care Residence.
Sidney All Care Residence is an 88 bed long term care home located in beautiful Sidney by the Sea. We proudly offer long term, complex, and palliative care, up to and including end of life care. We also provide respite care during short term stays while one is convalescing, or a caretaker requires time away.
Our award winning team of healthcare professionals go out of their way to make however long you're staying with us a superlative experience. We have 24 hour licensed care staff including RNs, LPNs, and HCAs, as well as our recreation, food services, housekeeping, administrative, and leadership teams.
Our recreation team provides a variety of activities each day to suit all levels of abilities and interests. Our food services team consisting of Red Seal cooks and caring dietary aides make each dining experience a special moment in the day for our residents.
Our housekeeping team ensures that our home is kept clean and comfortable at all times, and our admin and leadership departments work hard to make sure all teams have the resources and support necessary to operate smoothly.
When you make the decision to move your loved one into our care, you can rest easy knowing they are in the best hands. Our team will assume all the responsibilities of day-to-day care, and you can go back to enjoying stress-free family time together.
Our goal is to always provide our residents with a superior quality of life, and as being surrounded by the love of family is a large part of that, we encourage families to be as involved as much as they wish to be. We also encourage families to make the rooms as comfortable and familiar as possible for their loved one by bringing in some favourite items from home to create an individualized space, which fosters feelings of security, relaxation, and comfort.
Resident wellbeing is our top priority at Sidney All Care Residence, and we are equipped with many safety features. Call bells are located at both bedside and the bathroom which ring to the cordless phones carried by all staff. Pendants can be worn by our residents who enjoy the freedom to wander, as well as bed and chair alarms for our most vulnerable residents which also ring directly through to care staff.
Fall mats are placed at the bedside of residents who are at greater risk of falling, overhead lifts are provided for those who can no longer bear any weight, sit-to-stand lifts for those with good upper-body strength but require some assistance with standing, and our exits, stairways, and elevator are equipped with secure keypads to ensure the security of our floors.
To learn more about how we can assist in making the process of a move into our care as seamless as possible, or to book a tour please contact our Community Relations Manager Sharon Unsworth at 778.351.2505, sunsworth@allcarecanada.ca or please visit our website at allcarecanada.ca. We look forward to welcoming you home to Sidney All Care Residence!