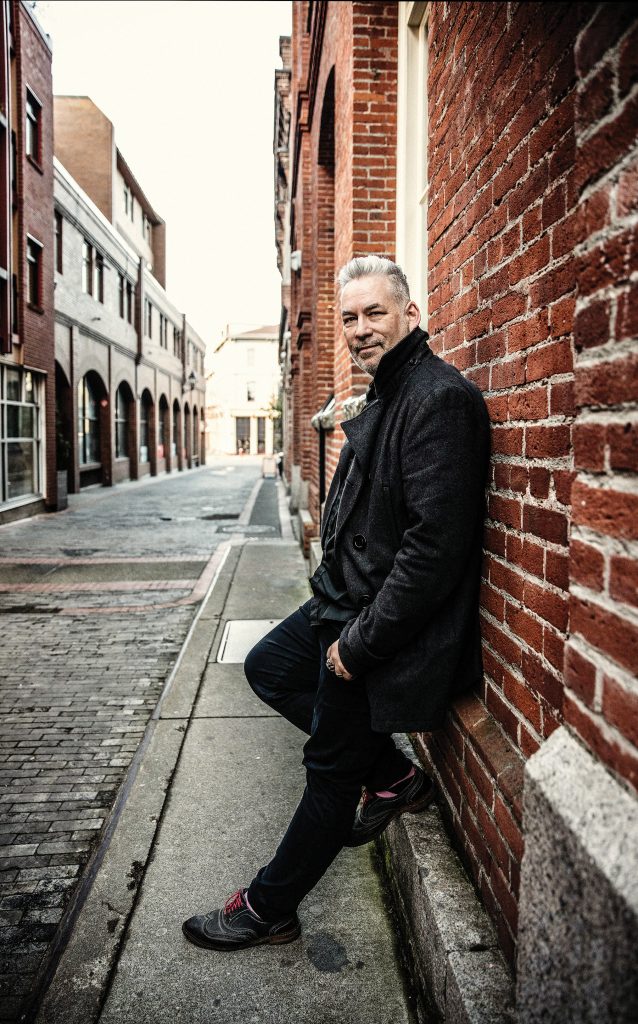 by David Lennam
The streaming giant received 10,000 submissions for its Canada-wide virtual pitch call last year. Of the 50 creatives shortlisted, three call Victoria home.
Most writers spend the majority of their lives writing for other people, which, for one Victoria writer, is kind of like being a cabdriver.
"Somebody gets in," muses Jordan Stratford, "the meter is running and they tell you where to go and you take them there."It's not glamorous. It's rarely your idea. It's an assignment."
But when Netflix thinks your stories might make great TV, that's when you begin to tingle. Three Victoria writers —Stratford, Erin Latimer and Rebecca Sky — all made the cut when the streaming giant invited Canadians to pitch show ideas last fall. Of the 10,000 who submitted, only 50 were shortlisted.
"I was shocked, not only because I got in — I wasn't expecting anything — but that the three of us got in all together," says Latimer. "Jordan, Rebecca and I are close. We're good friends."
Pre-pandemic, the three would meet for coffee, take part in Zoom chats and commiserate when they were struggling with their craft.
"We have all sat in relative silence with coffee at the table and a bunch of laptops open to just have a writing sprint," adds Stratford.
Sky calls Latimer one of her best friends.
"We found writing around the same time," Sky says, revealing she was the one who convinced Latimer to enter a Netflix submission.
"We're in the grind together. We celebrate each other's success and failures and to have all three of us get to this next stage together, friends from a small town who write together … There's something in the water in Victoria, in the arts community; our writing is at a national level."
Of the three — all have published predominantly in the world of YA (young adult fiction) — only Stratford has been invited into the next round with Netflix.
The 54-year-old, who has worked in advertising and has been a Hollywood writer-for-hire — "the bottom feeder of the industry," he calls that gig — offered two projects to Netflix, one animation and one live action. They bit on a cartoon version that expands on his über-popular Wollstonecraft Detective Agency Series (Knopf) about two young crime-solving girls: Mary Shelley, the writer of Frankenstein and Ada Lovelace, the first computer programmer.
Ironically, Stratford's original concept for Wollstonecraft was jotted on a Post-it Note that sat in a drawer for several years. He scrawled at the bottom of the note that it was to be animated.
"After I'd written my first novel, I was rooting through the drawers and took that original cartoon idea to novelize it. It has gone full circle to its original concept."
Sky, whose titles include Arrowheart and its sequel Heartstruck (Hachette), confessed that it was only the coaxing of a friend that got her pitching to Netflix.
"I'm in a Facebook group called inkcanada, and it's all top writers for TV shows. Some writers from my favourite shows were writing about how Netflix rejected them, so I assumed, if they're not getting it, I'm not getting to the next round."
What Sky pitched was "a body positivity rom-com about a girl who's the sibling of a famous YouTuber who does pranks" and from there, goes down a bit of a rabbit hole.
"It was very close," she says, "but the reason [Netflix] didn't go for it was they had a hard time wrapping their heads around how they'd show the moments of fat phobia and ableism on screen without making it comic relief or jest. That's frustrating tome because I believe these conversations need to be had."
Sky is working on another YA novel, a rom-com/art heist with a body positivity message.
Latimer, the author of Witches of Ash and Ruin and The Strange and Deadly Portraits of Bryony Gray (Tundra), gave Netflix her witches tale about a pair of rival covens in Ireland. They have to team up in order to take down a serial killer who's hunting witches. But, it seems, the trend of witchcraft as a TV plot line is so hot right now that Netflix already has enough in production and consideration.
However, opening up a channel of conversation with a major content platform has her jazzed.
"That, to me, was victory. Even ifWitches of Ash and Ruinis not going to become a TV show right now, [they] want to see future projects."
One she's writing now, In A Forest Dark & Deep, she hopes will be her breakout onto the screen. Meanwhile, her latest novel, Escape to Witch City, will be published in August.
Sky also thinks pitching to Netflix will give her that much more exposure and clout when it comes to deals down the road. "Generally, authors that have one or two books out every year aren't even making sustainable income. It's pretty sad."
Exposure, agrees Latimer, is a clear advantage.
"The people who are getting book deals are the people who have platforms on TikTok, they're big on YouTube or they've got a huge Twitter fan base because publishers are just not taking chances right now."
"Having a degree of ownership over your own content, I feel really fortunate to have been able to make that transition," says Stratford, though he's hesitant to begin celebrating a Netflix deal … yet.
"We've been really close before only to have lawyers walk away and not make it work."