A new book about Canada's brunch capital will convince you that breakfast is really
an "anytime, anywhere" type of meal.
By Cinda Chavich

PHOTO: REBECCA WELLMAN
---
Victoria has a decidedly healthy café scene. Hearty breakfasts that morph into late brunches — with locally roasted coffees — are de rigueur here, earning the city the title of Brunch Capital of Canada. Which is why local photographer Rebecca Wellman decided to chronicle our obsession with morning meals in her new book, First We Brunch (Touchwood Editions).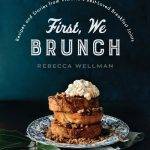 "Victoria is a breakfast/brunch/lunch town above all else," says Wellman. "Brunch makes a very leisurely group gathering — it's almost as though it's replaced dinner here."
At 300-plus pages, First, We Brunch features dozens of local spots to dine out for eggs every way, and includes profiles of some of the city's fine local producers of morning meal essentials, from eggs to artisan sausage. Wellman includes some of the city's best stops for a takeaway breakfast sandwich, places to shop for ingredients, and lots of breakfast and brunch recipes collected from local chefs. You'll even find instructions for shaking up some eye-opening morning cocktails.
It's all part of the "brinner" (a.k.a. "breakfast for dinner") trend in the restaurant world, but Victoria is ahead of the curve. In fact, you'll find locals and visitors lining up seven days a week to be served at breakfast hot spots such as The Village cafés (where Eggs Benedict has become a bit of an art form), The Ruby (with its famous rotisserie chicken and waffles), Jam Café and Shine.
"I think maybe there's an economic factor — Victoria has a lot of students and young entrepreneurs who may not have the funds to do big dinners," Wellman says. "The most prominent demographic in the brunch crowd is 20- to 35-year-olds, and they do breakfast and lunch meetings here every day."
A few dinner spots have even added creative brunch offerings to the mix. Many restaurants (think Agrius, Saveur, Fishhook and Northern Quarter) are taking egg dishes into new territory, whether it's egg and perogy breakfast hash, Middle Eastern poached eggs in spicy shakshouka sauce or paneer poutine with smoked sablefish and eggs.
"Chefs have caught on," says Wellman, "and have designed beautiful, curated breakfast menus." Which is why it's hard to decide where to head for brunch — and why Wellman's book is such an essential guide for breakfast lovers. "It started with 35 places for brunch but there are 52 in the book and could be more — the research is endless," says Wellman. "Victorians love their morning meal."
This article is from the March/April 2018 issue of YAM.