By Melissa Gignac | Photos by Jeffrey Bosdet
From elegant rings of lush juniper to loopy twists of vine and draping cedar, it's all about personal expression when crafting your own winter wreath.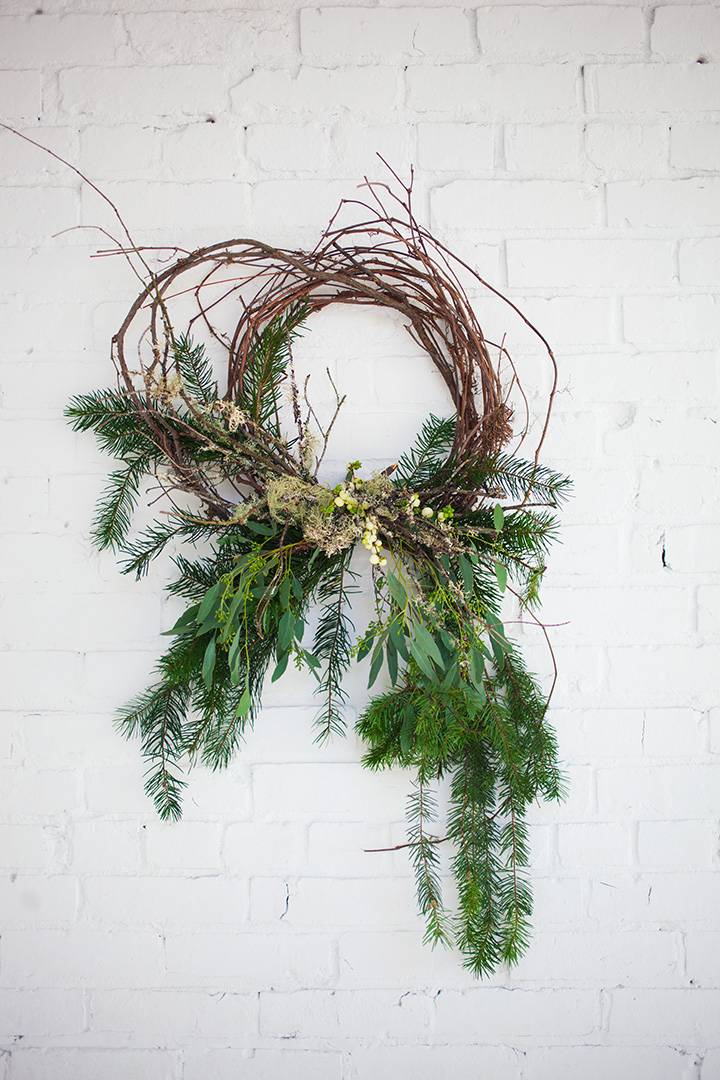 Taken from Middle English wrethe and Old English writha — meaning "to twist" — the wreath is one of our most recognizable and enduring symbols of the Christmas season.
While contemporary wreaths are primarily decorative, their history is steeped in a rich narrative of cultural and religious tradition. In Greco-Roman culture, wreaths of laurel indicated rank, status and wealth, birthing the notion of resting on one's laurels. Ancient Olympic victors were crowned with kotinos, wreaths crafted of olive branches. Rings of produce such as wheat, fruit and nuts served to ensure a bountiful harvest and protect against crop failures. Advent wreaths, laid on a table or stand and adorned with a candle for each of the four Sundays before Christmas, with one in the middle representing Christmas Day, evolved into the wall and door-mounted wreaths we recognize today.
The foliage of wreaths is imbued with symbolism. Holly, strongly associated with traditional Christmas wreaths, is tied to the story of the Crucifixion; its pointed leaves reflect Jesus's crown of thorns, with the bright red berries representing his blood. Wreaths made of evergreen foliage — born of trees that survive the harshest winters — symbolize strength, rebirth and eternal life. In a contemporary, secular context, an elegant wreath mounted on the front door symbolizes one word — welcome.
Meet the Makers
With this in mind, I head to Leslie Shewring's light-flooded Fan Tan studio to meet Pam Lewis of Moonrise Creative and urban flower farmer and floral designer Christin Geall to talk wreaths and to get a hands-on preview of the wreath-making workshops they'll be offering this holiday season.
---
Ranging from refined rings of juniper to drapey boughs of fir and cedar, Geall and Lewis's creations embrace the notion that personal expression is integral to design. As Geall notes, "Everyone has such a different concept of what is beautiful."

Lewis agrees. "It doesn't have to look perfect; it's nice to have your own personal touch," she says. Incorporating favourite ornaments or baubles imbues sentimentality; battery-operated microlights can be wired in for a bright welcome on dark winter nights, and avian aficionados might follow Portlandia's sage advice and "put a bird on it."

Geall assures me that all the looks they demonstrate are manageable for those who don't consider themselves crafty. "Quickness of hand is worth a good eye. A lot of people think they need a good eye, but actually what they need is to be able to work fast and just keep going."

Rings of Fancy
Geall's twist on non-traditional sees asymmetrical boughs of fir and seeded eucalyptus draped casually from a foundation of loosely turned Virginia creeper, twisted and tucked around itself using the tensile strength of the vine to secure and hold its shape.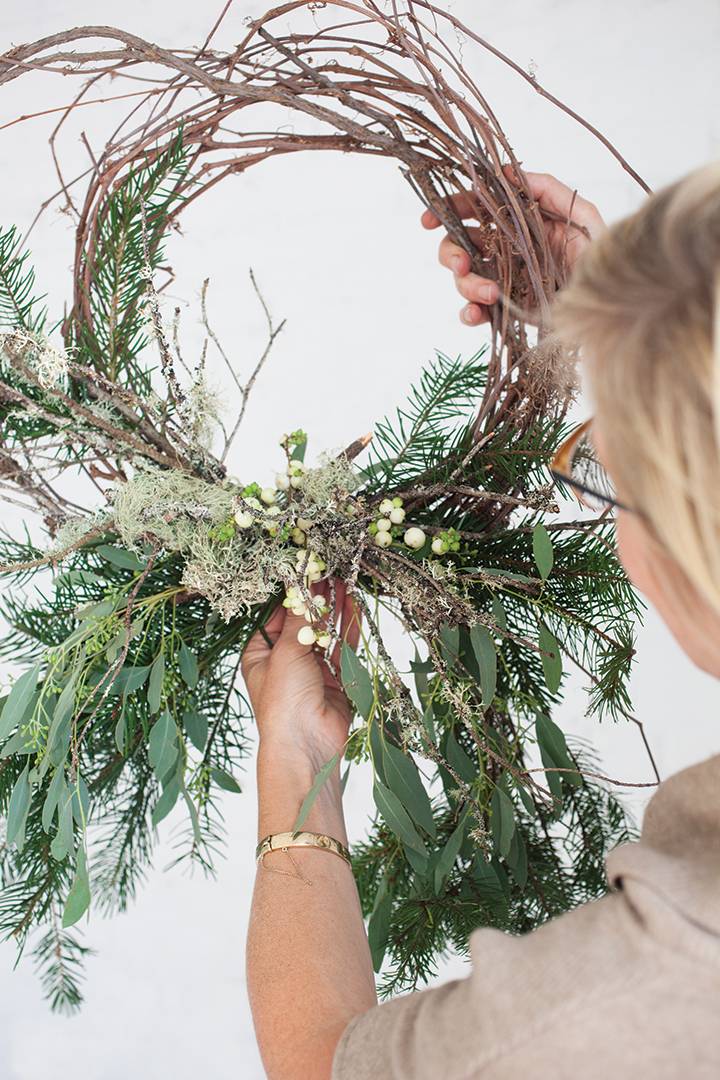 Pops of snowberry nestled in delicate lichen and old man's beard combine to form a rustic yet elegant focal point. Geall suggests not being afraid to work out from the wall, noting "we always think of a wreath as on a flat plane, but it doesn't have to be. It adds dimensionality."
Holiday Cheer
For a more formal look, Geall fills a wire frame with moss, affixing juniper with a continuous strand of wire. Mercury glass ornaments are affixed to 26-gauge gold wire and poked though the moss, forming a simple yet elegant cluster of bauble bling.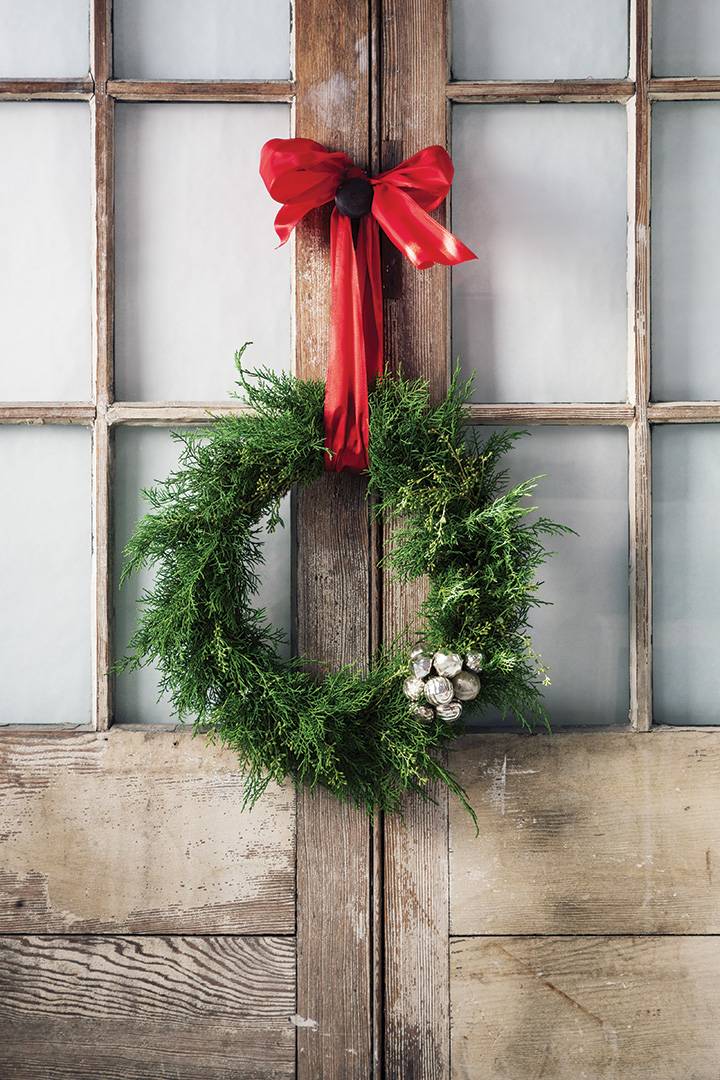 Placing the focal point off-centre adds visual interest. Bonus? Baubles can cover bare spots and imperfections. A substantial red ribbon is formed into a bow, making this wreath ready to hang on your door.
One for Whimsy
For a non-traditional wreath that perfectly encompasses her West Coast boho vibe, Lewis crafted Virginia creeper into a delicate halo, wiring on loose bundles of fragrant cedar and silver dollar eucalyptus to frame a chunky crystal secured to the wreath with gold craft wire.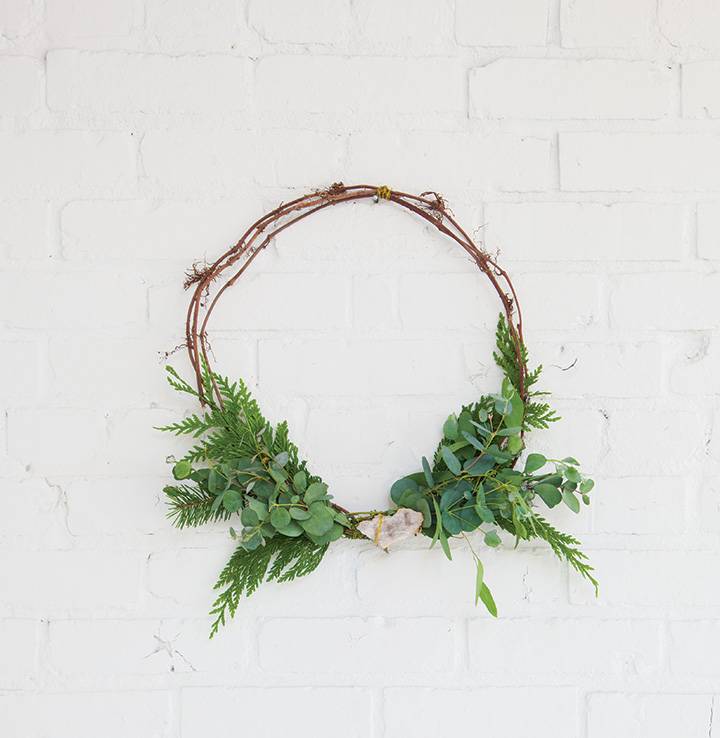 This look, achievable by a beginner in less than an hour, will last well indoors, though the cedar may fade a bit. Geall notes that cedar takes more patience than needle conifers, as it's wobbly and loose, but that looseness adds to the charm; the goal here is "imperfectly perfect." For an even more minimal look, try a large gold or brass hoop in place of the Virginia creeper.
A Take on Tradition
For a more firmly formed wreath on a traditional wire support, Geall tucked cedar loosely into the wire frame to form a background for the featured foliage. Douglas fir cut into 4-to-5-inch bundles was wired together, with attention paid to the direction of growth as one side of the needles is shinier. Bundles of evergreen magnolia leaves, clustered to show both the brown and green surfaces, alternated with the fir, are laid over the cedar base like fish scales and secured to the frame with one continuous length of 22-gauge floral wire. Fir or pine cones — nature's ornaments — are wired in at staggered intervals. This lush beauty, which would retail for near $80, can be crafted for about $15 if you're able to source your own fir and cedar.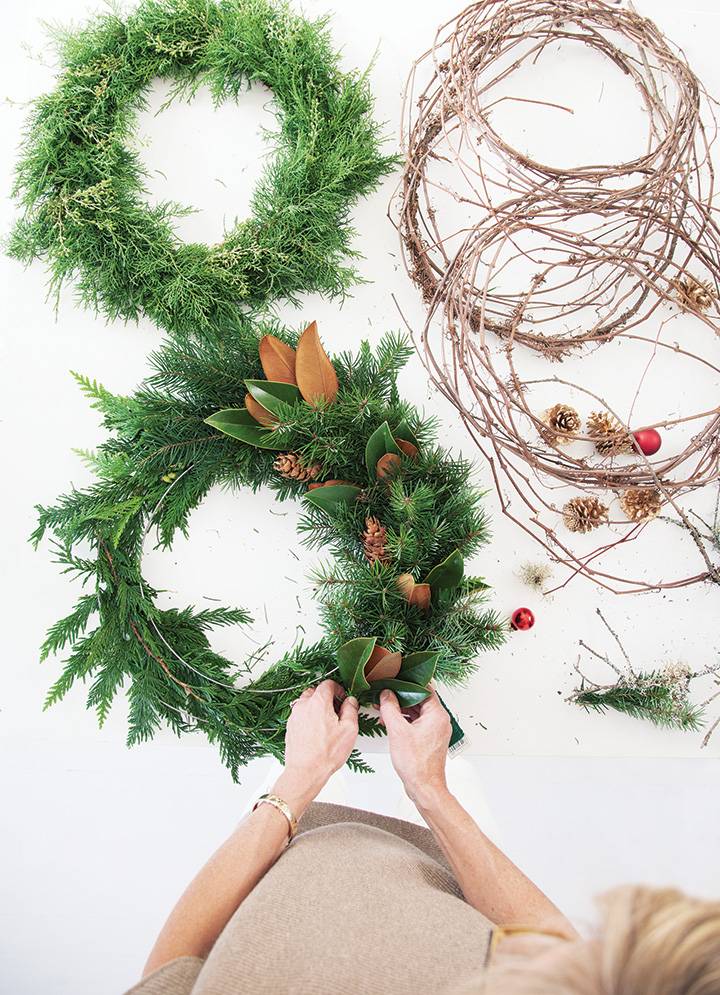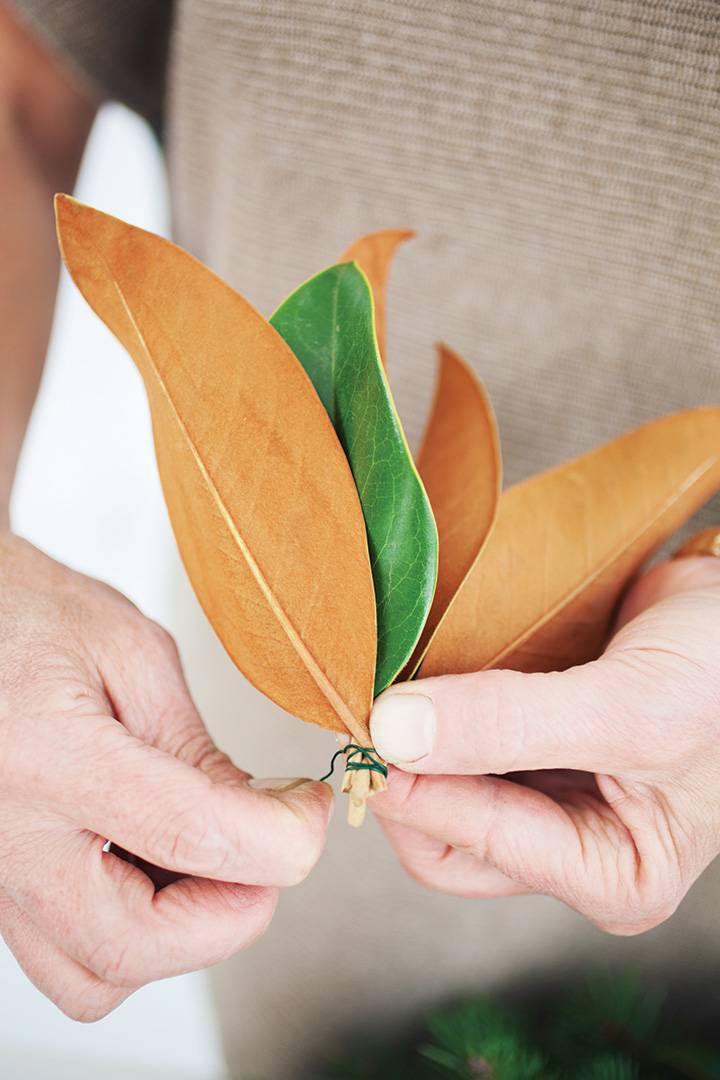 Go Forth and Forage
We Islanders are at an advantage in that much of the foliage can be foraged locally, with our winter storms providing a bounty of windfallen evergreen branches ripe for the picking; the lichen and old man's beard came from fallen branches sourced in Metchosin — a necessary jaunt given that air pollution prevents lichens from thriving in Victoria. Snowberry, a native understory plant in the Douglas-fir forest, can be ethically foraged from road allowances, though it can also be purchased.
You may have eucalyptus, Virginia creeper and magnolia leaves available in your own yard; if not, this might be a good time to make friendly with a green-thumbed neighbour. For the time-restricted or less outdoorsy, successful retail foraging can be accomplished at your local garden supply centre. Geall notes GardenWorks as particularly bountiful.
The foliage options are near endless. Bay trees, often used as topiary, grow around Victoria and like pruning. Red-osier dogwood is available locally for the holidays. Osmanthus, also known as devilwood, is a gorgeous option, with leaves that echo the form of holly. Distinctive teasel seed heads can make an interesting alternative to pinecones.
Having witnessed Lewis's and Geall's creativity at work, I'm inspired to break out the snips and try my hand at crafting a wreath that encompasses what the holidays are truly about: gratitude, giving and welcoming loved ones.