VICTORIA'S MOST READ HOME AND LIFESTYLE MAGAZINE
Established in 2009 by Page One Publishing, YAM connects readers to the distinctive lifestyle and authentic luxury of the West Coast. Through features, profiles and how-to articles, YAM celebrates the vibrant personalities, trends and tastes that make Victoria such a desirable place to live, with features on homes, fashion and beauty, food and drink, health and fitness, and city culture. YAM's engaged readership relies on this sought-after magazine to inspire and inform their lifestyle choices.
Did you know? YAM means You And Me.
View past issues HERE.

YAM Circulation
YAM boasts the most comprehensive circulation of any home and lifestyle magazine in the region. YAM is distributed to select neighbourhoods and targeted locations throughout Greater Victoria, including Oak Bay, Broadmead, Fairfield, Sidney, downtown Victoria, Harris Green, Langford, Saanich, North Saanich, and Duncan.
Our magazines are printed on environmentally friendly FSC paper using vegetable-based inks. We support FSC certification and are committed to the responsible use of the world's forest resources.
In Print + Online
Our popularity extends beyond our print magazine to our online offerings, including digital marketing, sponsored content/advertorials, co-branded video stories, sponsorships and a strong, engaged social media presence. Video ignites the power of sight, sound and movement for an animated, personalized, engaging experience. We offer product feature commercials as well as feature stories that put a face to your brand. Ask us about how video can transform your business.

Who Reads YAM?
YAM readers are educated, active and savvy locals who engage with our advertisers' products and services. Our readers want the best out of life, appreciate authenticity and look to YAM for inspiration.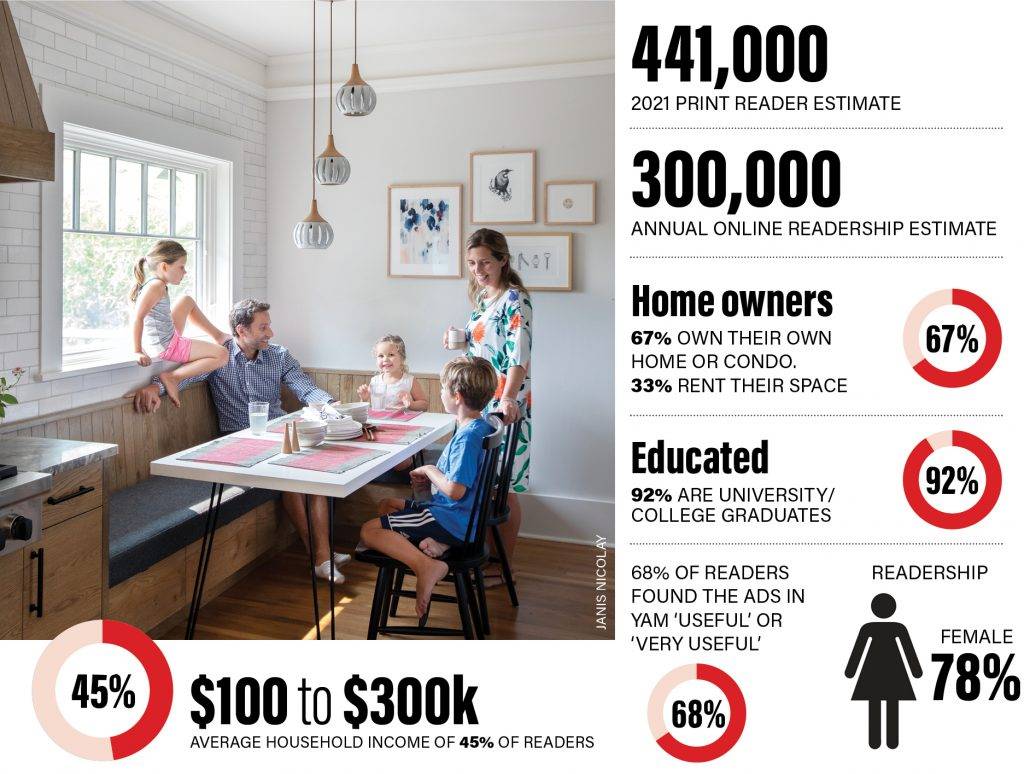 We help you reach your ideal demographic
Our advertising account managers and our production team will work with you to craft the perfect message to reach your ideal client in a way that fits your unique needs. We'll design your print or website display ad, support you in creating the perfect print or online sponsored content, or script and produce video stories.
We are here to help. For more information on advertising with YAM magazine or to request a media kit, speak with a member of our team at 250-595-7243 or click on the button below.