Find out what's new in Victoria's art, theatre and music scene with these five local events and shows.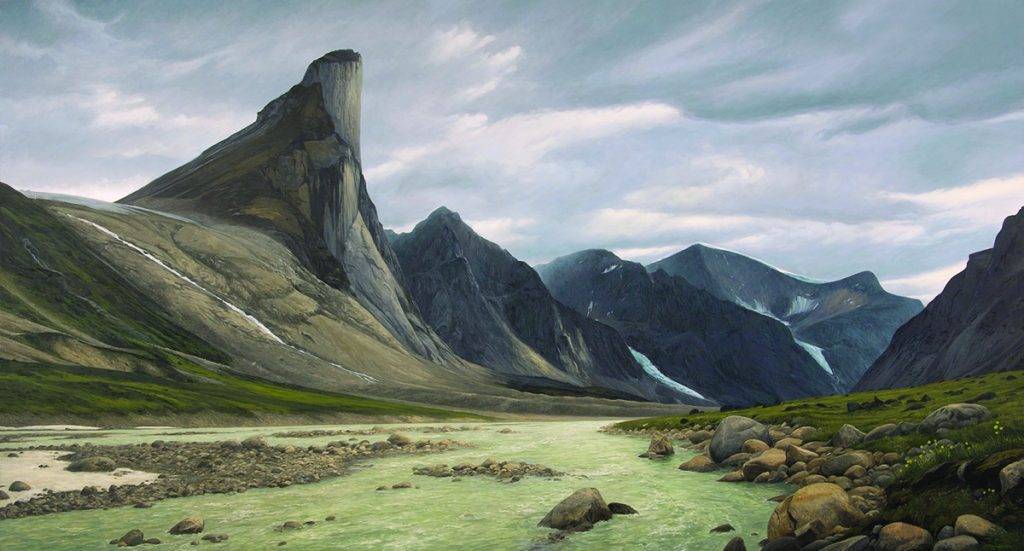 ---
Into the Arctic
This spectacular travelling exhibition showcases more than 60 original oil paintings by Canadian artist Cory Trépanier. Over a decade in the making, Into the Arctic is one of the most ambitious bodies of artwork ever dedicated to Canada's Arctic.
One of Canada's Top 100 Living Explorers by Canadian Geographic magazine, Trépanier travelled over 40,000 kilometres in the Arctic with his pack full of painting, filming and camping gear. With his focus on a region so remote that most of its vast landscape has never been painted before, he carried on the tradition of painting first made famous by Canada's Group of Seven, but with the environmental concern of a contemporary artist.
Bateman Centre: June 14 to November 3 | batemancentre.org
Surf's Up
The first exhibition of its kind, Surfer's Paradise: Northwest Coast Surfboards brings together more than 20 Indigenous Northwest Coast artists for their interventions on, and interpretations of, the surfboard. All crafted out of Western redcedar from Vancouver Island exclusively for Alcheringa Gallery, these boards allow the artists to explore both the wooden canvas, their relationship to the contemporary culture of surfing and their connection to the ocean of their own First Nation territories.
The art surfboards will be on exhibition both at Alcheringa Gallery and at Brentwood Bay Resort.
Alcheringa Gallery: August 10 to September 21 | alcheringa-gallery.com
The Children
This unsettling play by award-winning playwright Lucy Kirkwood focuses on Robin and Hazel, two retired nuclear scientists living in a seaside cottage on England's east coast. But all is not as it seems. Their electricity is restricted to evenings, and they have a Geiger counter in the kitchen.
Written following Japan's Fukushima disaster, The Children raises big questions about our responsibility to leave a better world for the next generation.
"How do we reconcile our mistakes with their impact on the future?" asks Belfy artistic director Michael Shamata, "and who is meant to clean up after us?"
Belfry Theatre: September 17 to October 13 | belfry.bc.ca
---
Letter From the Trees
This solo exhibition showcases the works of Miles Lowry, influenced by his residencies in Ireland and his studies of the Irish Ogham Alphabet, which has been lost, found and disputed for centuries.
It plays a role in the Bardic mystical tradition of honouring sacred trees and plants. Its earliest manifestations can be found scratched or carved in store in the Irish countryside.
Later, medieval scribes recorded it on sheep-skin parchment using oak gall inks and natural pigments. Using his own technique and incorporating these pigments, Lowry explores Ogham, its symbolism and how trees can portray abstract expressions, reflect hidden communications and inspire spiritual investigations.
Fortune Gallery: October 1 to 13 | fortunegallery.ca
Song Carrier
He's a performer, a classically trained operatic tenor, composer, musicologist and activist whose recent album Wolastoqiyik Lintuwakonawa, which means "beautiful river," won the 2018 Polaris Music Prize and the 2019 Juno Award for Indigenous Music Album of the Year.
Jeremy Dutcher brings his bold approach to composition and his raw, powerful stage presence to Alix Goolden Hall this fall. Dutcher, a member of Tobique First Nation in New Brunswick, transcends boundaries with compositions teeming with classical influences, reverence for the traditional songs of his home and the urgency of modern-day struggles of resistance.
Alix Goolden Hall: October 24 | vcm.bc.ca/alix-goolden-hall
---
This article is from the September/October 2019 issue of YAM.