The team at YAM magazine collected their favourite seasonal music for our holiday playlist. It's a fun mix for get-togethers — or just getting in the holiday spirit.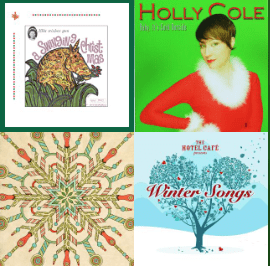 "Little Drummer Boy/Peace on Earth" by David Bowie and Bing Crosby never fails to give me goosebumps (in a good way), and the drummer boy story always reminds me that compassion is what's most important in a season of dazzle. — Kerry Slavens, editor-in-chief
Any song from Boney M says Christmas to me! But my favourite is "Mary's Boy Child." — Jennifer Kühtz, production manager
Is there anything more fun and unabashedly joyful than the jazzy "Linus and Lucy" from Vince Guaraldi's A Charlie Brown Christmas? (No, there is not!) I feel like a kid on Christmas morning when I hear this tune. — Janice Hildybrant, lead graphic designer
Being a bit of a non-traditionalist, I don't love holiday music. I am a lover of the blues, and B.B. King's version of "Merry Christmas Baby" puts me in the holiday spirit. — Deana Brown, account manager
I would like to say "Drummer Boy" by Justin Bieber, but I'm afraid I'll get laughed at, so my pick is "Silent Night" by The Temptations. — Janine Metcalfe, fashion editor
One of the records we played most at home when I was a kid was Mario Lanza's Joy to the World. With the snow piled high outside our Cariboo home, and the wood stove burning, the sound of his beautiful, deep voice definitely made for a warm and cozy lead-up to Christmas. — Georgina Camilleri, publisher
"Fairytale of New York" by the Pogues and Kirsty MacColl is perfectly irreverent — and I can't resist singing along to the call and response lyrics between Shane MacGowan and MacColl. — Athena McKenzie, deputy editor
I'm a traditionalist when it comes to Christmas songs, which began with my childhood and my mom singing and playing the piano. My favourite is Bing Crosby's "Let it Snow!" (Like we didn't get enough of that growing up in Ottawa!) — Sharon Davies, account manager
Run-DMC's "Christmas in Hollis." Obviously! Susan Hollis, staff writer
Find the entire playlist here.