The South Island is a relatively flat, ocean- and forest-filled cyclist's dream, with routes that offer up everything from the region's best swimming holes to culinary pit stops — and even a little bit of shopping along the way.
By Susan Hollis // Illustration by Sydney Barnes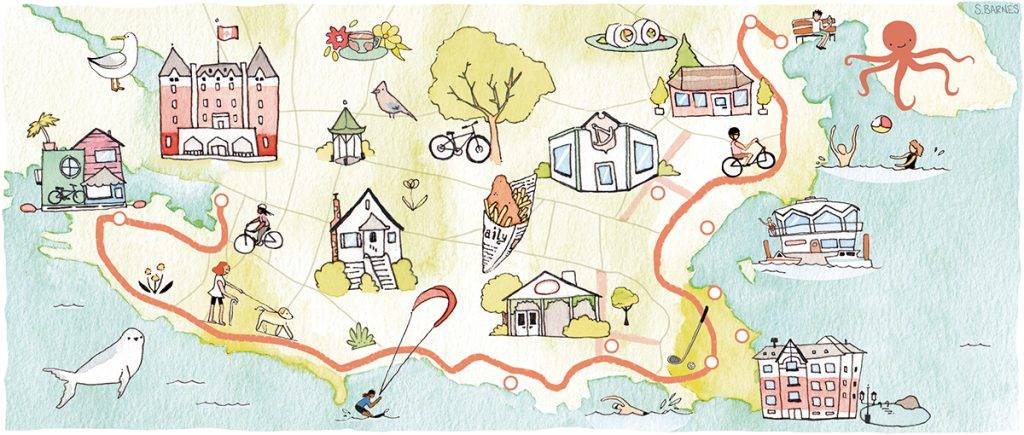 To travel by bike is one of the few joys that hasn't changed much over the years. There's something eternally youthful about setting off on an adventure fuelled by pedal power, friends (or not) and a keen interest to find out what's around the next bend.
There are a number of things that make the South Island pedal-friendly, and it's not just Victoria's progressive (if controversial, but we are not going there now) bike lanes. On a warm day, adventure seekers can find any number of routes that will take them to beautiful places, with endless reasons to stop along the way.
Downtown to Cadboro Bay: 18 km
Without leaving the city's boundaries, one of the best cycling routes for exploration hugs the coastline between downtown and Cadboro Bay. While it's fine to start the route in the middle, we recommend beginning at one end or the other, depending on what part of town you prefer to finish up in, so you get to fully experience this aspect of Victoria's coastline.
If starting downtown around the Fairmont Empress, you'll quickly exchange the bustling harbourfront for the vast open ocean views that begin as you wend west toward Fisherman's Wharf, which begs exploring thanks to its colourful float homes, commercial fishing boats and ample food kiosks, before following the road as it turns south along Dallas Road. 
Dallas Road is known to locals as one of the best walks in the city, framed by high bluffs and anchored by gorgeous pebble beaches, dotted with driftwood and sea foam. It's also one of the best areas to ride, as the wide boulevard provides ample space for cars and bikes to enjoy the open ocean views, which often include parasails, kites and, further out to sea, the colourful flags of kitesurfers as they cut back and forth across the bay.
As Dallas transitions to Hollywood Crescent approaching Gonzales Bay, riders will find a more residential, less pedestrian-dense oceanfront. A quick stop at Gonzales Beach for a rest stop or a swim in the bay's warmish, protected waters can be a nice way to cool off and relax before the trip's hilliest section. This next phase takes riders up Crescent Road to the steep but short rise to the top of King George Terrace where the million-dollar-and-more houses don't block the million-dollar views. A pullout at the top offers rest benches and an elevated, pristine 180-degree ocean view.
After that, it's smooth sailing down the terrace's winding other side toward Beach Drive along McNeill Bay, where again the coastline changes to offer a lighthouse view and a narrow, mostly unpopulated — save for the occasional dog walker — stone beach.
For lunch or a snack, bikers can hang a left off of Beach Drive onto St. Patrick Street to find De'lish a block in on the right-hand side. A full-service catering company doubling as the neighbourhood's most charming cafe, De'lish has an incredible range of baked goods, savouries and salads for lunch, plus excellent coffees and teas, which can be enjoyed under its trellised, leafy patio or on its perfectly manicured front lawn (and they provide the picnic blankets).
Back on route, past McNeill Bay, pedal along the elegant emerald sprawl of the Victoria Golf Club (VGC), which is often dotted with committed golfers wearing all manner of traditional garb, from plaid knickers to pom-poms. Just past the VGC, stop in at the Oak Bay Beach Hotel, where a coffee at FARO or a crisp, cold brew at The Snug will provide the fuel you need for the final leg of your trip. If boats are your thing, stop at the Oak Bay Marina instead, where an excellent, licensed café hovers just above the docks, and curious seals and well-loved boats make for a visual feast. 
The final push of the trip will take you past Willows Beach — if you're looking for the best fish and chips in the area, hang a left on Estevan Road and stop at Willows Galley — and into the Uplands, where massive trees overhang double and triple lots with an array of mind-blowing houses to crush on.
Leaving the Uplands' gates on the other side, you'll have an easy cruise down to the village of Cadboro Bay, where you'll find everything from the well-established watering hole Smugglers Cove Pub, to sushi at Mutsuki-An and Thai at Thai Lemongrass Restaurant, to Pepper's — one of the best independent grocery stores around.
The village is just steps from the fine white sand of Cadboro-Gyro Park beach and yet another of Victoria's picture-perfect bays, dotted with boats and paddle boarders. It's an ideal place to doff the shoes, sink into the sand and watch the sun set. Some people say Antibes is the thing, but we are pretty sure it's because they haven't seen Caddy Bay at sunset.