The South Island is a relatively flat, ocean- and forest-filled cyclist's dream, with routes that offer up everything from the region's best swimming holes to culinary pit stops — and even a little bit of shopping along the way.
By Susan Hollis // Illustration by Sydney Barnes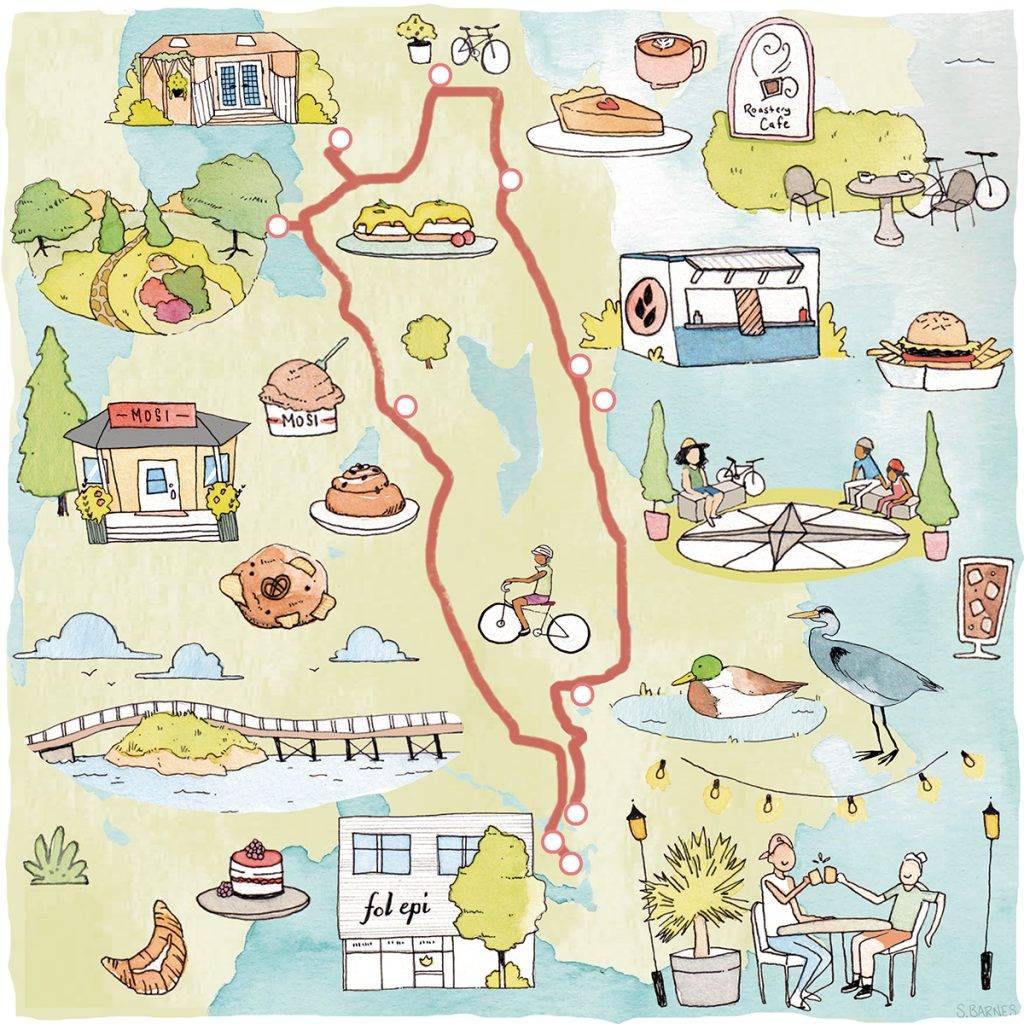 To travel by bike is one of the few joys that hasn't changed much over the years. There's something eternally youthful about setting off on an adventure fuelled by pedal power, friends (or not) and a keen interest to find out what's around the next bend.
There are a number of things that make the South Island pedal-friendly, and it's not just Victoria's progressive (if controversial, but we are not going there now) bike lanes. On a warm day, adventure seekers can find any number of routes that will take them to beautiful places, with endless reasons to stop along the way.
RockBay to Central Saanich. 48km
If covering as much ground as possible through various neighbourhoods is appealing to you, try this trip, which kicks off in the offbeat enclave of Rock Bay, a borough filled with everything from welding shops to micro-breweries and artist studios. Rock Bay is also home to a section of the Galloping Goose trail.
Named for a noisy rail car that formerly travelled on the Trans Canada Trail between Victoria and Sooke, the Galloping Goose is a 60-kilometre, car-free (aside from crossings) trail that makes covering long distances safe, quiet and easy by bike.
Picking up the Goose at Fol Epi on Harbour Road — that is after you fuel up on that bakery's incredible goodies and coffee — you can cycle north, keeping left to stay on the Goose when it splits onto the Lochside Regional Trail just past Uptown shopping centre.
When the trail turns to the right at Interurban Road, take the turn to enjoy the long and winding ride into the Saanich countryside. Go past parks and farms until you reach West Saanich Road, and a must-do stopover at a local treasure called MOSI Bakery, Cafe and Gelateria, which is highly recommended by the weekly cycling group from Russ Hay's The Bicycle Shop.
After fuelling up at MOSI, carry on along West Saanich until it carves left onto Wallace Drive, taking you deeper into the countryside and close enough to The Butchart Gardens to explore that national treasure in all its summer glory. Wallace Drive also swings riders toward Brentwood Bay, where you can head to Café Zanzibar (great eggs Bennies!) by veering left back onto West Saanich Road to the restaurant where it sits at the intersection of Stellys Cross Road.
Back on Wallace Drive, heading north, you'll find yourself deep in Central Saanich farmlands and close to the turnaround point of Mount Newton Cross Road, where an in-house micro-roastery — Fresh Cup Roastery Café — awaits. If it's lunch you're after, the well-established Waddling Dog Bar & Grill is just at the crossing of Mount Newton Cross Road and Highway 17.
Wending back toward town along the Lochside Regional Trail will put you in horse country and off the main roads, so you can pedal at your leisure past sprawling equestrian centres and private homes. A favourite pit stop for bikers on this route is Harvest Rd. Farm to Table Grill on Lochside Drive just past Island View Road.
Harvest Rd. gets most of its produce from neighbouring Mitchell's Farm — a sixth generation family-owned and run Vancouver Island farm (also worth its own pit stop).
Your trip will then take you through Cordova Bay on the east side of the Island toward Mattick's Farm — more specifically Adrienne's Restaurant & Tea Garden, which is one of the most delicious eateries in the city. Mattick's Farm also has a number of gift stores and boutiques, plus a gallery and Pure Day Spa, if you're in need of a proper back rub or pedicure after your long ride.
Lochside Trail continues south past local nature sanctuary Swan Lake — well worth a detour if you have an interest in native flora and fauna.
Lochside then meets back up with the Galloping Goose, which will take you back toward your starting point at Fol Epi, but a slight jog to the left before crossing the Selkirk Trestle will take you straight to the oceanside patio at Glo Restaurant + Lounge — as good a place as you could hope to land after an epic half-day ride.
---
This article is from the July/August 2019 issue of YAM.