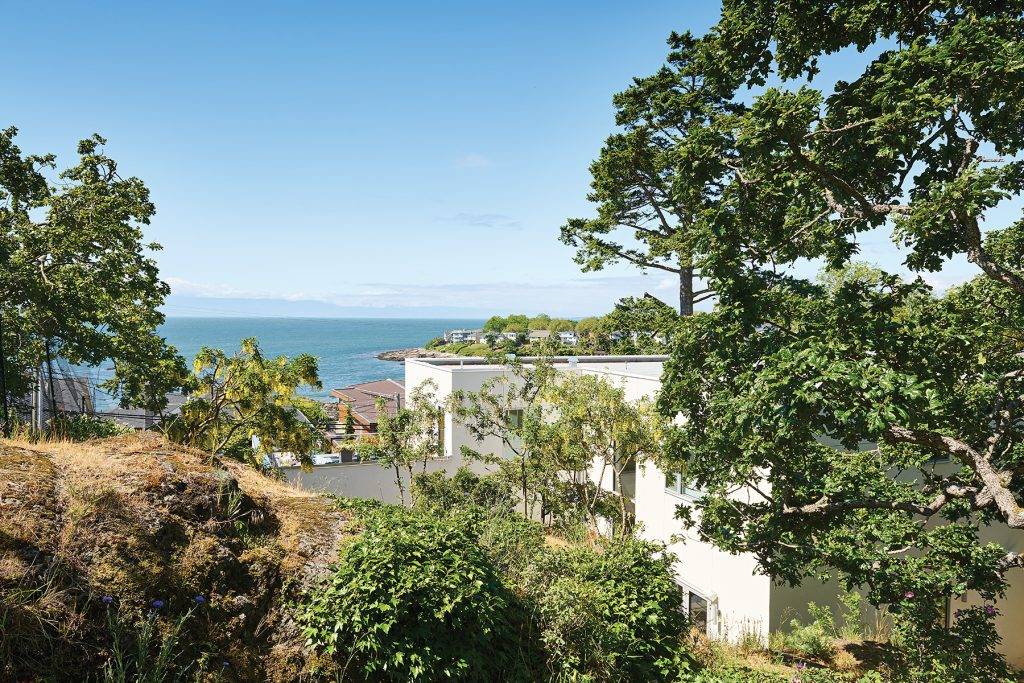 These Victoria homeowners turned the constraints of cliff-side living into creative opportunities.
By Danielle Pope / Photos by Joshua Lawrence
When Romi and James Lagadin couldn't find a home in Victoria that checked their boxes, they decided to buy a cliff instead.
In fact, they purchased a rocky slice of land, sight unseen, overlooking the Strait of Juan de Fuca along Victoria's scenic waterfront drive. The steep elevation and craggy terrain had proved challenging for developers, as the lot had sat on the market for 10 months after a former builder changed his mind.
The site would require serious blasting to create a setback for a house. Yet the Lagadins were undeterred. Hailing , the couple knew they could create a house to fit the spot.
"Victoria is like the Malibu of Canada, and we knew we wanted to be here," says Romi. "James and I had built two other houses before this, and we build from the outside in. We make the inside work to fit the outside, so we knew we could do this, even with the restrictions."
While the Lagadins had access to the previous owner's plans, the couple decided to go in a different direction.
"Where we used to live, it would cost you thousands of dollars to bring in that kind of rock. We loved that courtyard feel, so we decided to keep it," says Romi.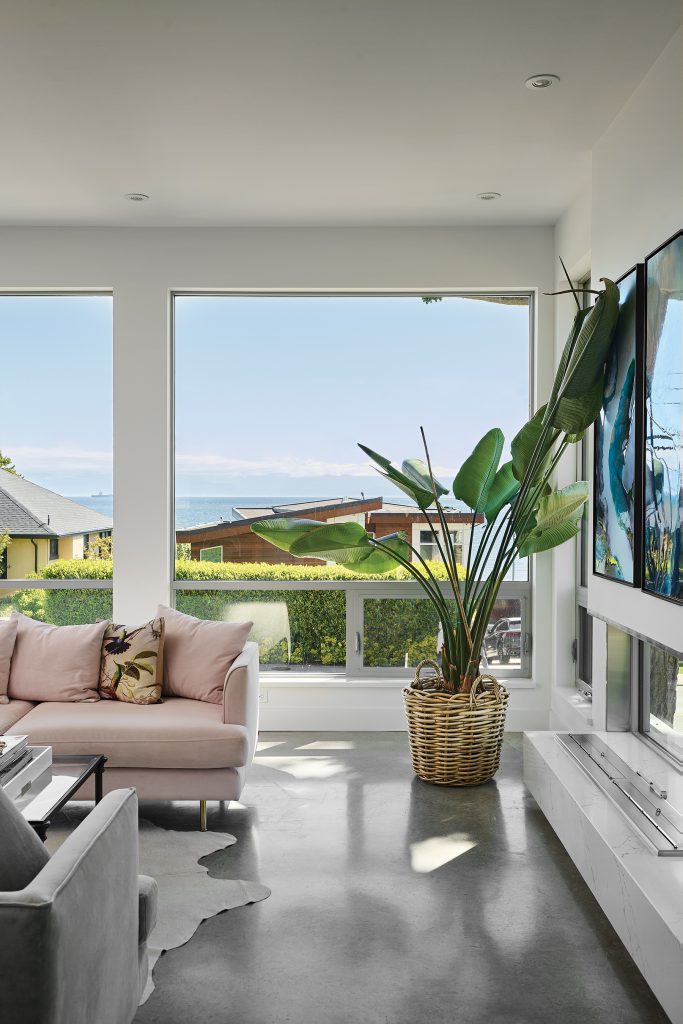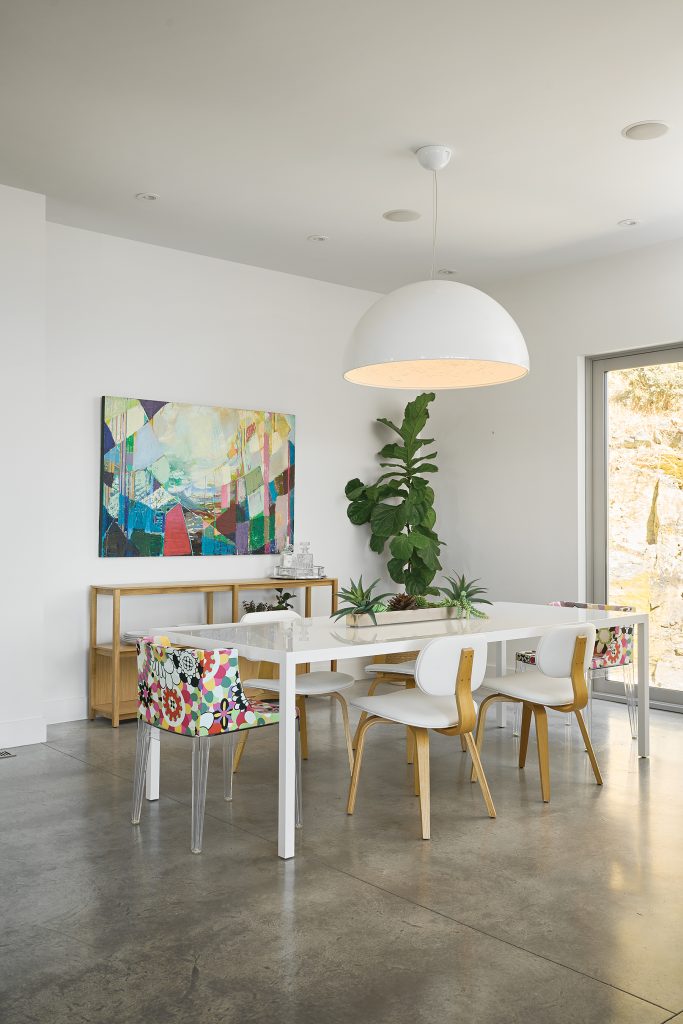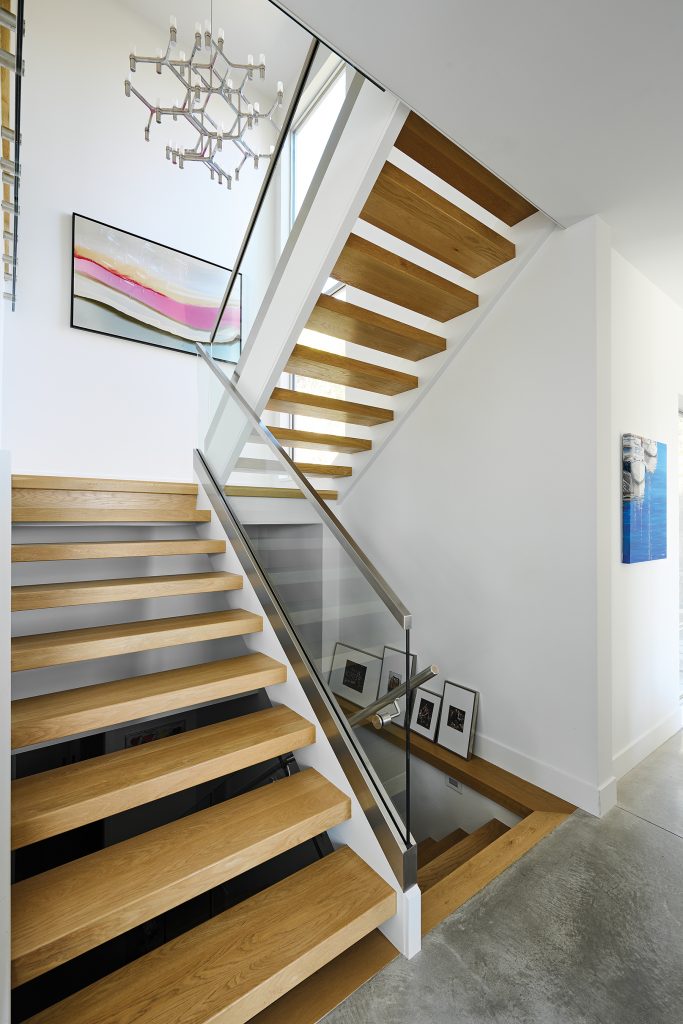 A View to the Mountains
Within 11 months, and with minimal blasting, the Lagadins had created an open-concept, modern West Coast home, designed to preserve the rocky incline of the lot. Punctuated by an array of outdoor sitting areas and some surprise views, Romi says it's almost like they planned it — though many vistas were by chance.
"We knew from Google Maps how close it was to the water, but we did not realize the extent of the mountain views,"says James. "The Olympic mountains are snow-capped most of the year, so it's pretty spectacular on a clear day with the water and mountain backdrop."
Surrounded by exposed rock and mature Garry oaks, the home's interior motifs carry the same themes. Concrete flooring offers a durable solution for indoor-outdoor lifestyles — including those of dogs and grown kids.
The kitchen is adorned with generous cabinetry in rift-cut white oak panelling and natural quartz counters, while custom windows replace the backsplash for an outdoor feel. Dramatic marble flooring brings intrigue and pattern to the master ensuite, and the open-concept stairs to the upper level mimics the airy nature of cliff-side living.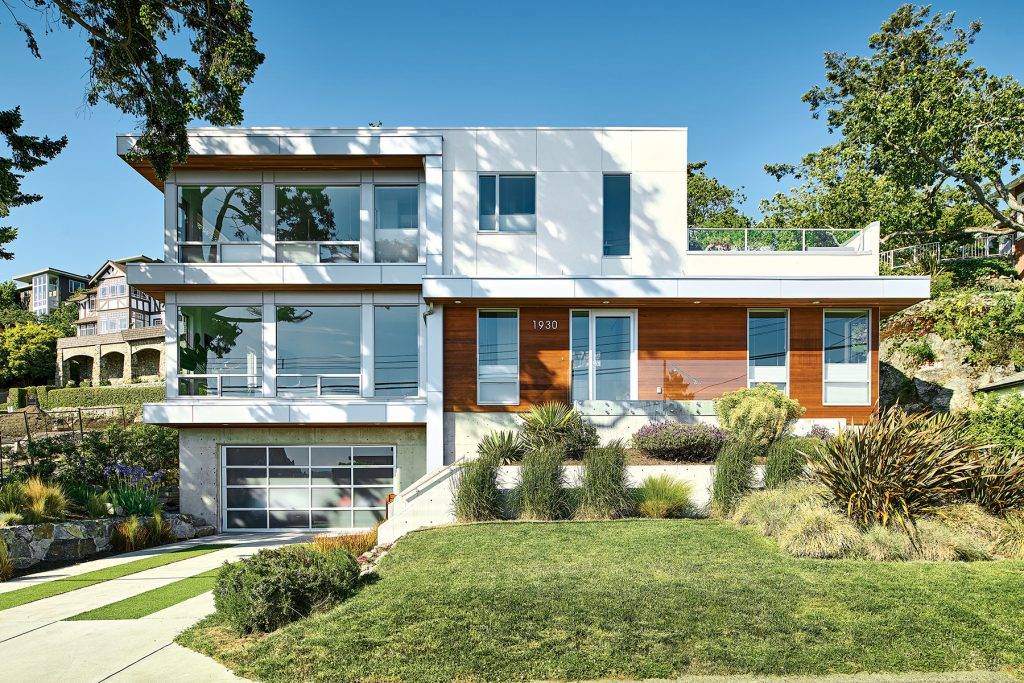 Mixed Materials
Stephanie Brown, principal designer of Stephanie Brown Inc., helped Romi formulate her vision. While Brown worked on the project from afar, the two knew each other from Calgary, and she understood the look Romi was trying to create.
"Romi wanted something modern and fresh, so we spent a lot of time on the finishes," says Brown. "We didn't want to overwhelm the house with wood, so the concrete floors offer a nice balance and give it an industrial look, but we also paired that with white and airy backdrops. Romi likes a mix of things — traditional, and new and eclectic — which was fun to play with. Their home is really a happy background for their lives."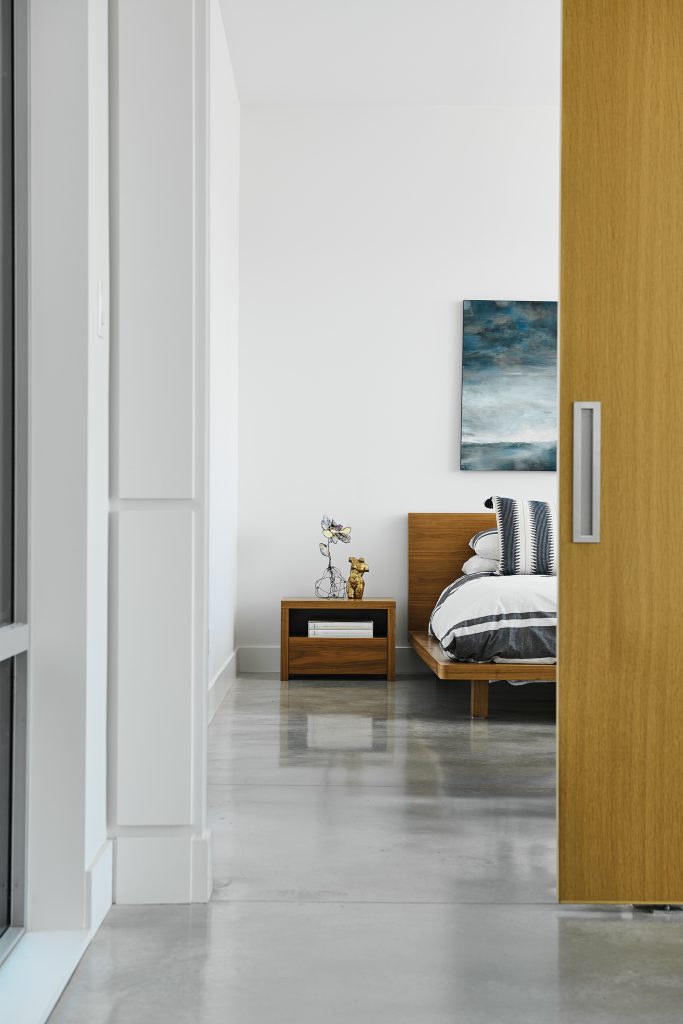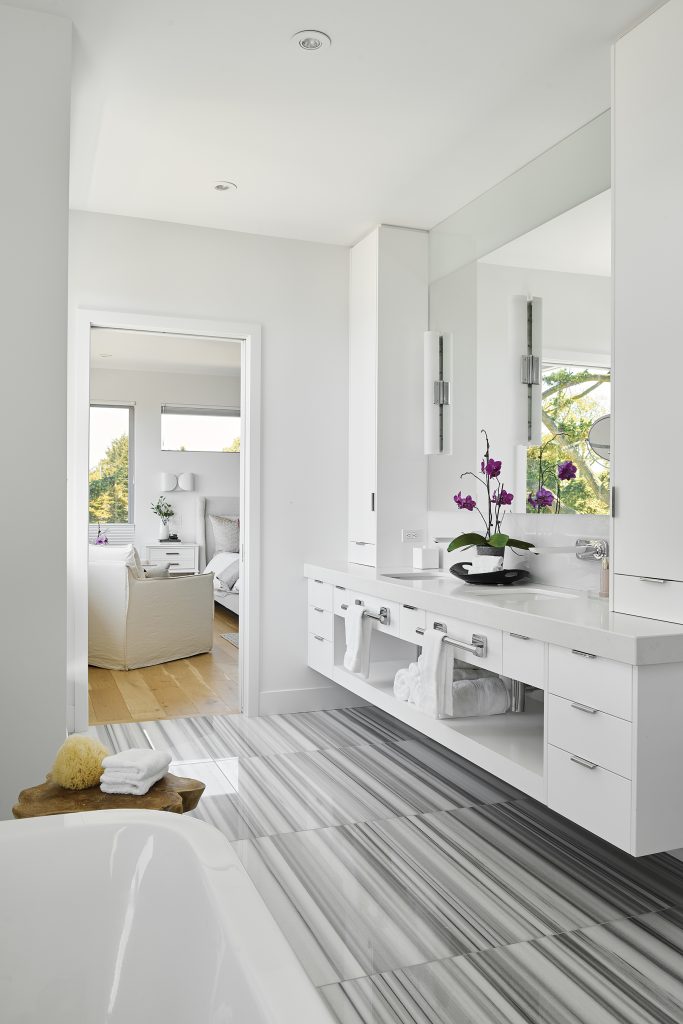 The Natural Connection
Romi says there are still a few wish list items they hope to check off in the future."If we could develop the flat roof, that would be amazing," says Romi. "Off the kitchen, there is a little dining area, and we'd like to create a natural wild space. And, as you crawl around up to the terraces, there is this pathway in the rock, and one day we'd like to put a gazebo up there." Despite so many choice features, the connection to the outdoors is one of the most important elements of this build to the Lagadins. "My favourite spot is the sundeck," says James. "While it's always cooler by the water, the stucco acts as a heat sink and warms up the deck considerably, so you can sit out there in temperatures you wouldn't think — as long as it's sunny —and enjoy the view."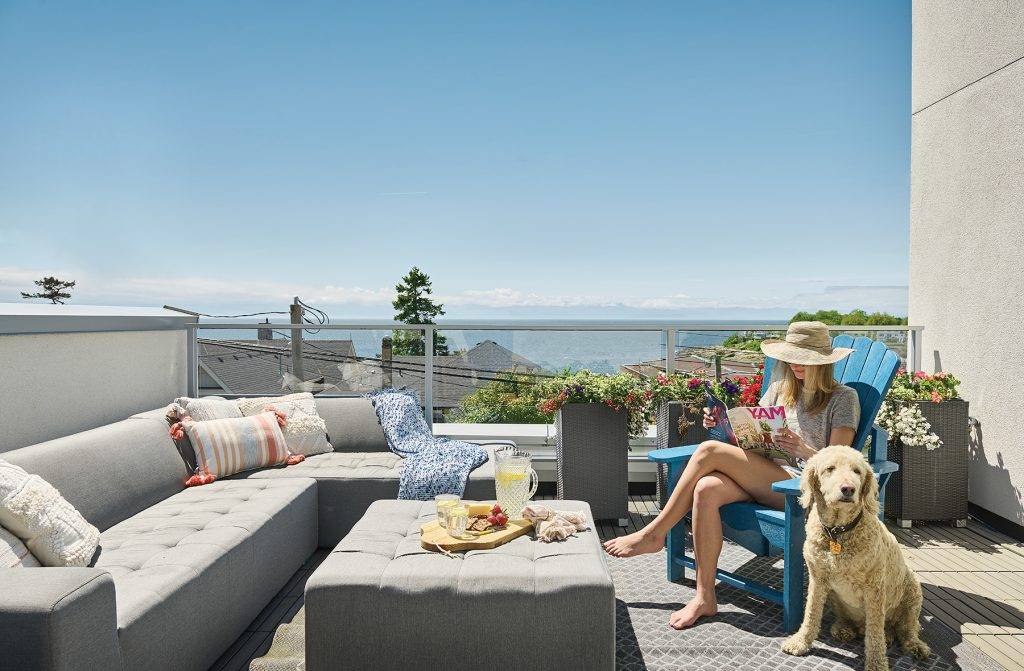 Builder/Contractor: Steve Peel of HKL
Interior Designer: Stephanie Brown of Stephanie Brown Interior Design
Design/Planning: Ryan Hoyt and Christopher Developments
Stairs: Greg Johnson
Millwork: Hobson Woodworks
Counters/fireplace hearth and shower niches: Stone Trends
Hardwood Floors: Martinez Flooring
Concrete placing and polishing: Rada Resurfacing
Appliances: Miele Appliances from Trail Appliances
Light fixtures: Gabriel Ross
Windows: Starline Windows
Window coverings: Hunter Douglas Duet installed by Jim Woods of Wood N'Blinds
Fireplace: BioFlame
Hardware: Victoria Speciality Hardware
Front door: Starline Windows and Doors
Feature barn-style door: Hobson Woodworks
Plumbing: GPS Plumbing
Painting: Precision
ProGlass work: Royal Oak Glass
Custom Hood Fan and fireplace surround: J.B. Sheet Metal
Interior Design Consulting: Home Style Solutions, Melanie Henson