Whether you like to drink your cider in the pub or tip a pint into a savoury stew, it's time to celebrate cider season with local, artisan ciders.
By Cinda Chavich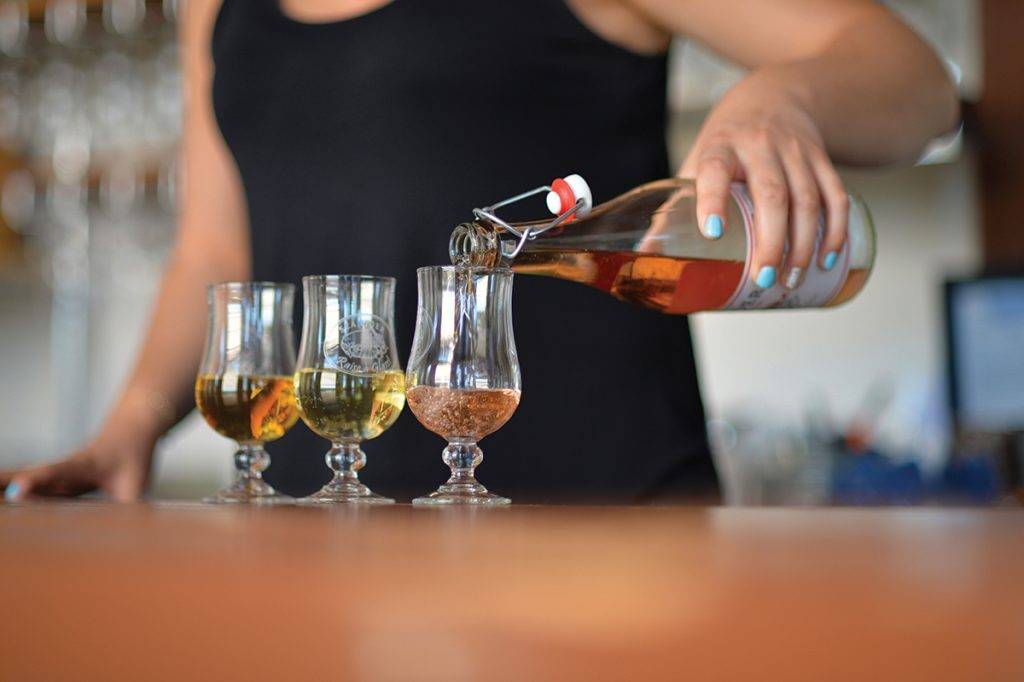 ---
As summer turns to fall, apple lovers celebrate the windfall of local apples destined for the table and the cider press. Thanks to early settlers and their apple-growing expertise, we have a wide variety of heirloom apples growing in old orchards across the Islands — tart apples that are perfect for pies and bittersweet cider apples that make beautiful beverages.
These aren't the sweet dessert apples that dominate modern supermarkets, but rather the old-fashioned varieties — Gravenstein, Baldwin, Cox's Orange Pippin and Belle de Boskoop — once planted and favoured for their unique cooking, keeping and juicing properties.
And thanks to this bounty of rare and flavourful fruit, there's a growing community of cider makers, building on those traditions and crafting artisan cider from Island apples.
From the classic English cider and Scrumpy made by Merridale Cidery, to the crisp Pippins cider fermented with champagne yeast at Sea Cider Farm & Ciderhouse, to the Backyard Blend created by Spinnakers with apples from the city's urban orchards, there are plenty of interesting local ciders to try, both for drinking and cooking. 
CIDER IN THE KITCHEN
Cider is one of the world's oldest alcoholic beverages, made across Europe, from England and France to northern Spain and Italy. This traditional cider is made with tart, bitter and tannic varieties of apples — inedible and often ugly, but essential to create a complex, dry fermented drink.
Until quite recently, the only cider made in B.C. was the sweet and fizzy kind, designed to use leftover or culled dessert apples that now dominate Canada's apple-growing industry.
But there's been a move in recent years to plant traditional cider apples and source heirloom varieties to make quality craft ciders, some still, some sparkling, some infused with other fruits or aged in oak barrels like fine wine.
While these modern artisan ciders are delicious to drink and pair with food, they're also perfect for cooking, baking and even adding to creative cocktails. Cider adds a lively sweet, fruity acidity to any dish — an excellent liquid to use in place of wine in many recipes.
Wherever cider is made, there are traditional dishes featuring cider. In Normandy, the Breton cider is used to cook fish and shellfish, the sauce often finished with local cream. In Britain, cider is mulled in winter, used to braise chicken with herbs or reduced with honey and mustard to glaze pork sausages. In Spain, fresh chorizo sausages are simmered in cider until it's reduced and syrupy, and clams are steamed in cider with white beans and spicy sausage.
In fact, whenever you're about to slosh some white wine into the pan, try a nice dry cider instead, whether steaming mussels, deglazing a sauce, braising cabbage and leeks or making a pot of caramelized onion soup. Apple cider has a natural affinity with pork — whether it's used to glaze a ham or in a sauce to brush over ribs — and works well with rich duck, lamb and game meats.
Fruity cider vinegar can be used in salads, sauces and marinades, especially those that include apples, pears or sweeter root vegetables, like carrots, squash and beets. Try it with an apple and cabbage slaw or drizzled on hot buttered beets with dill.
Cider likes warm spices — think cinnamon, cloves and allspice — so use it in desserts with tart fall fruit, from apples and quince, to cranberries. Use cider to replace the liquid in cakes, muffins and soda breads.
Heat a full-bodied cider, and combine with spiced butter and rum for a warming winter drink or serve a lighter sparkling cider in a breakfast mimosa.
Spinnaker's chef Ali Ryan says she uses cider in both sweet and savoury dishes on the brewpub's menu — braising meat and poaching fruit in cider, adding cider to yeast breads, or using their apple cider vinegar in dressings and sauces.
At Merridale Cidery, owner Janet Docherty says their cider is used to marinate ribs, and is an integral ingredient in their house-made Cyser mustard and popular Scrumpy Pot Pie.
CIDER IN THE GLASS
Cider is one of the fastest growing drink categories in North America. It's naturally gluten free and appeals to millennials and female consumers — but not all cider is created equally.
Although there is no single definition of cider in Canada, craft cider producers, like the 20 members of the British Columbia Farm-Crafted Cider Association, take the position that cider should be made with 95 per cent real apple juice, not the imported Chinese apple juice concentrate, water and sugar, which forms the base of many large-scale commercial ciders.
The good news is B.C. is leading the pack in authentic craft cider making and innovation. Craft cideries are planting more sharp, tannic and bitter cider apples and using old world techniques — fermenting with wild yeasts, aging ciders in barrels and keeving (a traditional French process to stop fermentation, producing naturally sweeter and lower alcohol ciders).
Salt Spring Island was once western Canada's main source of fresh apples and still has an impressive selection of heirloom apple trees — more than 400 varieties were showcased at last year's apple festival, so it's not surprising to find a large community of cider makers there too.
From Merridale Cidery and Valley Cider in the Cowichan Valley, to Sea Cider and Tod Creek Cider in rural Saanich; from Gabbie's Premium Ciders from Gabriola Island to Twin Island Cider from Pender Island and Wild Cider from Salt Spring, turning local apples into hard cider is a popular pursuit.
Craft brewers are also experimenting with cider. Spinnakers' brewer Kala Hadfield regularly has six ciders on tap at the popular brewpub, and makes Spinnakers' Backyard Blend with apples gleaned from more than 300 urban trees by local LifeCycles volunteers.
Many cideries offer tastings and food pairings, as traditional dry cider has a natural affinity for food. "Cider is a beverage that is fundamental to so many cultures in the world, once a daily and humble drink," says Kristen Needham, owner of Sea Cider, "and, as a cider maker, I'm proud of that history."
Needham says there's a renaissance happening in the world of cider making, melding traditions with modern innovation. From the first bittersweet English varietals she planted 16 years ago, to the organic orchards now contracted to grow cider apples in the Okanagan, the Vancouver Island business has grown exponentially, as consumer tastes have evolved.
"The consumer is diverse," she says. "There are those who enjoy a full-bodied, dry cider like our Wild English, but there are others who prefer a Normandy style that's sweeter and not as tannic."
For Sea Cider, that means producing a variety of products, from their traditional Heirloom Series, to barrel-aged Rum Runner and the new Canadian Invasion series, complete with spiced Witch's Broom, blackberry Bramble Bubbly and pink rose hip infused Ruby Rose. There's even a crabapple Pomona dessert cider.
Like Sea Cider, many Island cideries now grow their own cider apples on-site and augment their inputs with fruit from the Okanagan. At Tod Creek Craft Cider, more than 3,000 cider apple trees have been planted on dwarf rootstock. The orchard of espaliered trees resembles a vineyard.
Crowdsourcing Island fruit is also gaining ground. Beyond Spinnakers' Backyard Blend and Sea Cider's Kings & Spies (both made with fruit from local farms and yards), there's Valley Cider Company near Duncan. Its Community Cider was created to engage and support the Cowichan Green Community Society.
It's the fruit that changes the flavour and complexity of cider. When common dessert apples are fermented, the result is a sweet, bubbly apple beverage, but when bittersweet and bittersharp cider apples are used, the ciders have more acidity and tannins, with drier and far more complex profiles.
If you think you don't like cider, you've probably been drinking the former. Try a selection of craft ciders and explore drinks that range from bone dry, Spanish-style sidre (similar to a good champagne), to the funky, earthy beer-like flavours of traditional English cider.
Then expand your horizons with some of the modern craft ciders, infused with other fruits and berries, spices, honey and hops.
And imagine how they might pair with your next meal or work in your recipes as autumn and cider season arrives.
---
This article is from the September/October 2019 issue of YAM.