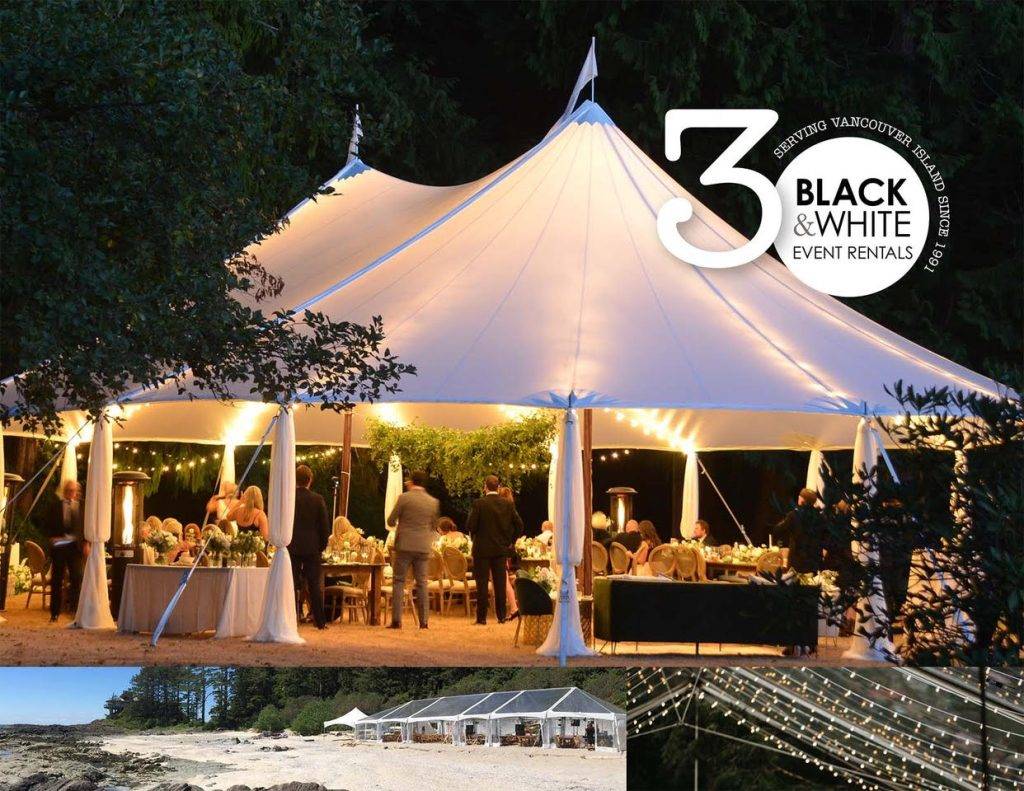 By Dave Willie, Black & White Events Rentals
Celebrating a 30th anniversary during a pandemic has been a bit of a wild ride, but our years of solid business experience have taught us how to weather the storm. Since spring 2020, we have been pivoting, working to create safe, dry, and comfortable shelters to fit a lot of different needs, helping where we've never been needed before, setting up tents for COVID testing sites from Duncan to Port Hardy, tents for industrial workplaces, movie and tv production sets, and even for a daffodil farm in Saanich. We've sourced handwashing stations, learned about sanitizing, and cleaning, oh, and social distancing… and did we mention handwashing?  
But now… at last… we can get back to helping with the celebrations we love best. We can help you dream again.  In a garden, on a beach, in front of a castle, and even set on a floating barge… for the past 30 years, Black & White Event Rentals has been setting the stage for making wedding dreams a reality in Victoria and the rest of Vancouver Island & the Gulf Islands. With so many years of experience, the B&W team knows what it takes to make your vision come to life.
Over the years, we've worked hand in hand with professional wedding planners to make sure no detail is overlooked but when it comes down to it,  our specialty is providing our clients with fabulous tents (along with chairs, tables, heaters, dance floors…), and bringing whatever you need to wherever you need it, no matter where your special day takes you!  
On Vancouver Island the weather can be unpredictable (aka rainy) at any time of year, but a tent will provide you with peace of mind… as well as a handy place to hang some twinkle lights and a chandelier or two!  Your guests can see the moon & stars from under the clear top panels of a Jumbo Track tent, gather in a dazzling white Marquee, or celebrate the day under the sculpted peaks of our Tidewater Sail Cloth tents.
Come rain or come shine, Black & White Events Rentals has you and your wedding guests—and your dreams—covered! With everybody's wedding plans on hold since 2020, we're finding that dates for 2022 are filling up fast. To reserve the date for your dream wedding, call Dave Willie (owner) today 778.433.1282, or email us at dave@bwparty.com.