Sometimes the best way to survive the stress of the season is to outsource it to the people who are best placed to accommodate it — at our city's hotels.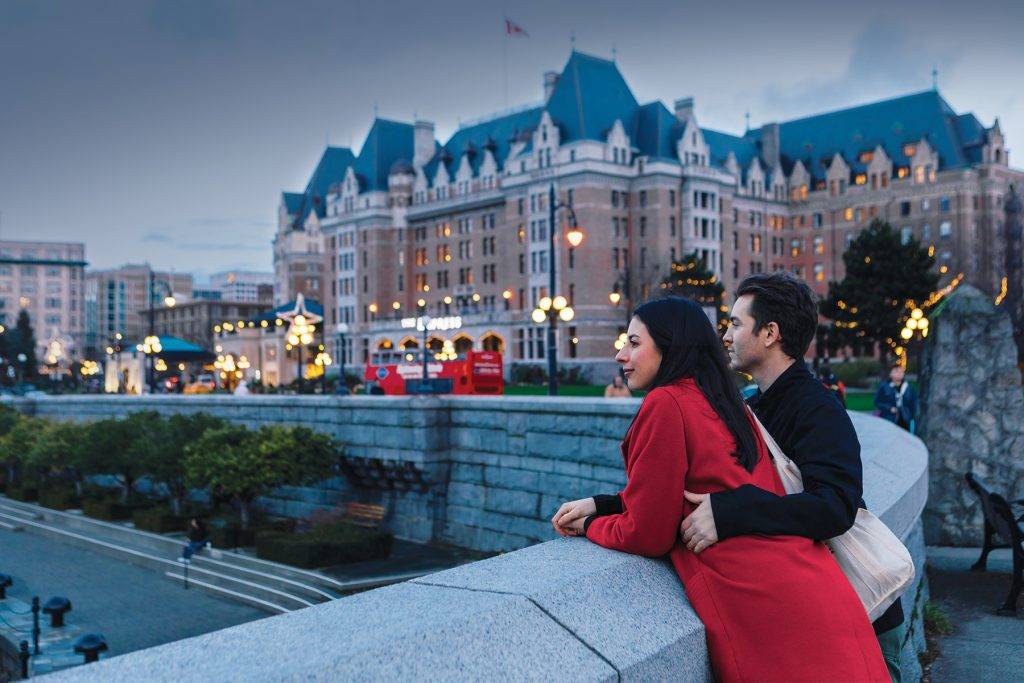 BY JOANNE SASVARI
Whatever holidays you celebrate, or whether you celebrate at all, these next few months of winter can be a fraught time. Yes, we love the twinkly lights and cozy sweaters, the mugs of hot chocolate, all those festive cookies and the arrival of visiting friends and family. But someone has to hang those lights and prepare that cocoa and make up the guest rooms. Question is: Does it really have to be you?
The answer is no, not if you choose to check out of the stress and check in to all the seasonal magic that Victoria's hotels can offer.
"First and foremost, Victoria, as a whole, is a very Christmassy destination," says Bill Lewis, general manager of the boutique Magnolia Hotel & Spa. "It's a place people travel to for the holiday. And Victoria is a city that dresses up during the holiday season."
But even if you already live here, he says, "Sometimes it's just fun to trade in the walls of your home for the walls of a hotel room."
Along with their high-thread-count sheets and attentive room service, hotels also offer spas, restaurants, lounges, afternoon teas, gift shops and beautifully decorated spaces with staff ready to make you feel right at home, only better, because you don't have to wash the dishes later.
Take the Oak Bay Beach Hotel, with its giant tree in the front lobby, evergreen garlands draped across the grand fireplace and the thousands of gold ornaments twinkling from the ceiling. "The hotel is decorated from top to bottom in the holiday spirit," says Anneke Feuermann, the property's marketing manager.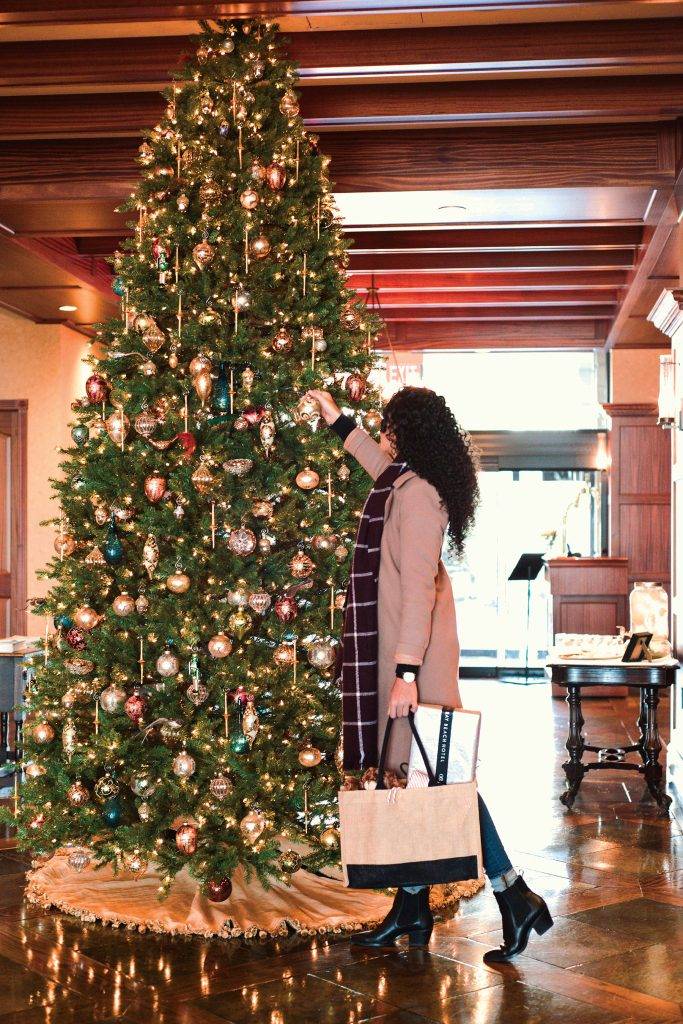 Or the Fairmont Empress, the "Castle on the Coast." "Starting with the anticipated lighting of our Christmas tree [on November 26], we look forward to delighting our guests with a special holiday menu and a number of dining events to enjoy, whether you are celebrating with friends, family or work colleagues," says general manager Dan McGowan. "Myself and the team at Fairmont Empress look forward to reuniting with the community for a magical holiday season."
Now, we know that a stay at a fancy hotel is not in everyone's budget, and we know that some family members would be forever insulted if you didn't flip open the hide-a-bed for them.
But there's something gloriously indulgent about escaping from the festive fray and sipping a cocktail at a hotel bar, booking a relaxing massage or lining up for a Boxing Day brunch buffet.
Here's how to make the most of what our local hotels have to offer.
Feast with your friends
Parties! Parties! Parties! Expect every Friday and Saturday between now and January 1 to be booked by people ready to celebrate, especially after two years of smaller gatherings due to pandemic restrictions. But aside from all the private events and gala New Year's Eve bashes, every major hotel also offers special meals that offer us a lovely way to connect with each other on these cold, dark, wintry days and nights.
Starting in November, the Fairmont Empress, for instance, serves up festive afternoon teas, s'mores on the Veranda and special cocktails at Q Bar, as well as the grand Christmas Day buffet in the Crystal Ballroom. And up at the Villa Eyrie Resort on the Malahat, guests can enjoy a "majestic" New Year's Eve dinner, toasting 2023 under starry skies.
Meanwhile, Inn at Laurel Point is once again offering their festive "share plates" brunches every weekend and, in the New Year, opening the new Duo Café Bakery to highlight the exceptional work of pastry chef Kimberley Vy.
"The café will be a Christmas gift for everyone, and we're so excited to offer our guests and the community a cozy café ambience, combined with a uniquely Inn at Laurel Point experience," says general manager Eda Koot.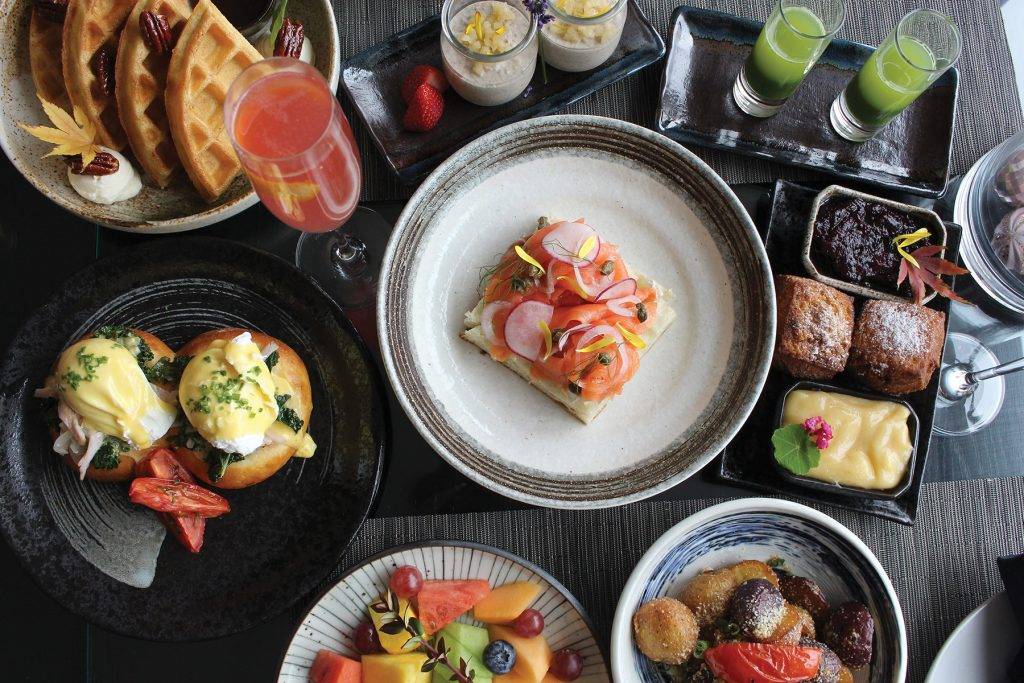 As for the big day itself, wouldn't you rather spend it with the people you love than stuck in the kitchen mashing potatoes and basting the turkey? Check with your favourite property and chances are they are offering a special meal on December 25 — for instance, the Oak Bay Beach Hotel offers a brunch "which is highly sought after," as well as Christmas dinners in both the Snug Pub and dining room.
Or if you feel like dining in, but don't want to do all the work, why not order turkey dinner with all the fixin's to go and enjoy the hotel experience at home?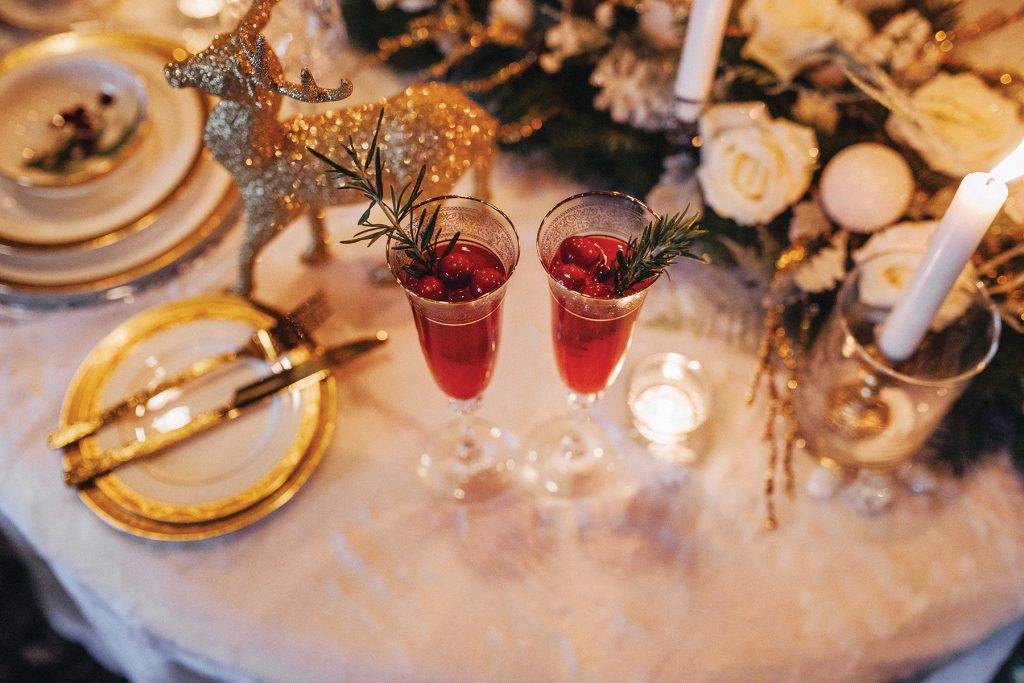 Soothe Body and Soul
Rates of depression and anxiety soar during the holidays, with worries about money, loneliness and family conflict piling onto the stressors of too much to do and too little time to do it in.
You have to take time to care for yourself, and one of the best ways to do that is by opting out for a few hours at a spa. Enjoy a massage, get a facial, have your toenails painted and relax amid the fragrance of eucalyptus and the soothing music of pan flutes.
The Magnolia, Fairmont Empress, Hotel Grand Pacific, The Westin Bear Mountain, Brentwood Bay Resort, Villa Eyrie Resort and Sidney Pier Hotel & Spa are all known for their spa facilities, and offer an excellent day escape no matter what part of Greater Victoria you are in.
But for a uniquely indulgent experience, soak away the stress in the mineral pools at the Oak Bay Beach Hotel, steaming gently under the starry winter skies on a cliff overlooking Juan de Fuca Strait. "The pools are really underrated in the winter season," Feuermann says. "We have our loyal guests who return every year and spend the holidays as almost a wellness experience. We even have some locals who make a point of staying with us."
Aside from splashing in the hot pools, guests can also wander through nearby Oak Bay Village, all decked out in its festive finery. "It's the perfect way to get into the holiday experience," Feuermann says, adding, "We have the resort experience without the resort fees."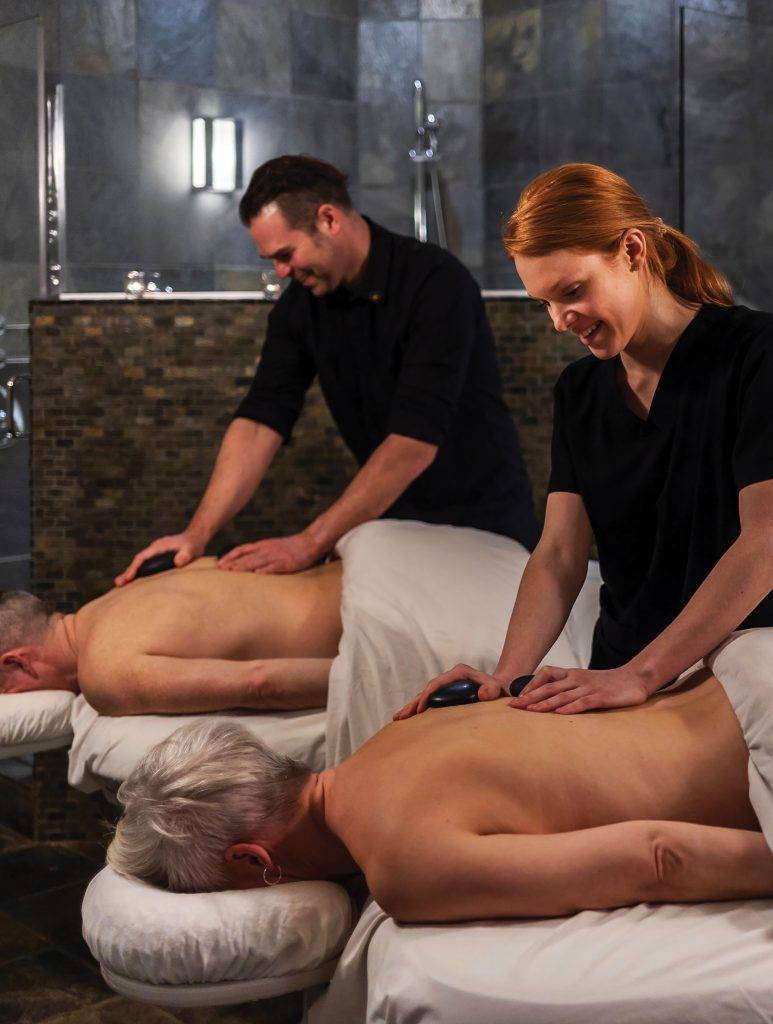 Give a Little (or a Lot)
You can also have your favourite hotel — near or far away — take the chore of gift-buying off your hands. Sure, you can just pop a gift card for the spa, dining room or accommodation into an envelope and be done with it. Or you can click over to the online shop and browse through the bathrobes, scented candles, fancy soaps and shampoos, or even the custom mattresses that keep guest after guest snoozing comfortably.
The Westin Heavenly Bed, for instance, earned its moniker for good reason — it has a plush quilted pillow top, motion isolation and individually wrapped coils that offer a long-lasting, comfortable and supportive night's sleep. Hilton, Marriott Bonvoy, Sheraton, Four Seasons and other major brands also sell their quality mattresses, as well as the luxe linens and pillows to go with them, allowing you to give the priceless gift of a good night's sleep.
Then again, you could also tuck a plush Magnolia robe, a Royal Empress tea set, a Ritz-Carlton room diffuser, a pair of Four Seasons velvet slippers or so much more under the tree instead.
Accommodate Your Guests
The main purpose of a hotel is to offer guests a place to stay, and while we all like to think of ourselves as gracious hosts, truth is, sometimes our guest spaces aren't all that ideal. Many of them have been turned into home offices these past couple of years or forced to do double duty as storage spaces, nurseries or gyms. Even if they haven't, we're all used to our privacy now, and a little togetherness can go an awfully long way, especially when there are shared bathrooms involved.
That's why, Lewis says, "Hotels are great for your out-of-town guests to spend some time. You can get R&R and still have your own space and be pampered." (Note that many hotels, like the Magnolia, also offer special holiday packages.)
Every property we spoke to has regulars who show up each year for the holiday season, some to visit family, others to escape it, arriving from all over the world to spend Christmas in Victoria. Increasingly, though, those guests are coming from right here at home.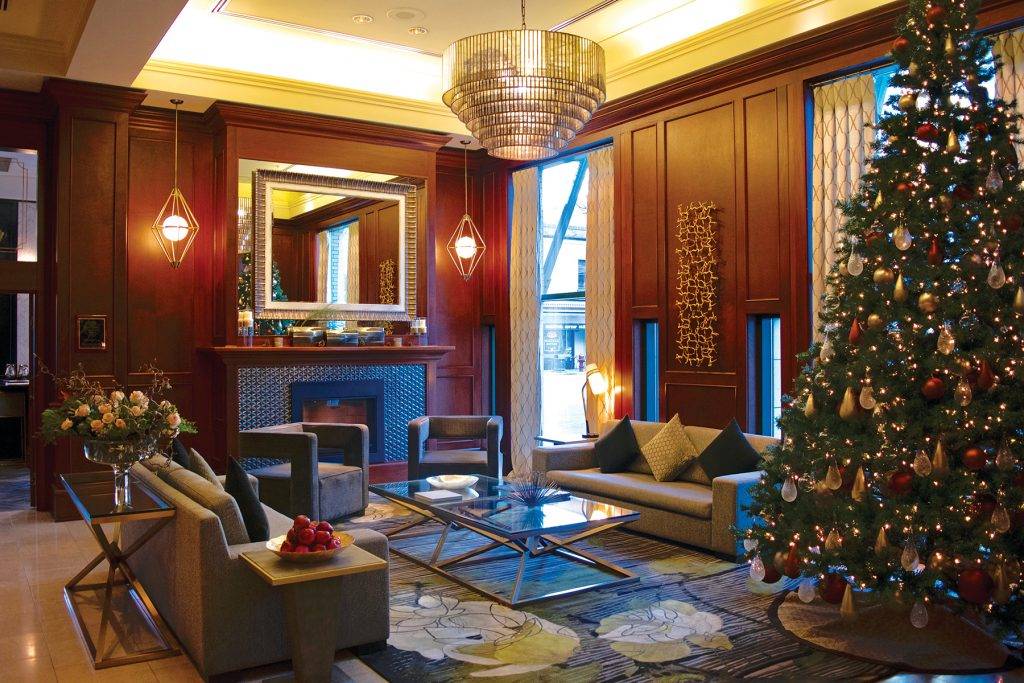 "The staycation market even before COVID was becoming a thing. But COVID took that to a new level during the Christmas season," Lewis says.
That might mean a couple in from up-Island coming to town to do some shopping and enjoy a dinner out, or a family from Oak Bay or Langford wanting to celebrate without worrying about getting home after a few glasses of festive cheer, or anyone at all simply hoping to escape the stressors of this busiest of seasons.
"It's a really interesting crowd between December 23 and January 1," Lewis notes. "It's a steady flow of relaxed people from when they get up in the morning until they have that late-night drink at the bar. It's as busy as August, but it's really relaxed. It's the best week of the year."