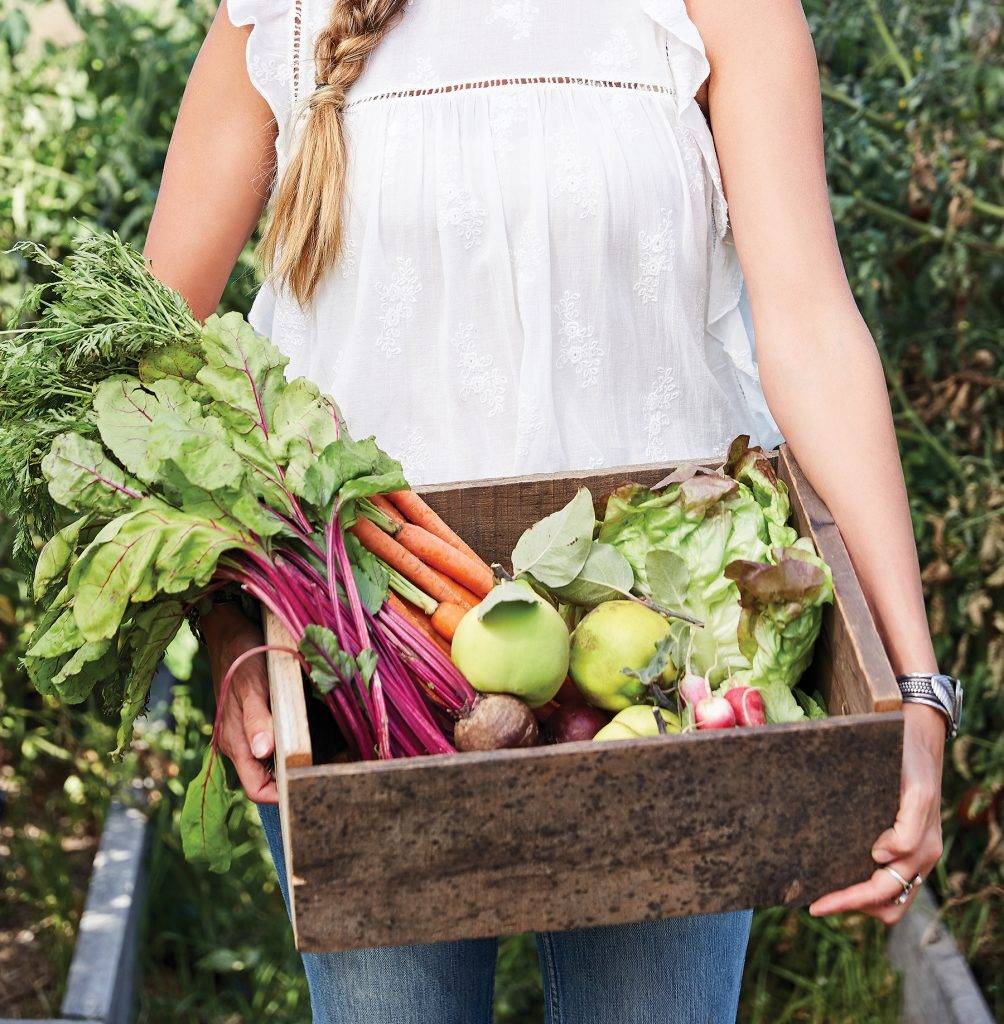 Vancouver Island is blessed with an abundance of farmers' markets and subscription boxes overflowing with fresh produce.
by Cinda Chavich
The beauty of a CSA box is the ever-changing selection of produce — a surprise when you pick it up at the farm or have it delivered to your door. It's a veritable box of delights for vegetable lovers, with goods fresh from Island fields, filled with juicy strawberries and sweet corn, blushing new potatoes, baby squash, yellow beets and every kind of leafy green you can imagine.
There's been a big uptick in demand for local food over the past year. And if you were in the know, you sewed up your weekly fresh produce supply with a CSA subscription box.
CSA (community supported agriculture) is a system that lets farmers benefit from an early-season shot of capital and guaranteed sales by selling direct to consumers.
You buy an annual or seasonal CSA box subscription, paying the farmer up front for a weekly box of fresh produce. It's a great way to insure your pick of the seasonal crop.
"As a farmer, I have a lot of gratitude for our CSA customers," says Heather Stretch of Northbrook Farm who, along with two other female farmers, is part of Saanich Organics, a business that sells organic produce collectively through farmers' markets, direct-to-restaurant sales and a popular residential box delivery program.
"It's important for us to have that certainty that the product is sold before planting it."
This year, the box program was sold out even before a seed went into the ground, she says, a function of a pandemic that saw more people cooking at home, and more Islanders thinking about local food security.
"At the beginning, I think people were worried about food shortages," she says, "but I don't think it's coming from fear anymore. People realized there actually is great local food being grown right here at home."
Stretch, who grows a variety of vegetables and has a U-pick blueberry orchard, says a typical mid-summer CSA box might include kale, beans, cucumbers, salad greens, onions, summer squash, lettuce and blueberries. Later in the season, carrots, beets, jalapeño peppers, garlic and plums may be part of the mix.
Local farmers also grow Japanese turnips, pac choi, kohlrabi, eggplant, brussels sprouts and parsnips.
Every CSA box includes about eight different items, based on seasonality and monetary value of the products, saysStretch, and, as a CSA box customer, you're first in line for the week's harvest.
"If we're short on something, we think of our CSA customers first," Stretch says, noting a Saanich Organics box might also include produce from other smaller organic growers.
Beyond boxes, you can use the new online ordering platforms, created by Moss Street and Esquimalt farmers' markets,to preorder produce from growers that's curated for pickup at the markets or arrange delivery from a variety of Cowichan Valley farms using the Cow-op online market.
Or drive the back roads of the Saanich Peninsula and Cowichan Valley to cherry-pick your favourite fresh fruits and vegetables right from the farms, or meet the growers at the weekly farmers' markets held across the region.
FARM TO TOP TABLES
Robert Cassels, the chef/owner of Saveur Restaurant, buys vegetables directly from local farms for his seasonal menus. Whether it's Sun Wing farm's tomato jam on his burgers, a concentrated carrot juice emulsion or a complete plant-based tasting menu, Cassels loves to create inspired new combinations with his root-to-shoot vegetable cuisine.
His vegan fried Mushroom Crackling served with dehydrated radish and carrot top kimchi powder requires a multi-day preparation process. But some dishes are simple, like shaved asparagus in a minted truffle dressing or blanched greens in chilled summer soups.
"My favourite thing to do with vegetables is to smoke them," says Cassels, describing the smoked beet puree that gives his beet dish a meaty note, reminiscent of bacon, or his popular smoked tomato vinaigrette, made with roasted garlic and basil.Recent menu items include duck spring rolls with smoked beet and wild elderberry "nuoc cham" and Metchosin pork belly with basil miso and preserved lemon "gremolata" in a smoked turnip broth. Wild mushrooms get lots of love too — crispy fried and pickled chanterelles, lion's mane, puffed wheat berries with chanterelle butter, fermented mushroom powder and Parmesan black truffle foam.
The trick to creating great vegetable dishes is treating vegetables with the same care and attention afforded more expensive proteins,he says.
"We make a mixed vegetable top kimchi, ferment it and then dehydrate it to a powder to create a seasoning, loaded with umami," he says. "Many cooks will take a lot of time and stages with meat — brining, braising, pressing — we do the same with vegetables."
USE IT UP
While the first line of defence with farm-fresh vegetables is a big mixed salad — there's nothing quite like the flavour of freshly-picked greens, ripe tomatoes, sweet corn, French radishes and garden peas — you can cook any of these tasty treats too.
Heather Stretch tells her customers to be adventurous and try new vegetables, noting any vegetable can be "boiled,roasted or shredded into a salad."I would add grilled, sautéed or stir-fried to that list. Think about the "mother recipes" that you can tweak by swapping out the vegetables and herbs, whether it's a quiche, omelet, risotto, soup or savoury vegetable fritter.
If you have a spiralizing tool, it's easy to turn a windfall of big zucchini, carrots or rutabagas into vegetable "noodles" to add to salads or to sauté with butter and garlic.
You might also roast the vegetables that are overwhelming your fridge or getting a bit squidgy — either alone or en masse— on a big sheet pan. Start by cutting or slicing vegetables, tossing them with a little olive oil and seasoning with salt, pepper or other herbs and spices. I especially like to roast tomatoes (to serve on crostini toast with a slather of pesto or mayo orricotta and basil) or create a Mediterranean couscous bowl with roasted cauliflower, brussels sprouts, eggplant, onions andpeppers, topped with hummus and tzatziki.
Cooking ripe fruits, especially berries, is a great way to save them when you have an abundance too. Think about simmering berries into a simple sauce, with a bit of sugar, to top your morning yogurt or pound cake or combining them with apples or peaches in a fruit crumble.
While you can store some vegetables in the refrigerator or a cold cellar for weeks — including cabbages, turnips, and roots like beets, potatoes and carrots — many vegetables and fruits spoil quickly and can easily become excess food waste.Pickling or fermenting is a good way to deal with a windfall of summer produce, and making old-fashioned vinegar and fruitshrubs (also known as drinking vinegar) is an option when the orchard overflows.
Spinnakers has shrubs — ginger, blackberry, raspberry and rhubarb — on their cocktail menu and adds these local flavours to their line of sparkling waters and sodas.
So get creative and enjoy the bounty of summer in a box.
South Vancouver Island CSA Boxes
Good Food Box
thegoodfoodbox.ca/Deliver or pickup: Wednesdays
The Local Food Box
thelocalfoodbox.com/Pickup: Tuesdays and Fridays
South Island FarmHub
sifarmhub.ca/Delivery or Pickup: Wednesdays
Cow-op
cow-op.ca/Delivery or Pickup: Thursdays
Berryman Brothers Butcheries
berrymanfarms.ca/Delivery: Anytime
Fierce Love Farm
fiercelovefarm.ca/Pickup: Tuesdays (Haliburton Farm) or Thursdays (Fernwood)
Paper Lantern Food Co.
paperlanternfoodco.com/Delivery or pickup: Wednesdays
The Plot Market Garden
theplotmarketgarden.com/Delivery or pickup: Fridays
Farmship Growers Cooperative
farmship.ca/Delivery or Pickup: Thursdays
For a further list of CSA providers, including those already sold out for the 2021 season, visityammagazine.com.
Local Farmers' Markets
VICTORIA:
Esquimalt Farmers Market
esquimaltmarket.com/Thursdays, 4:30 to 7:30 p.m., April 1 to September 16 (fall schedule to be determined)
James Bay Community Market
jamesbaymarket.com/Saturdays, 9 a.m. to 3 p.m., May 1 to October 2
Moss Street Market
mossstreetmarket.com/Saturdays, 10 a.m. to 2 p.m., May to October (hours change in fall and winter)
Oaklands Sunset Market
oaklands.life/Wednesdays, 4:30 to 8:30 p.m., June 30 to September 1
WESTSHORE:
Goldstream Farmers Market
facebook.com/goldstreamfarmersmarket/Saturdays, 10 a.m. to 2 p.m., May to October
Metchosin Farmers' Market
facebook.com/Metchosin-Farmers-MarketSundays, 11 a.m. to 2 p.m., Mid-May to late October
Sooke Country Market
sookecountrymarket.comSaturdays, 10 a.m. to 2 p.m., April 24 to October 9
SAANICH PENINSULA:
North Saanich Farm Market
northsaanichfarmmarket.ca/Saturdays, 9:30 to 11:30 a.m., June 5 to October 9
Peninsula Country Market
peninsulacountrymarket.ca/Saturdays, 9 a.m. to 1 p.m., June 5 to October 9; Wednesdays, 4 to 8 p.m., July 7 to August 25
Sidney Street Market
sidneystreetmarket.ca/Sundays, 11 a.m. to 3 p.m., May 9 to October 10
COWICHAN VALLEY:
Cobble Hill Farmers' Market
cobblehillfarmersmarket.ca/Thursdays, 5 to 8:30 p.m., June to September
Duncan Farmers' Market
duncanfarmersmarket.ca/Saturday, 9 a.m. to 2 p.m