Welcome your favourite people into your home with a low-stress, high-impact cocktail party that sets the tone for the season.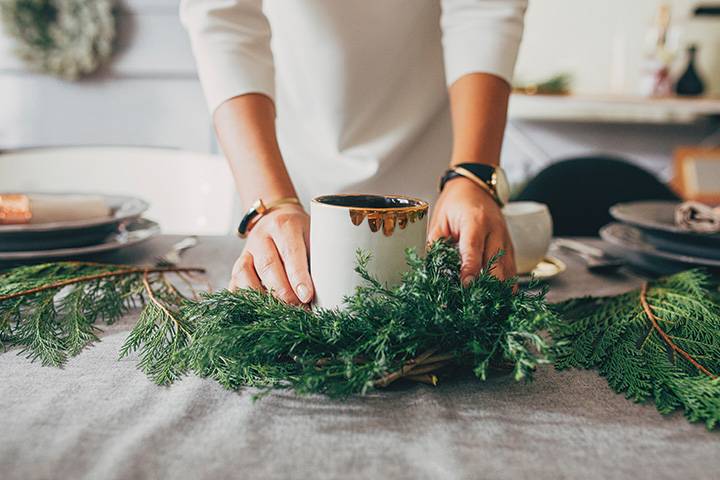 Strings of holiday lights illuminate the Inner Harbour, carolers perform along downtown streets, and people bundle up for horse-drawn trolley rides. These are all seasonal signs that it's time to put your holiday party planning in high gear.
This year, we bring you a host of great ideas to keep your event simple and elegant so you can enjoy your party as much as your guests do!
It Starts With Invitations
These days, getting a card in the mail is a rare joy. Instead of sending out an impersonal mass email or creating a Facebook event, visit Classic Stationers on Sparton Road and work with the staff there to create custom party invitations.
Designed entirely in-house and made by letterpress printing, with foil stamping and embossing, this beautiful stationery is a luxurious way to begin your holiday party before the date arrives. No time for printed invitations? PaperlessPost.com makes it easy to personalize and manage digital invitations.
The Statement Entryway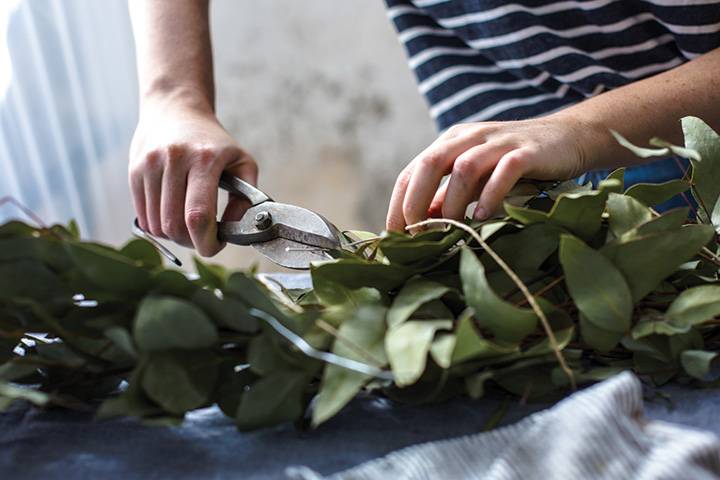 On the day of your party, welcome your guests with festive sights, sounds and smells. Start at your entryway, with jingle bells tied to red ribbon around the doorknob and a homemade wreath hung on the door. Instead of a store-bought wreath, go the extra step and make an unconventionally festive one out of eucalyptus branches. It adds soft colour to your door and provides a fresh, subtle scent for arriving guests. For an accented pop of Christmas colour, add a red bow, poinsettia flowers or holly to the wreath.
Enhance the holiday welcome by keeping a diffuser or scented candle lit on a console table, and choose seasonal scents like pine, orange and sandalwood or cinnamon and mandarin.
For a Festive Flow
Part of the art of creating the ideal party space is planning the flow — the way you want people to experience the setting. Arrange your furnishings so there is easy access to the buffet table and drink stations. People tend to crowd around these stations, so leave plenty of room. To encourage guests to mingle and gather in certain areas of the room, Christine Smart of Smart Events recommends renting cruiser tables to place throughout your space. This will invite guests to fill the room and provide places for your standing guests to set their food and drinks.
---
Tip: Consider renting a coat rack so all your guests can hang their winter jackets.
---
Create a Beautiful Buffet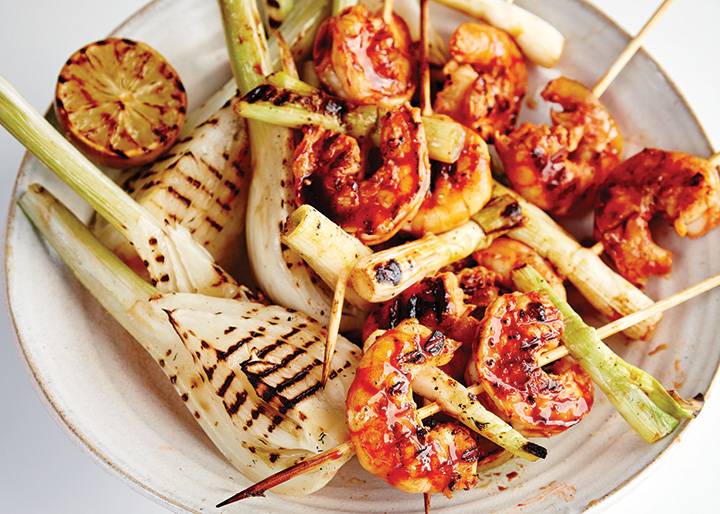 ---
Make your dining station just as beautiful as the food is delicious with a simple red-and-white layered look. For this, you'll need white linen, white pillar candles and white cake stands, all of varying heights, to display your appies and sweets. Then add in strategic hints of warm red with artful arrangements of pomegranates, dried cranberries and holly. For a fun twist, display red and white candy canes or bonbons in large apothecary jars. Add a hint of whimsy by artfully hanging white battery-lit paper stars or snowflakes from the ceiling above the buffet table.
For food offerings, mix traditional Christmas appetizers, such as sausage rolls and a baked Camembert, with more unique appies, such as griddled shrimp and baby leek skewers (you'll find a great recipe for it in Party Food to Share by Kathy Kordalis). As well as being a tasty sweet-and-sour appetizer that guests can easily help themselves to, this dish doesn't require a lot of effort on your part, but looks impressive.
---
Tip: Do offer a variety of foods to meet guests' dietary restrictions, but don't wait until the morning of your party to try cooking something new.
---
Lighting Matters
The right lighting sets the holiday mood. Christine Smart says adjustable lights are best so that party guests can mingle under soft light. Purchasing low-wattage bulbs is a good alternative.
"Uplighting, or bouncing light off the ceiling, can also be done so that there is less direct lighting in the room," says Smart.
For a bit of holiday whimsy, string fairy lights down a banister or add battery-powered light-up branches of winter greenery to bouquets or arrangements. The mantel is also a great focal point, so decorate yours with white candles and wrap ribbon around the bottom for some texture. Another way to mix beautiful lighting with festive decorations is to fill tall, cylindrical glass jars with pine cones and battery-lit fairy lights.
---
Tip: Put tape over your light switches and dimmer switches so guests don't accidentally lean on them and turn the lights way up — and ruin the party ambience.
---
Decorate With Style
The ideal festive décor for your party should be inspired by the character and design of your house, says Smart.
"Although contrasts in colour and era may be very effective with the right balance, consistency is key," says Smart. "Don't be afraid to edit down your own collection of decorations, because often less is more. And it's always a treat to freshen up an old collection with some new finds."
Fresh, seasonal plants such as evergreen garlands, amaryllis and olive branches are a great addition to the ambiance of any party, and mixing holiday classics such as coniferous sprigs and pine cones with chic, non-traditional ones like succulents is a good way to incorporate some unexpected elegance. Arrange them in red pots and decorate with ribbons.
Set the Bar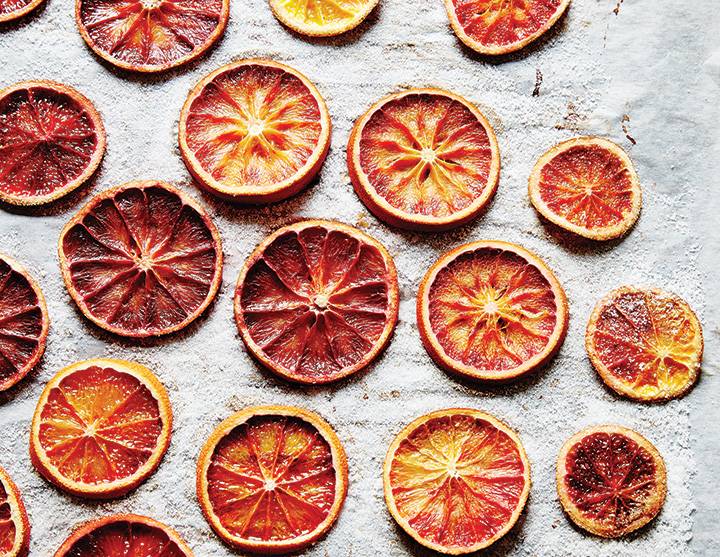 ---
If you're not hiring a bartender, keep the drinks simple by serving a house cocktail (having fun naming yours!) and a selection of craft beers and wines. For house cocktails, plan on two per guest. Instead of the usual eggnog-based drink or winter sangria, opt for a citrusy touch. Blood oranges, in season from December to May, bring an unexpected yet still festive flavour, so try Blood Orange and Rosemary Negronis (recipe in Party Food to Share by Kathy Kordalis) and garnish with blood orange wedges and a sprig of fresh rosemary.
To avoid lineups for drinks, pre-stock your drink station with wine, beer and champagne. And make sure everything is ready to go, even for early birds: uncork the wine, put the beer in an ice bath, and pop the bubbly 30 minutes before your guests are due to arrive.
If you want time to mingle instead of playing bartender, hire a professional such as Victoria Event Services/Joe the Bartender. You'll still need to provide all the liquor and mix, but that's where your bartending responsibilities end. Want something a little more hands-on for your party? Joe the Bartender hosts mixology lessons where your guests will learn how to make four drinks and perfect pouring methods.
---
Tip: The best time to buy ice is three hours before your party begins. Plan for one 10-pound bag of ice for every four guests.
---
Play It Up
When your guests walk through your front door, you want them to feel ready to unwind — and the music you choose will set the party mood. In the week before, spend some time listening to curated Christmas playlists on iTunes and Spotify. As well as upbeat playlists that encourage dancing, Apple has elegant Christmas playlists for sophisticated holiday parties. Choose playlists like Cozy Christmas or Very Acoustic Christmas, ideal for a party where the focus is on conversation rather than the dance moves. For a list that will last the entire duration of your party, pick Spotify's 86-song Christmas 2017 list.
For a touch of elegance, hire a student or faculty performer from the Victoria Conservatory of Music. The soft sounds of a string quartet or flutist performing "Silent Night" in your living room will make for a personal and moving musical experience. Fill in an online form detailing your musical requests, pay a $35 connect fee, and the school will find a musician or group. You'll finalize the details directly with the musician after that.
Want to make your party interactive? Consider hiring a Slixer Talent Team to present either an improv comedy or murder-mystery show. As long as there are at least 10 people at your party — and you have space to serve as a "green room" for the performers — Slixer can keep your guests laughing (or guessing, if you opt for a Christmas murder-mystery show) throughout the evening.
Set Up a Photo Station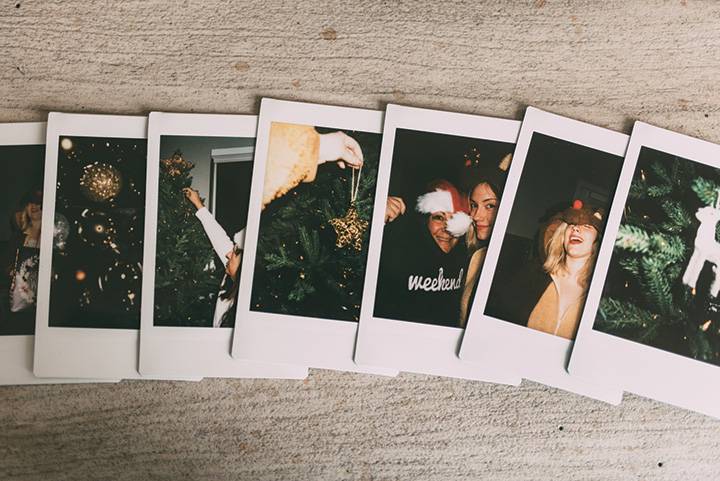 For a fun and somewhat nostalgic feel, rent a Fujifilm Instax Mini instant camera (the 21st-century version of a Polaroid camera) for the night from Japan Camera Foto Source for your guests to use, and set up a stylish backdrop — strings of fairy lights draped down over a dark-coloured cloth or nice wrapping paper pinned to a well-lit wall are both minimalist, festive options. Encourage your guests to hang the photos afterward. Set up twine next to the photo booth and supply Christmas pins or clips for easily displaying the memory.
Wind Down With Something Sweet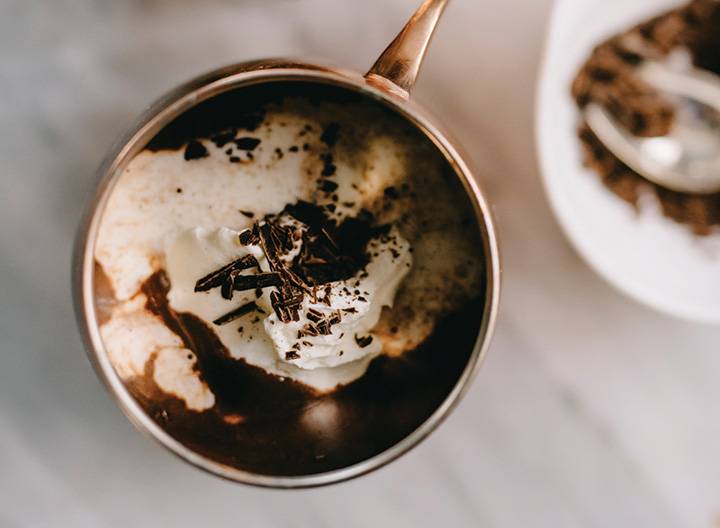 End the night with something naughty but nice. For the final hour of your party, use your bar cart as a hot chocolate station. Lay out different powdered hot chocolate options as well as glass containers filled with toppings such as marshmallows, chocolate shavings and mini candy canes — and don't forget about the whipped cream. Stock the lower level of your bar cart with plenty of mugs and spoons.
As a personal touch at the end of the evening, hand out a small gift to each guest as they leave. For a gift that is as elegant as the party you just threw, a great idea is to purchase customized mini terrariums containing pine cones, berry sprays and festive greenery from Fine Floral Design on Menzies Street, which you can pre-order for each guest.
While downtown Victoria is brimming with holiday spirit, your holiday party, if planned right, can feel just as elegant and festive. With some planning and creativity, you can host a luxurious, seasonal get-together that guests will remember for holidays to come.