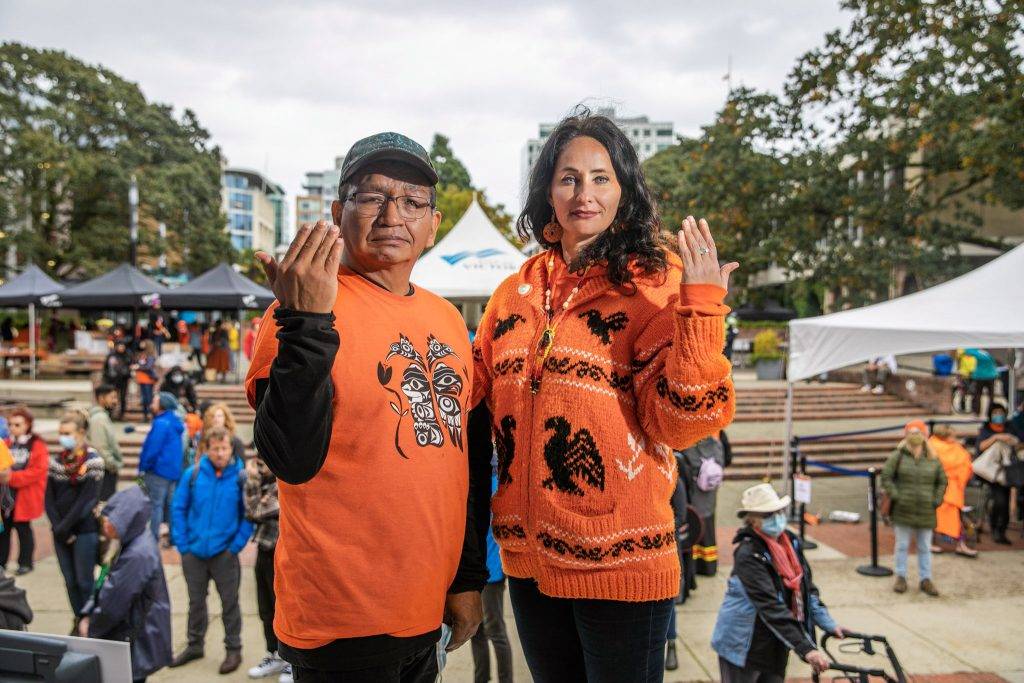 BY MELODIE KRIEGER
The National Day of Truth and Reconciliation takes place on September 30th, encouraging the public to participate in a meaningful dialog about the dark history between the Indigenous inhabitants and settlers who call this land home.
While this important event is only observing its second year as federal statutory holiday, September 30th has been widely recognized as Orange Shirt Day for nearly a decade.
Since the 18th century, Indigenous, Métis and Inuit Peoples have been stripped of their rights, lands, and natural resources as children were torn from their families and deprived access to their languages and cultural identity.
Authorized by Canada's first Prime Minister, Sir John A. MacDonald, the Indian Residential School System was run in collaboration between the federal government and religious orders. These schools were not designed to educate, but rather to assimilate Indigenous children as young as four years of age into colonial society.
Between 1831 until as recently as 1998, there were 140 federally run residential schools across Canada. While the number of school-related deaths remains unknown, estimates range that between 3,200 – 6,000 children may have perished. Of the estimated 150,000 residential school Survivors, 80,000 are still alive today.
Orange Shirt Day was initiated as an opportunity to raise awareness of Canada's residential school systems and the ongoing cultural genocide that has devastated Indigenous communities for over a century. The date was chosen around the beginning of autumn, as this was the time children were traditionally taken from their homes and forced into residential schools.
On September 30th, Canadians are encouraged to wear an orange shirt to honour the memory of the missing and murdered children of residential schools, while paying respect to the healing journey of Survivors and those impacted by intergenerational trauma.
The symbol of the orange shirt originated from a heart-wrenching story shared by Phyllis (Jack) Webstad from the Stswecem'c Xgat'tem First Nation. Although her family had little money, Phyllis' grandmother bought the 6-year-old a new orange shirt to wear on her first day to the Mission school, which she attended in 1973/74.
When Phyllis got to the school, she was stripped of her clothes, never to see her special orange shirt again. "The colour orange always reminded me of that and how my feelings didn't matter, how no one cared and how I felt like I was worth nothing. All of us little children were crying, and no one cared," recalls Phillis. Orange Shirt Day honours the children who had their culture, freedom and self-esteem stolen by abusive colonial practices, reminding us that "Every Child Matters".
This year, numerous events will be taking place across our community to mark the National Day of Truth and Reconciliation and Orange Shirt Day.
Centennial Square, downtown Victoria, 10 a.m. – 12:30 p.m, September 30.
The Xe Xe Smun'Eem (Our Sacred Children) Victoria Orange Shirt Day ceremony is organized by residential school Survivor Eddy Charlie and his friend Kristin Spray in collaboration with the City of Victoria. The event will include singing, dancing, and a children's performance, with an estimated seven speakers who will share their experiences as residential school and intergenerational trauma Survivors.
Since 2015, Eddy and Kristen have been spreading awareness about the devastating effects of residential schools to groups across the island from government ministries to elementary school students. The team has witnessed a growing impact as many others have felt inspired to share their stories as well. With numerous speaking engagements held throughout the year, no group is too small to hear the important message of residential school trauma and survival.
The beautiful orange shirts sold by Victoria Orange Shirt Day display an image gifted by local Indigenous artist, Bear Horne, and are available for purchase on their website and at businesses across Victoria.
"Horne's design features a bear to help us follow the right path, an eagle to help us have a vision of a bright future, a hummingbird to keep our mind, body and spirit healthy, and a flower to feed the connection of all these elements," shares Eddy. "Having an Indigenous artist design the shirt helps creates more awareness about residential schools." Kristin adds, "We want to encourage people to research where they are buying their orange shirts. Are the artists local and do the proceeds go back to residential school Survivor awareness?"
Eddy and Kristen use the shirts' proceeds and a GoFundMe fundraiser to pay for Victoria's Orange Shirt Day event, as well as travel expenses so they may continue engaging with the public year-round.
South Island Powwow
Royal Athletic Park, 1014 Caledonia Ave, Victoria. Doors open at 10 a.m. | Opening ceremony begins at 11 a.m, September 30.
The inaugural South Island Powwow held by the Songhees Nation will offer residential school Survivors and their families an opportunity to celebrate the resiliency of Indigenous cultures. Featuring intertribal song and dance, Indigenous Peoples of different Nations will come together to remember the spirit of their ancestors and recognize the generations to come.
"We look to hold space and honour our residential school, day school, and 60s scoop Survivors and their families, celebrating Indigenous cultures that colonization tried to erase and showcase our strength and resilience. Bringing people together for celebration and to build bridges amongst all Nations," shares Songhees Chief Ron Sam. "We will sing and dance together, not against one another. This is a time to memorialize our past and future."
The day-long event will commence with an opening ceremony at 11 a.m., followed by a grand entry at noon and intertribal dances. Another grand entry will take place at 6 p.m. followed by more intertribal dances, with a retirement of colours at midnight.
University of Victoria Orange Shirt Day Events
To mark the National Day for Truth and Reconciliation, UVic will be closed on September 30th to honour the lost children, residential school Survivors and their families. Instead, the school will commemorate the occasion with a series of events designed to educate and engage the public leading up to the day.
University Librarian Lecture: Truth and Healing through Story-telling: Indigenous Podcasting
Sept. 27, 5-8 p.m. Location: Ceremonial Hall, First Peoples House.
Connie Walker, critically acclaimed Cree journalist from Okanese First Nation will discuss her podcast Stolen: Surviving St. Michael's (2022), including "the process of understanding the effects of the residential school system on her family, her team's struggles in getting access to residential school records, and why she decided now was the time to tell this story."
Settlers Actioning Settlers: Blanket Exercise Workshop
Sept. 28, 12-1:30 p.m. Location: McPherson Library classroom 129.
The Kairos Blanket Exercise workshop, hosted by Settlers from the Orange Shirt Day planning committee will take participants on "a 90-minute journey which provides a brief history of colonization in Canada. The aim is to learn about the truth of colonization in Canada, encourage attendance at Orange Shirt Day events, and foster commitment to the Truth and Reconciliation Commission's Calls to Action."
Sept. 29th, 9 – 3:00 p.m. Location: University of Victoria campus.
The theme of this year's Orange Shirt Day at the university is Resurgence, as in "to reclaim, regenerate and reconnect one's relationship with Indigenous homelands, culture and community."
Community members are invited to join students, faculty, and alumni with the lighting of the Sacred Fire, following a session where survivors will share their thoughts and reflections on their experiences. Between noon to 1 p.m., witness reflections and a conversation on resurgence will take place, with closing remarks and a prayer to be held at 3 p.m.
The University's orange Hearts and Hands shirt was designed by artist Carey Newman Hayalthkin'geme (Kwakwaka'wakw/Coast Salish), who says, "This design was made to honour the children who died in residential school. The hearts express love for all those in unmarked graves and compassion for the families and communities who waited for them to be found. The small and colourful hands remind us of the uniqueness and beauty of every child. Taken together, they represent our commitment to listen to our hearts and use our hands, to do the work that needs to be done."
To learn more about Canada's National Day of Truth and Reconciliation and Orange Shirt Day, please visit OrangeShirtDay.org.