See her work at Madrona Gallery and at the Fired Up! ceramics exhibit in Metchosin this May 25 to 27.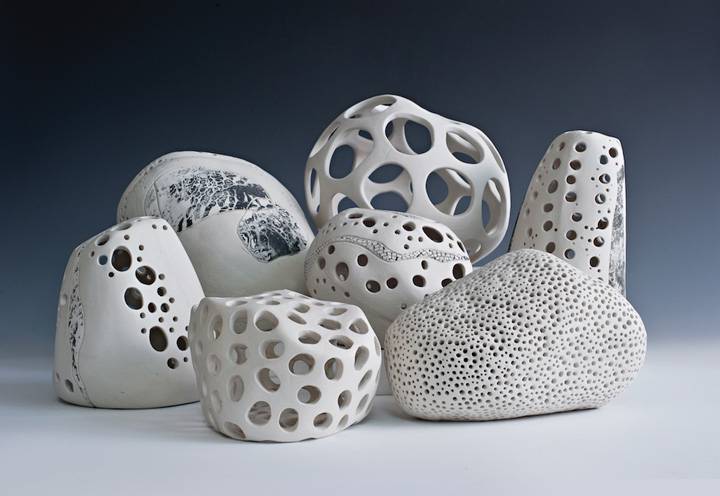 Carved porcelain and atoms (below) were created by Samantha Dickie from high-fired. Her porcelain collection explores ideas of urban and natural landscapes through simple organic forms. PHOTO: CATHIE FERGUSON
---
With each of her sculptural projects, contemporary ceramic artist Samantha Dickie seeks to create distinct geographies of space.
"I have always been drawn to the raw tactility of clay," says the Victoria-based artist. "And I aim to keep that visceral earthy quality in the finished piece to preserve the natural characteristics that I love."
Her work can be found in her home studio and at Madrona Gallery, and at Two Rivers Gallery in Prince George as part of its multidisciplinary Fences exhibition, which runs until April 1. Dickie will also be one of the artists at the Fired Up! ceramics exhibit at the Metchosin Community Hall from May 25 to 27.
Currently, she is focusing on a large-scale installation for the Canadian Clay and Glass Gallery in Ontario.
"The piece, called All We Can Do is Keep Breathing, is comprised of 1,500 hanging porcelain components along with a soundscape," she says. "My feminist politics inform my esthetic of highlighting the unadorned and imperfection of beauty in my specific use of form and surface."

PHOTO: CATHIE FERGUSON
---
This article is from the March/April 2018 issue of YAM.