What is the secret to having the most relaxing, wellness-focused experience at the Oak Bay Beach Hotel? According to Boathouse Spa & Baths Manager, Tina Lyons, it is bringing a positive mindset with you.
"Travellers have a tendency to bring their stress with them," says Lyons. "We encourage practicing a 'digital-detox' – leaving their phone, their e-mails, or any personal stressors behind and instead focus on relaxing their mind. Our proximity to the ocean allows guests to experience a simply serene atmosphere, with a connection to the Salish Sea that truly cannot be found anywhere else in Victoria. Taking advantage of this space allows guests to experience a total refresh of mind, body, and spirit."
The Spa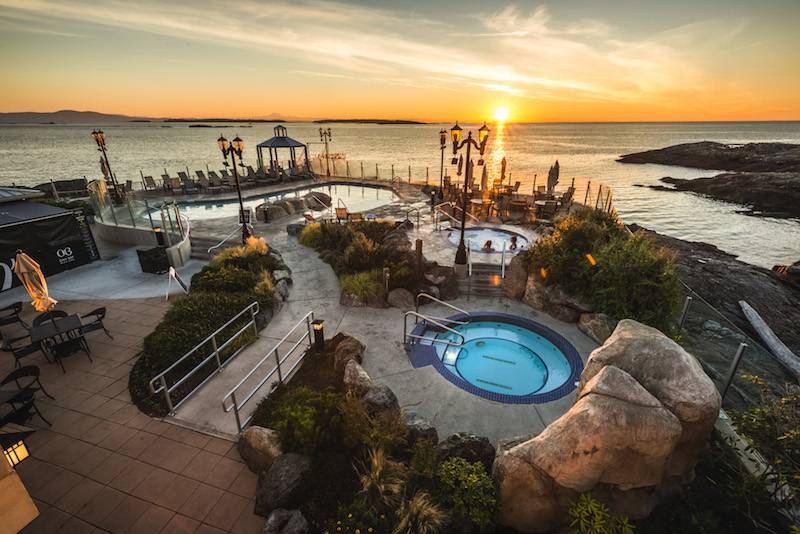 With heated seaside mineral baths, a seasonal Boathouse Kitchen boasting a menu of fresh, seasonal ingredients and low-proof cocktails, along with the Boathouse Spa offering a full range of west coast-inspired spa treatments, the Oak Bay Beach Hotel is the complete definition of what it means to focus on "wellness". With a world-class spa that was recently recognized as one of the Top 25 Hotels in Canada (Spa Inc 2018), the hotel creates an experience for each guest that allows them to unwind and let go.
The hotel recently held their first annual Wellness Weekend this past February 1 to 3, and have already scheduled the next retreat for January 31 to February 2, 2020. Hosted by Catherine Roscoe Barr, BSc neuroscience and founder of The Life Delicious, the three day retreat leads participants through 5 in-depth modules on mindset, movement, nutrition, sleep and connection. Participants receive a personalized action plan based on neuroscience and mindfulness to help them transcend any resistance to change while maintaining the new healthy habits they have chosen to best serve their life.
"We are excited to partner with The Life Delicious to offer this unparalleled retreat," says Oak Bay Beach Hotel General Manager Michelle Le Sage. "Our hotel and spa provide an idyllic sanctuary in which to fully indulge body and mind within a program of this caliber."
The Food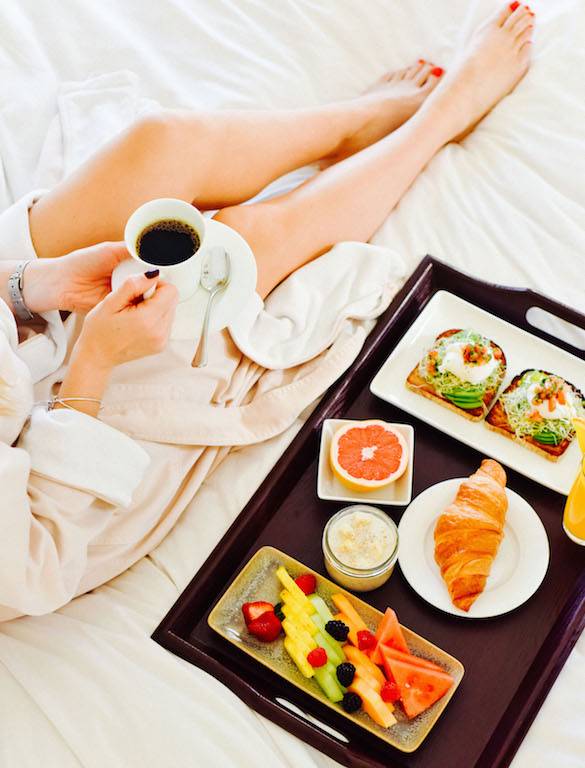 The healthy habits do not end there — the demand for more plant-based food options and holistic nutrition has not gone unnoticed by Executive Chef Kreg Graham, who is committed to incorporating these modern food principles into his menu creations. Simply head to the hotel's Snug pub and you'll find items on the menu such as The Very Good Butchers Vegan Burger, featuring a local and organic plant-based patty accompanied with crispy onions, sprouts, tomatoes, pickles and avocado aioli. The hotel's Dining Room takes it a step further, offering items such as the millennial favourite Avocado Toast, delicious and creamy Steel Cut Oats, healthy Tofu & Quinoa Scramble and more.
"Over the years, there has been an apparent shift in the way we eat," says Chef Graham, "Many people are becoming more conscious of their menu choices, which can be limiting. Our menus allow all guests to enjoy their dining experience to their utmost satisfaction, without restrictions or substitutions."
As lives become increasingly busy in a world where we are continuously connected to one or more digital devices, the demand for personal wellness, quiet spaces and an opportunity to reconnect to nature increases. 2018 was dubbed the year of #selfcare and for 2019, it looks like this holistic mindset will continue to evolve.
Following this movement, the Oak Bay Beach Hotel
has become a one-stop-shop, focused on each guests' ultimate relaxation. The
hotel's services and amenities allow you to renew your body, relax your mind
and refresh your spirit by indulging all your senses in a seaside oasis built
with one thing in mind – your personal wellness.
About the Oak Bay Beach Hotel
Nestled on the shores of the Pacific Ocean near Victoria, BC, the Oak Bay Beach Hotel overlooks the Salish Sea and offers breathtaking ocean views of snow-capped Mount Baker in the distance. Just minutes away from quaint boutique shops, cafes, and galleries of Oak Bay Village, the hotel is a worthy legacy to its renowned predecessor and features world-class services such as seaside mineral baths and fine dining. Our well-appointed guest rooms and suites offer complimentary parking and Wi-Fi during each stay. Let us provide the perfect vantage point from which to experience the best of the Pacific Northwest. Let us provide the perfect vantage point from which to experience the best of the Pacific Northwest.