Falling in love with the perfect waterfront property inspired local developers Chris Walker and Joan Gandza to build a new dream home.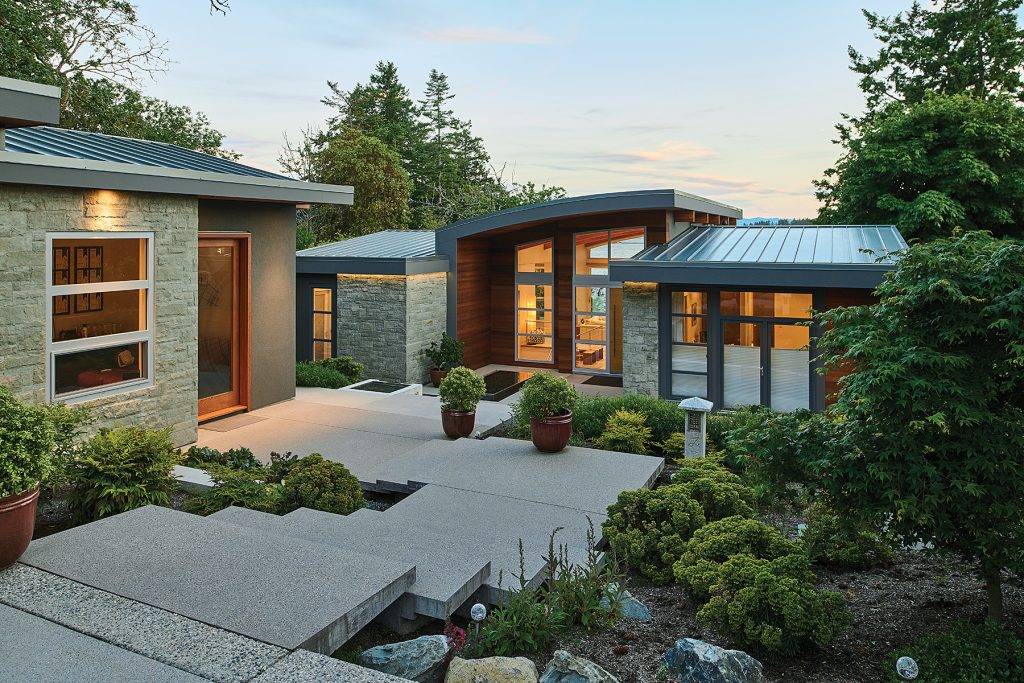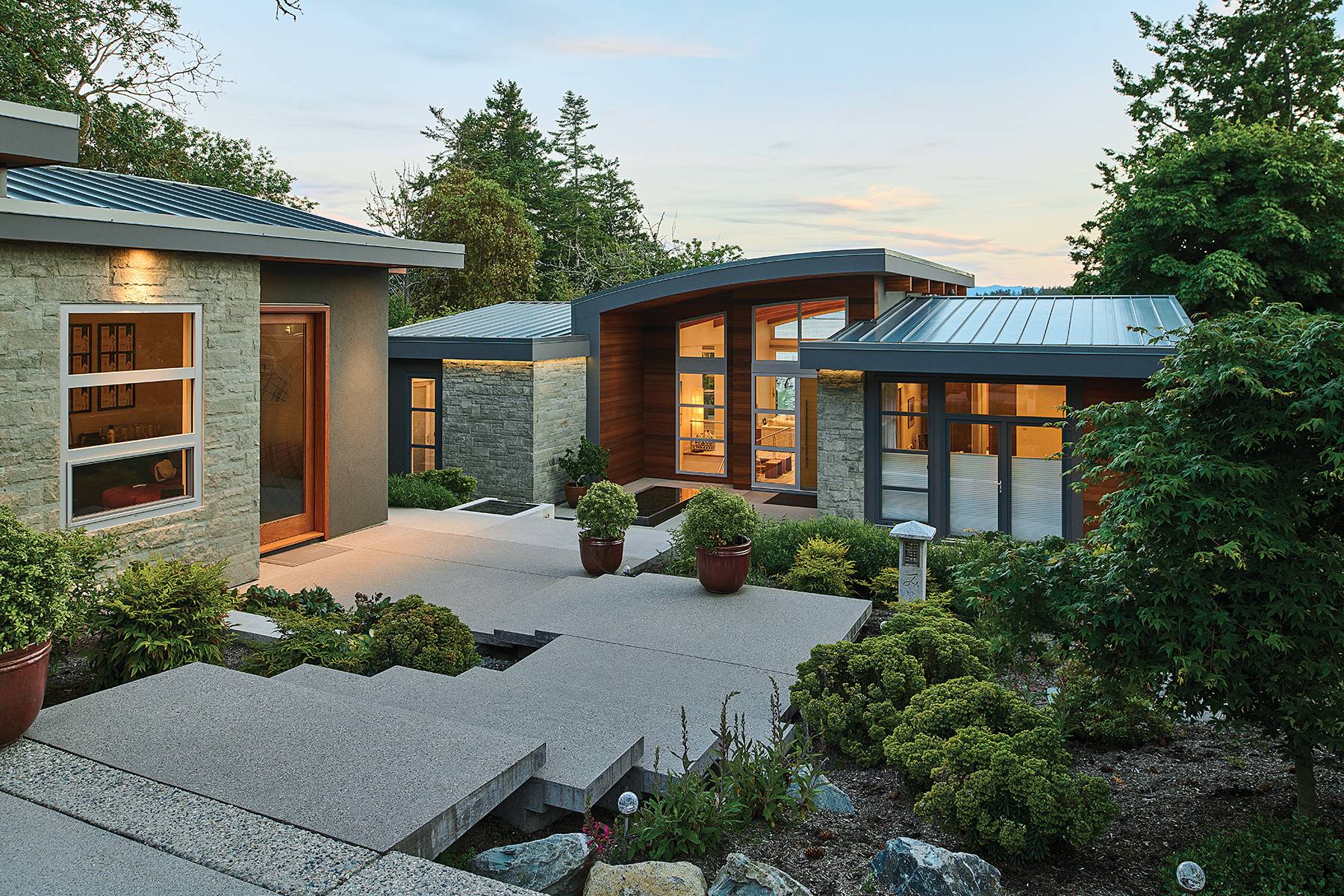 ---
By Danielle Pope | Photos by Joshua Lawrence
Chris Walker and Joan Gandza were living with their daughter in what they thought was their dream home when they happened upon a property in View Royal. It was a south-facing, oceanfront lot with its own private beach and striking views of Fisgard Lighthouse — and it captivated the family.
"It's very rare that we do this, as developers. We built our last home in 2004, and we thought that would be the forever house, but circumstances changed," says Walker, principal of Christopher Developments. "This property was close to town, offered true waterfront and ticked all the boxes — it was in an older, established neighbourhood that a lot of people don't know about. We saw it and fell in love with it."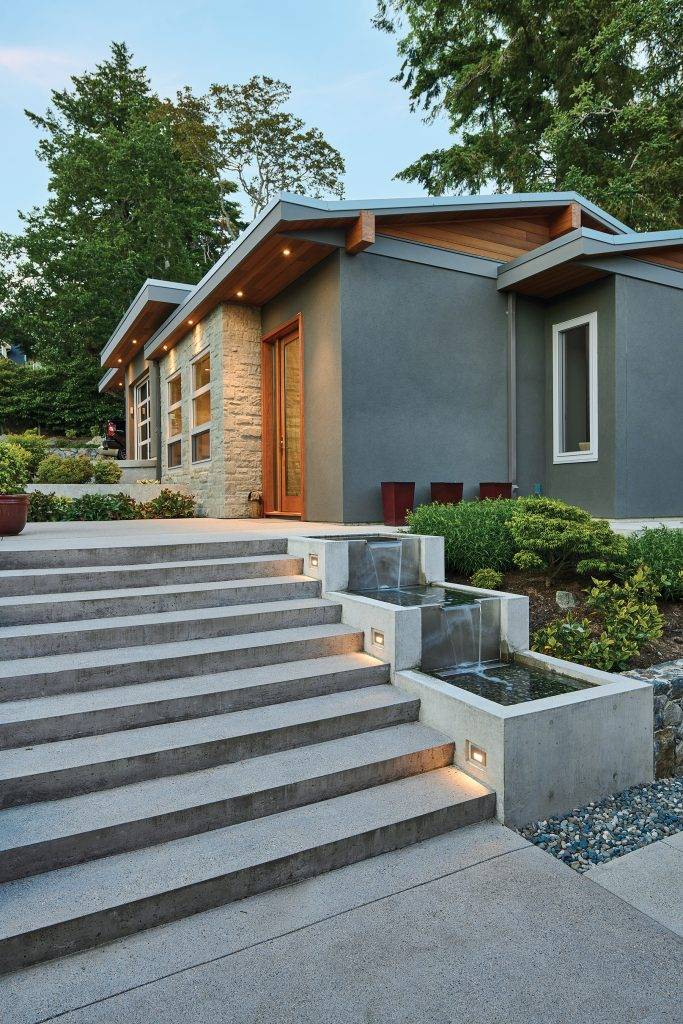 ---
Despite its allure, the steeply sloping lot would come with some challenges. With little more than an old cottage that had been torn down, the previous owner had started work on a new build but stopped, likely due to complexities with the build. Christopher Developments would take on the full design and build for the project: no small commitment for this husband-and-wife company that typically builds three high-end custom homes a year.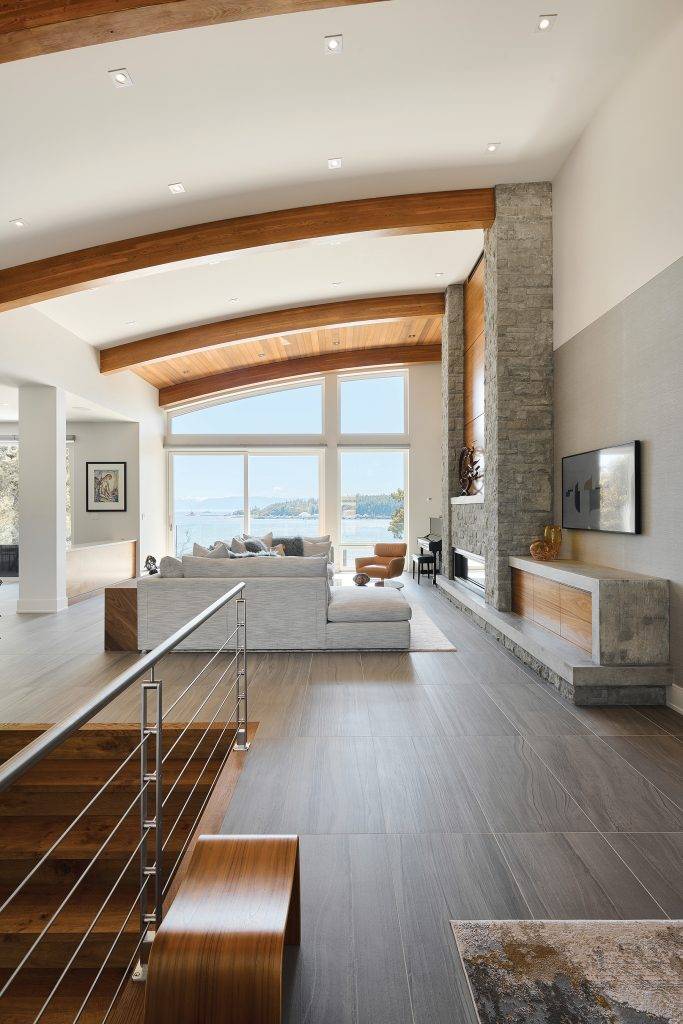 ---
---
"We treated the project as though it was someone else's home we were creating and followed the same processes, except that the two of us could make changes on the fly," says Gandza, who focused on the interior design of the house.
"I was pretty happy with our last house, but this truly upgraded our waterfront situation, and it made sense for our family now. We'd had a huge yard which was great for our daughter to play in, but she's 18 now and her needs have changed. We needed to create a space where everyone was comfortable."
That redistribution of priorities was a major factor in this build, and focused on creating enjoyable living and leisure spaces for each member of the family to enjoy — from a lower-level rec room and media centre suited for teens, to a private-entrance room for their daughter in the house, as well as the option to convert a purpose-built suite above the garage into a self- contained unit.
Besides that, the private wine cellar for the adults, multiple covered outdoor patios and BBQ station, reflection pool at the front entry and plunge pool overlooking the water makes this residence feel like a vacation villa.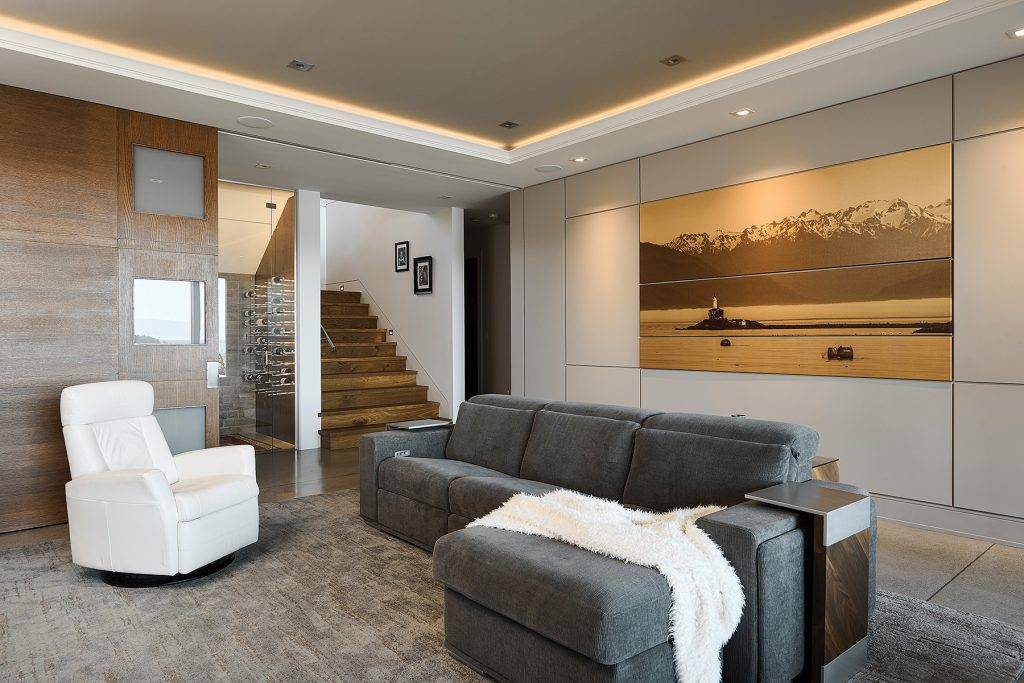 ---
---
"When designing a house, you want the principal rooms to take advantage of the view," says Walker. "This house had to be positioned low on the property, so we wanted to create a gentle transition down to the water. Our view looks back on Esquimalt Harbour and beyond. You can even see the lighthouse blinking through the house in the evening."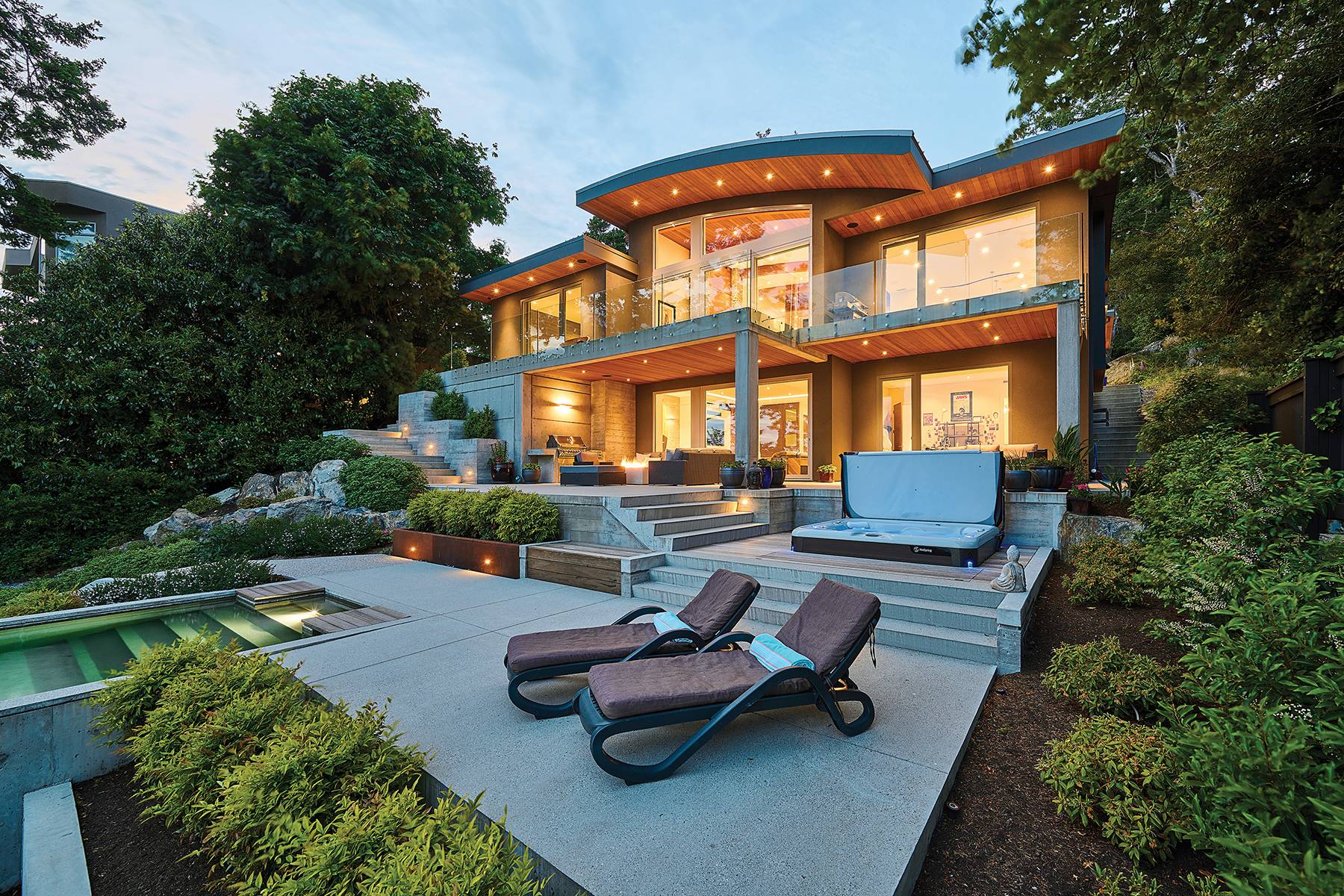 ---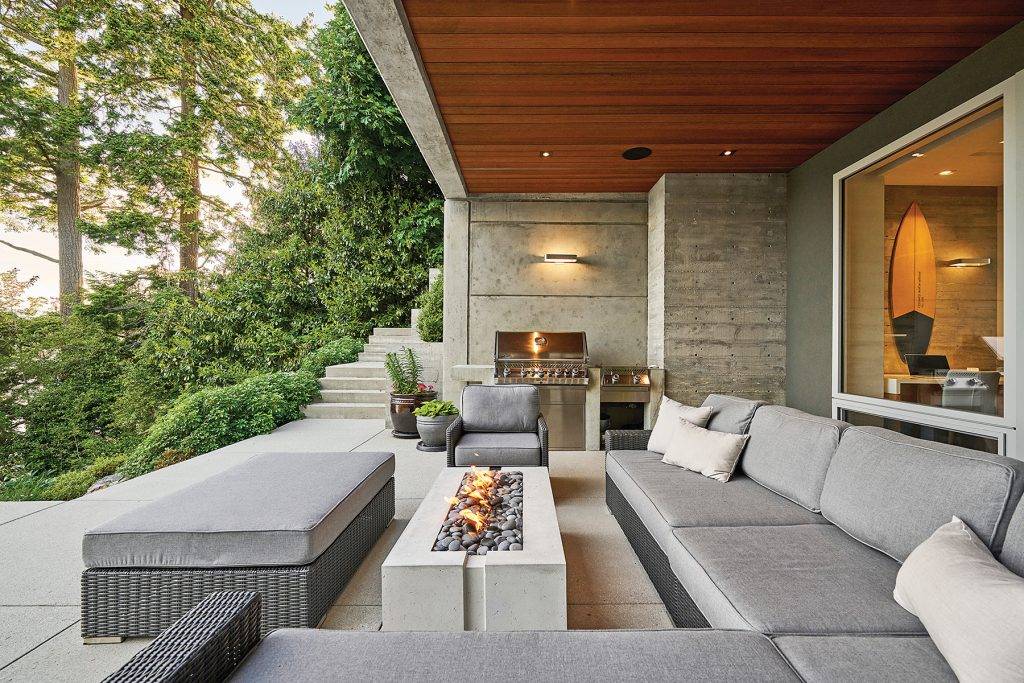 ---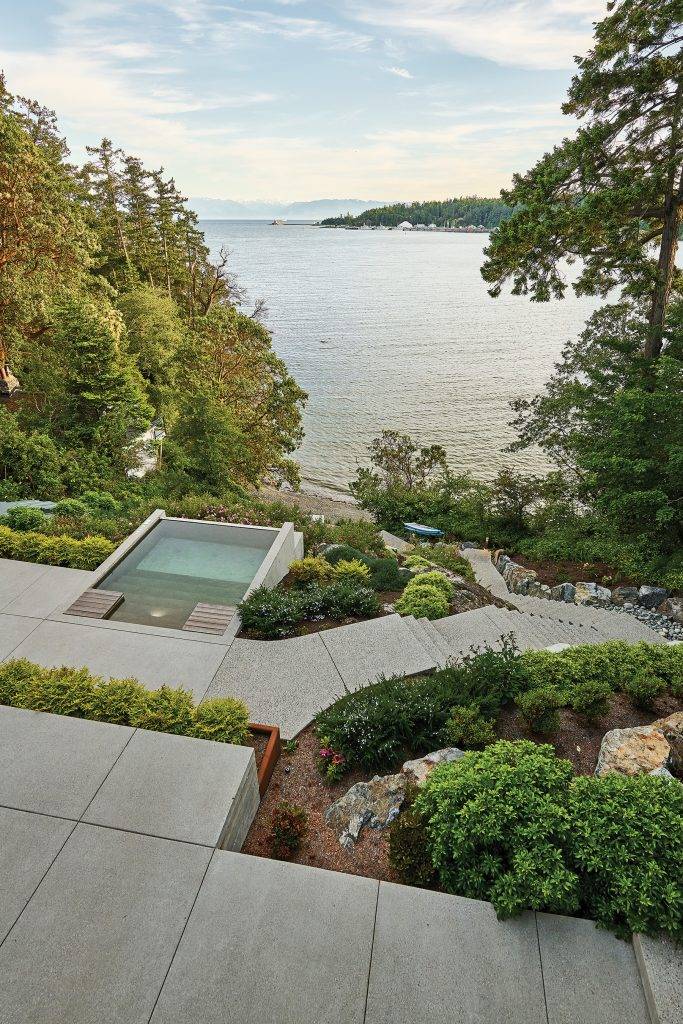 Despite the property's gradients, Walker designed the 3,680-square-foot home as an age-in-place build, with walk-out patios expanding the living space on all levels and 10-foot ceilings on the lower level elevating the views. The property includes a 620-square-foot office attached to the garage so the family can experience some separation from work in their short stroll outside.
The home also includes some passive-house design principles for energy efficiency, including Austrian-built windows and doors, which help it remain cool without air conditioning. The impact landed with the design community: the home was a 2021 CARE Awards winner for "People's Choice Award," "Best Home Design" and "Best Outdoor Living."
"One thing we did differently in this house was to create a larger kitchen," says Gandza. "When people come over, everyone congregates in the kitchen, so we needed to expand. We also built a dining area that's larger but more casual. And, we have two TV areas — the media room downstairs and a large screen upstairs — which was helpful during lockdown."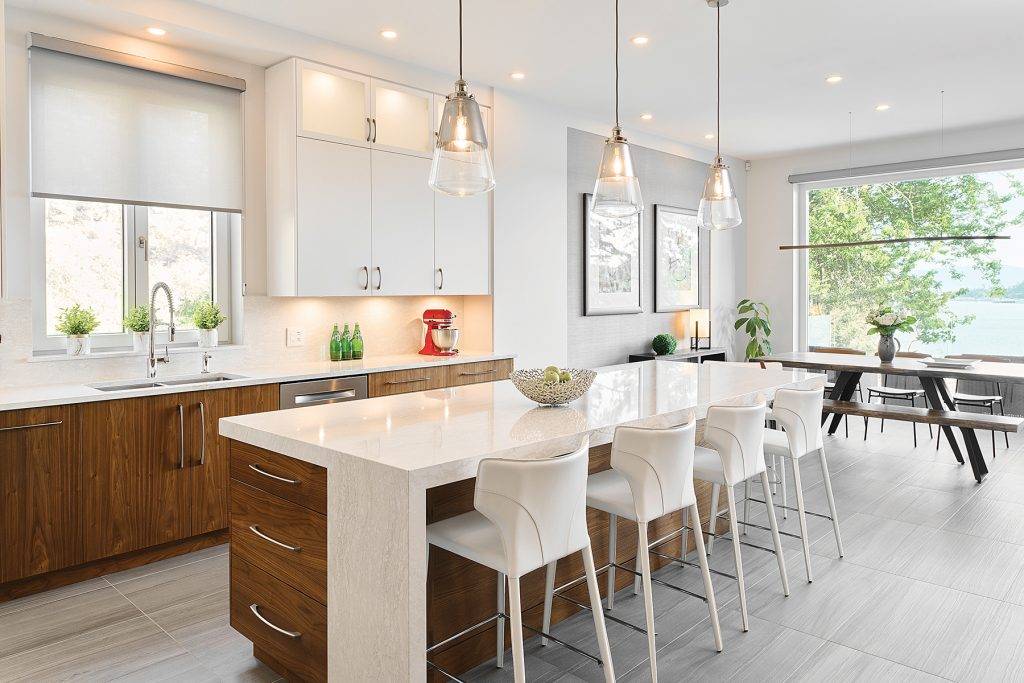 ---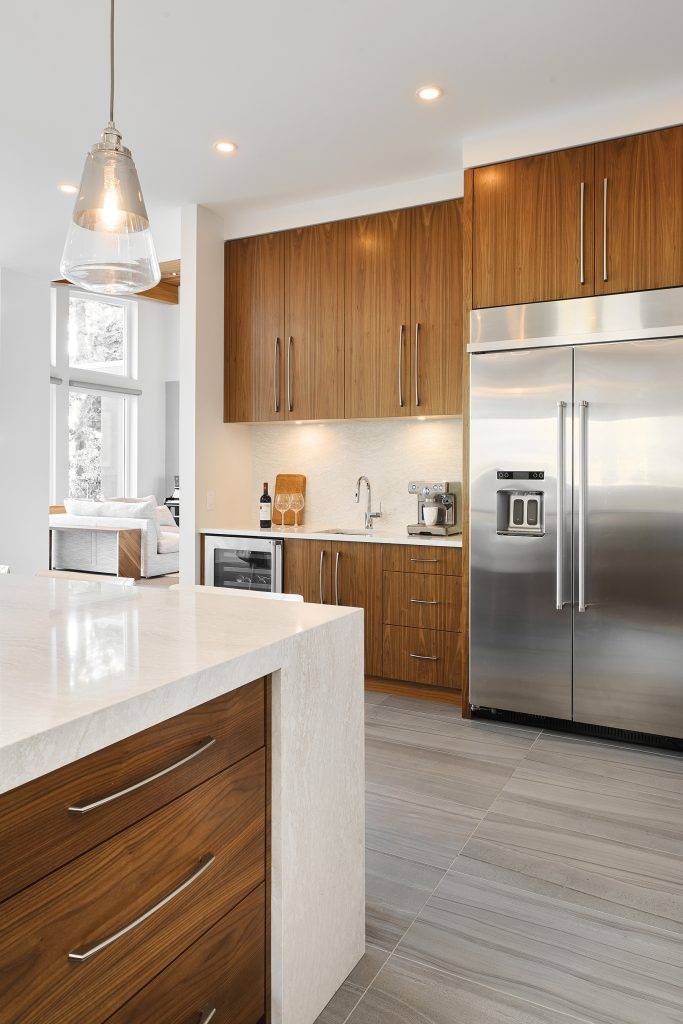 ---
Along with function, the family selected finishes that forged a connection with west coast motifs and added elegance to the home, like the sandstone entry feature, walnut millwork and a fireplace hearth with natural stone from Valdes Island.
"I wanted a bulletproof house where you don't worry about taking off your shoes," says Walker.
"The house is built a bit like a bunker. And, because it's quite low, the arch of the low-pitched roof represents a wave, which connects to its surroundings. But my favourite area is the media room. I love sitting downstairs and watching a movie with that view beside me."
Resources
Designer: Christopher Walker
Interior Design: Christopher Walker, Joan Gandza
Interior Design Consultant: Iván Meade, Meade Design Group
Builder: Christopher Developments
Framer: EKB Construction
Plumbing and Mechanical: NB Plumbing and Heating
Electrician: Motherwell Electric
Light Fixtures: Pine Lighting, Mclaren Lighting
Doors and Hardware: Slegg Lumber (Lynden Doors)
Windows: Gaulhofer
Home Automation: OneTouch House
Window Treatments: Ruffell & Brown Window Covering Centre
Interior Accents/Furniture: Luxe Home Interiors
BBQ's/Hot Tub: Capital Iron
Millwork: Hobson Woodworks
Finishing Carpentry: AP Woodworks
Custom Furniture: Splinters Millworks
Kitchen Appliances: Coast Appliances
Countertops: FLOFORM
Plumbing Fixtures: Victoria Speciality Hardware
Flooring: Island Floor Centre
Landscape Design: Christopher Walker
Landscape Support: Zenith Developments