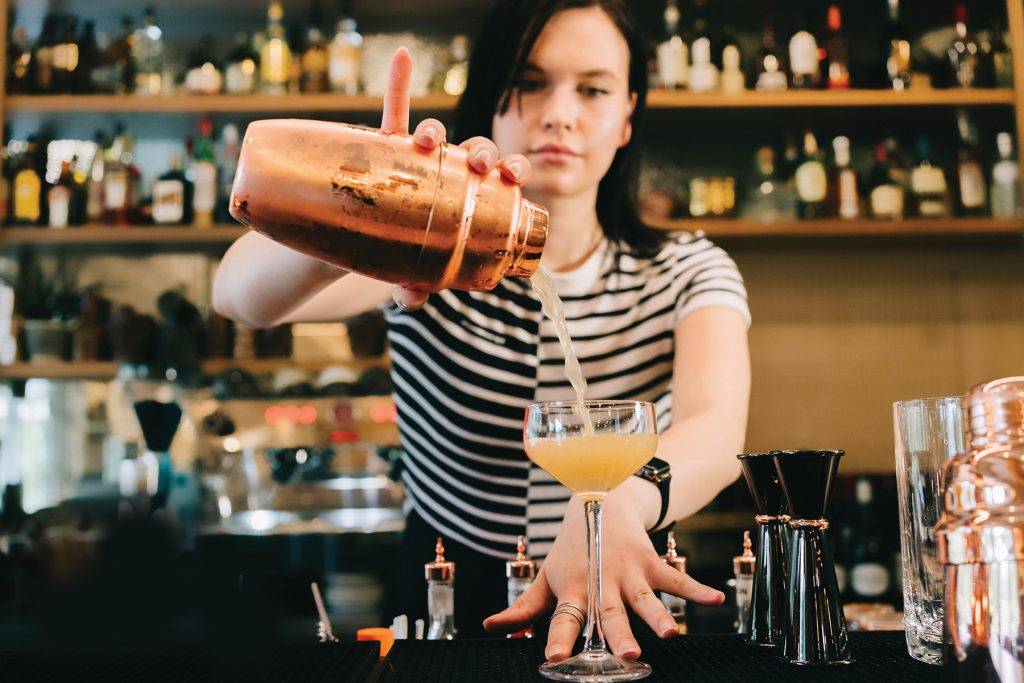 Dinah Kisil brings a storytelling approach to her cocktails
by Athena McKenzie
From a young age, Dinah Kisil had a desire to express herself in an innovative way.
"One night, while I was sitting with some friends in a cocktail bar in Quebec, something clicked," she says. "I became fascinated by the woman who was mixing our drinks … It was in that instant that I knew I wanted to explore bartending, which, at the time, was completely populated by tattooed and bearded hipster men in suspenders and bow ties. I saw these stereotypes as a challenge."
Her approach to cocktail bartending embraces the storytelling and performance aspects of the craft. She was only the seventh woman to bartend at The Savoy Hotel's celebrated American Bar in London in the course of its 125-year history. The industry has recognized her skill, naming her on the World Class Top 100 Bartenders list in Great Britain and as one of the Top 26 Bartenders in Canada.
Nowadays, you'll find her shaking up signature cocktails, like the flaming Denim Blazer, at the new Roar restaurant in Tofino's Hotel Zed.
"I am inspired by the opportunity that cocktails present for storytelling," she says. "For example, Tofino is the site of one of the largest acts of civil disobedience in Canadian history. The people of Clayoquot Sound stopped a massive government plan to clear-cut ancient local rainforests … Our opening cocktail menu is my retelling of these stories through drinks, so that those who come to visit can develop a fuller understanding of this place."
What is your idea of perfect happiness?
Sitting with a few friends on the beach at sunset, enjoying a glass of wine and a bonfire.
Which living person do you most admire? Why?
The person that immediately comes to mind is Gloria Jean Watkins, a.k.a. bell hooks, a theologist, feminist and social activist. Her writings about ideas of liminality and marginality as spaces of power is something thatI find inspiring and, in a very small sense, relatable.
What is your greatest extravagance?
I love to travel to different places and experience the local hospitality industries. I consider it a great luxury to be able to experience someone else's creativity and vision when it comes to food and drink. For example,when travelling was permitted, I solo-travelled to Copenhagen to experience chef René Redzepi's cuisine at Noma firsthand.
What or who is the greatest love of your life?
I am very close to my family. So, I would say that the greatest loves of my life, at this point, are my mother,father and brother. I truly believe that family is more important than anything.What is your most treasured possession?I was born in Montreal. My mother found a vintage Hiram Walker cocktail guide book under one of the old built-in bookcases in our house, just after I was born. It is quite kismet. She gave it to me before I left for London to start at The American Bar.
What do you most value in your friends?
Dependability. Something that I am very grateful for is the supportive people that I have in my life, who are relentlessly there to provide support in anything.
Who are your heroes in real life?
People like English primatologist and anthropologist Jane Goodall, who speak up and stand up against injustice and champion causes that aren't necessarily convenient, fashionable, the flavour of the month or glamorous, like all the heroes working for the rights of animals, women, marginalized people and the environment