What do magic carpets made of silk, diamond-etched glass bowls, and a yellow-cedar eagle feather have in common? They are just a few of the exquisite and inspiring works of artists from Vancouver Island and BC's coastal islands that are on view this summer, as always, at the annual Sooke Fine Arts Show. But unlike every summer, this year's Sooke Fine Arts Show and its gallery of art works will be online.
A connection to community is the reason that local Sooke artist, Rob Owen, has been submitting his paintings every year for 34 years to the Arts Show. "I participate in the Sooke Fine Arts Show as a way of supporting the arts in the community where I live," says Owen. Owen paints mainly with oil, and his bold, colour-rich landscapes echo dramatic Sooke area scenes like Creyke Point in East Sooke Park.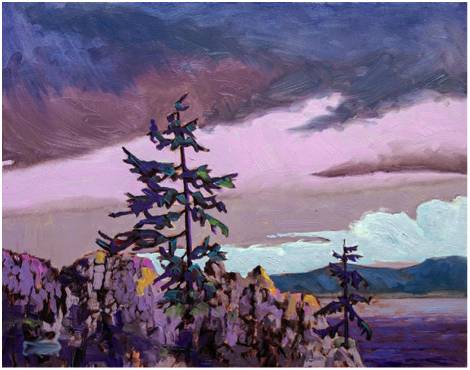 Making more earthly and cultural connections is the creative intention of Bob Leatherbarrow, a geologist turned internationally renowned glass artist from Salt Spring Island. Leatherbarrow likes to honour the tradition and history of glass as a functional form by making elegant, beautifully- designed bowls and vessels, using a technically challenging process that includes multiple firings in an electric kiln, sandblasting, and then shaping with diamond tools.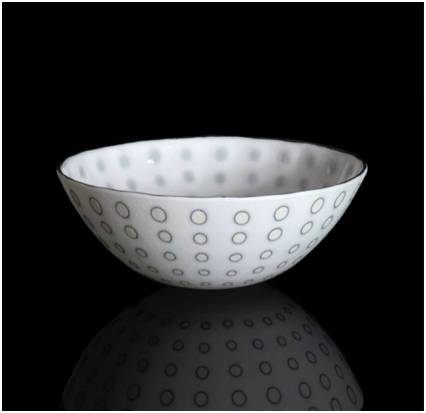 Cowichan artist Coleen Nimetz's more literal artistic connections are made by knotting thousands of silk threads (3,784 knots!) to form small, knotted pile rugs. Nimetz, from North Cowichan, raises the silkworms herself and uses traditional techniques dating back thousands of years to transform the silk cocoons into knotted pile.
Traditional techniques also inspire Nanoose Bay Indigenous artist, Mike Bellis, who carves mainly in cedar, using the stories and symbols of his people and culture for his artworks. His works in this year's show include a red cedar totem pole reflecting the Haida legend of Salmon Boy and a yellow cedar carving of Vancouver Island with an eagle feather sub-carving symbolizing good luck.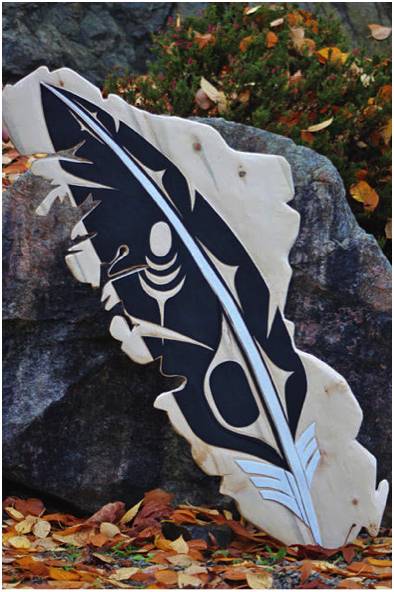 The decision to move the intimate and interactive Fine Arts show from Sooke's SEAPARC arena to an online gallery was a necessary one, says Sooke Fine Arts Society (SFAS) Executive Director Terrie Moore. "Our priority is the well-being of our volunteers, artists, and our guests with respect to Covid-19 concerns. Now we're excited to sharethe opportunities this year's online show presents with everyone," says Moore. Bob Leatherbarrow agrees; a virtual gallery will also provide more opportunities for artists, including an expanded audience of collectors to engage with their works, and more connections with the arts community via video presentations.
Moore and her team are busy building the virtual art experience at sookefinearts.com that aims to authentically represent the richness of each of the show's 375+ juried works of painting, sculpture, fibre arts, glass and ceramics, jewellery, and photography. Some artists, like Robert Owen, worry that the transition of art to photograph for the online show may mean a reduced experience with elements of the artistic expression like brush strokes, paint thickness, and sense of scale. Bob Leatherbarrow disagrees, suggesting that the keys to a rewarding online art experience are great photography and a descriptive artist's statement that allows the viewer to understand and engage with the piece.
Artworks from Leatherbarrow, Owen, Nimetz, Bellis and the show's other renowned artists are available for a sneak preview and for purchase at the popular Purchasers' Preview Night, this year on July 23. Local Sooke chef Pat Hogan of 4 Beaches Catering, who has catered the event for the past five years, has even created a special "Grazing Box" of cheeses, charcuterie, and seafood that viewers can order ahead of time,pick up and enjoy with a bottle of wine while they "attend" the online evening event at home. Truffles Catering will also provide a charcuterie grazing box, with locally sourced, naturally cured meats, cheeses and other treats, including their signature truffles. (More information online.)
At a time when art can provide much-needed inspiration and introspection, the online Sooke Fine Arts Show is an inclusive venue for exploring what has always been the pinnacle of creative expression from island artists. Rob Owen agrees, saying, "the visual beauty of art and the intrigue of the artist's philosophical and emotional expressions will always be an important asset in people's need to share the world we live in, using this essential form of communication." Maybe author Mo Willems said it best: "Science will get us out of this, but art will get us through this."
The Sooke Fine Arts Show can be experienced at http://www.sookefinearts.com from July 24 to August 3, with sales continuing through Sept 30. Register early for the Purchasers' Preview Night. Email sfas@sookefinearts.com with questions.
About The Sooke Fine Arts Society
The SFAS encourages and promotes a greater understanding and appreciation of the arts by organizing the annual Sooke Fine Arts Show, as well as hosting public learning opportunities to demonstrate artistic techniques and expertise. Its mission Sooke Fine Arts Society is to foster the role art plays in the region's heritage, culture, economy, and community spirit.