By Danielle Pope | Photos by Lance Sullivan
When architect David Poiron pictured the house he wanted to build for his family, he knew it needed to be an open-concept design filled with light and have at least three bedrooms, a den and garage. Yet when the planning began, Poiron realized he would have to become ultra-creative to fit those wish-list items onto his small suburban Nanaimo lot. Three months of extraordinary problem solving later, the result was a contemporary work of art.
---
"Part of the purpose of this project was to prove people could live in smaller spaces. This really gave us the chance to explore a variety of spaces and see how they could be used differently," says Poiron, founding partner of Checkwitch Poiron Architects, an internationally recognized firm with offices in Nanaimo and Vancouver, famous in Nanaimo for its award-winning design of the city's spectacular Cruise Ship Terminal.
Twice the Appeal
Poiron cheekily named his dwelling Double High House because of its resemblance to a double-wide mobile home turned on its side. It's his reimagined version of your typical suburban site plan.
While the lot itself measures just 50 feet by 130 feet, Double High House stretches a slender 15 feet by 72 feet. A dynamic bump-out cantilever office and a glass balcony, framed by fibre-cement and cedar siding, forces this geometric structure to stand out for its clever use of space.
The house is strategically positioned lengthways along the north edge of the property to maximize its exposure to the sun. To bring in even more light, Poiron built a sliding-glass-door system that runs along 22 feet of the house to connect the main living area with the exterior wooden deck and landscape. This system brilliantly blurs the line between interior and exterior.
"As an architect, the place to take risks is in your own home, because if you aren't comfortable taking a leap, why would anyone else be?" he says. "When it works, it's a great way to show what's possible."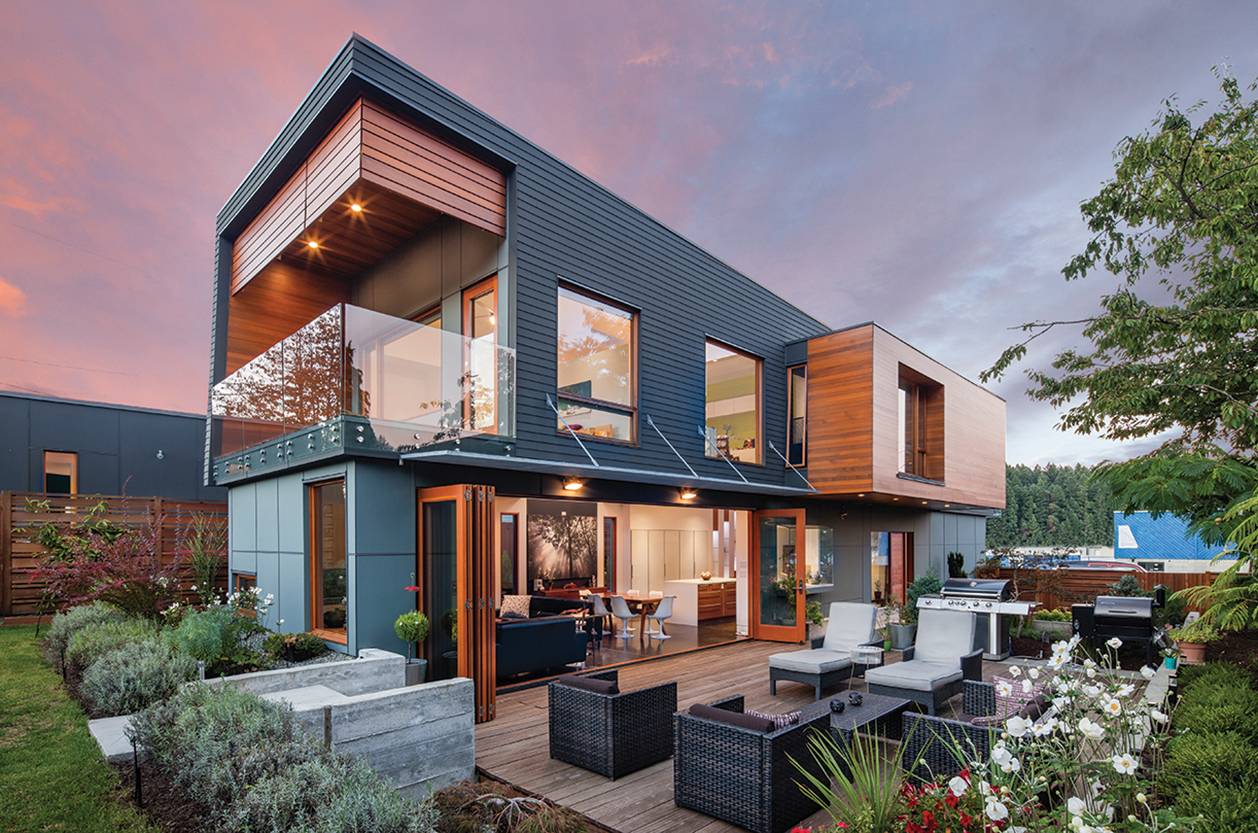 ---
Space, Light, Heat
Inside the home, light pours through ample windows and four skylights onto a series of interconnected open spaces. The polished, stained concrete flooring and bright, glazed-white kitchen create the illusion of spaciousness. In a seamless flow, the kitchen merges into the adjacent open-concept dining room and living room. Here, met by a wall of glass, this section of the house seems to expand, borderless, into the outdoors. The dining room opens to showcase the full magnificence of the house's height, with decorative lighting hanging dynamically in the space above.
Poiron built efficiency into every design element. In addition to natural solar heating, the 2,200-square-foot home features in-floor radiant hydronic heating, natural ventilation, a heat recovery ventilator and an energy-saving lighting design.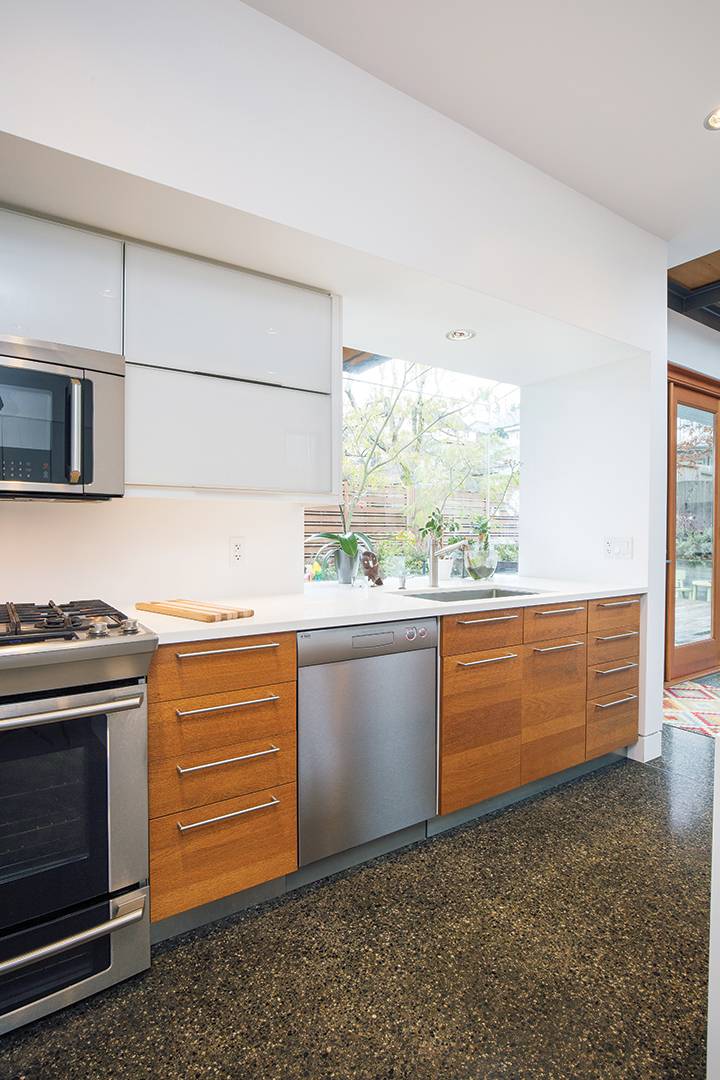 ---
Artful Interpretation
One of the more interesting elements of the home is the staircase to the second level. Poiron wanted to make full use of this valuable space, so he created a gallery-style exhibit to showcase each step.
On the second level, tile flooring and large windows add brightness to the bedrooms, office and play area — a space that started out as a gallery. Poiron's son, now three, naturally influenced the use of space in the home of this growing family. "With any house, you rethink and repurpose what the spaces need to do for you at any given time," Poiron says. This house, while contemporary and stylish, remains very much a home. Poiron says his favourite days are the ones where he can just be at home, enjoying his house.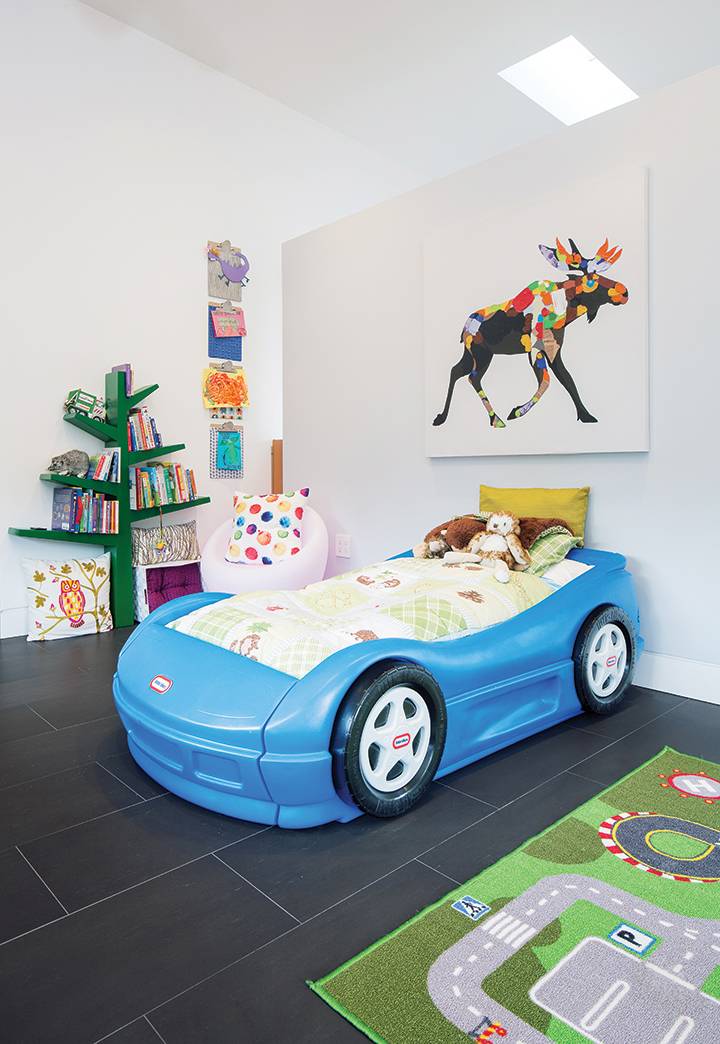 "I do have a favourite spot," Poiron says. "It's a chair in the living room my wife bought me for Christmas one year. It's nice to just sit there on a Sunday afternoon and take it all in."
Resources:
Architect: Checkwitch Poiron Architects Ltd.
Construction Manager: Tectonica Management
Plumber: Faucet Plumbing & Heating Ltd.
Electrician: Mazzei Electric
Doors and Hardware: McGregor & Thompson Hardware Ltd.
Windows: Coastal Windows
Concrete Slabs: Acid Staining By Rob
Cladding: Sheck Construction Ltd.
Roofing: Erickson Roofing
Drywall: Yellow Point Drywall Ltd.
Tile: Perfection Connection
Painting: E N Painting
Kitchen/Bathroom Millwork: IKEA/Owner
Custom Millwork: A&S Contracting