Stitch by stitch, mother to child, for more than a century, the people of the Cowichan have been knitting their stories into their famous sweaters.

By Jody Paterson • Photos by Jeffrey Bosdet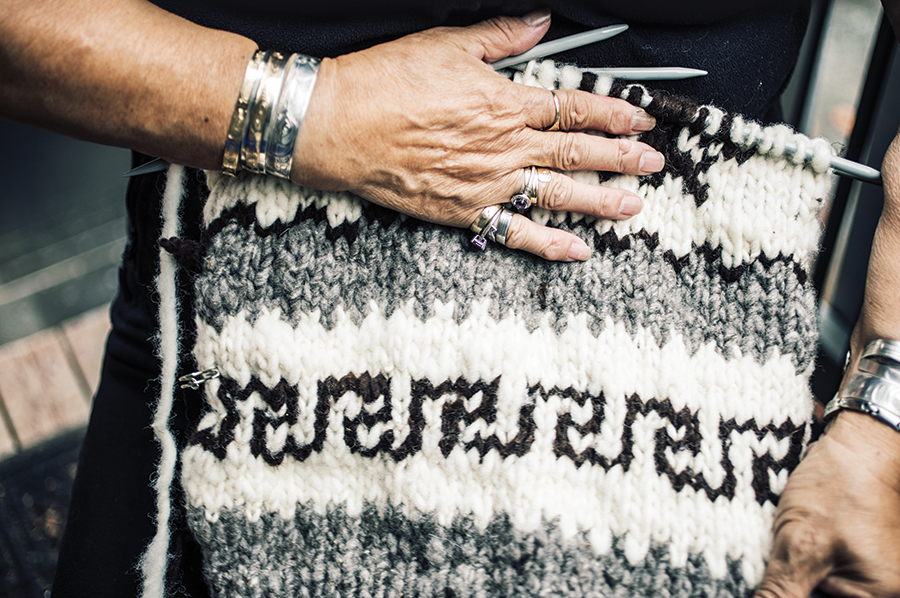 There was never any doubt that Dora Wilson would knit. The long-time Cowichan Tribes councillor grew up watching her mother and grandmother knit. All of her six sisters knitted too. On this particular day, Dora is preparing for a coming market on Thetis Island, where she and her daughter Maureen Tommy have found eager customers for their knitting and beadwork. Sweaters, vests, slippers and hats in the natural greys, soft blacks and creamy whites of an authentic Cowichan knit are stacked on a table in Dora's small living room, ready for transport.
The real-deal Cowichan sweater starts with Vancouver Island sheep's wool and finishes with barely a seam, knit from the bottom up in virtually one piece. Dora, 76, has been knitting in that tradition for more than six decades.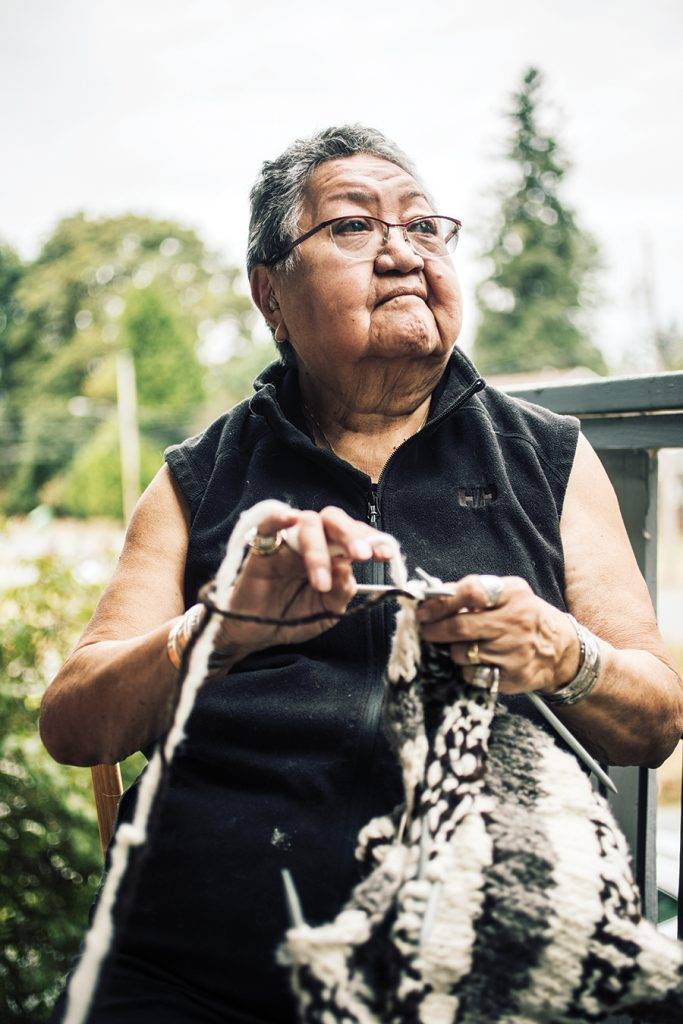 Cowichan Tribes families have in fact been maintaining the Cowichan sweater tradition for more than 150 years. The tradition is typically passed from mother to daughter, but not necessarily: The late Cowichan carver and Order of Canada recipient Simon Charlie once won first prize at the Duncan Exhibition for his sweater, recalls his niece Jen Charlie.
"Feel this," Dora tells me, inviting me to touch the wool of one of the sweaters she has hung up in her living room, where walls are lined floor-to-ceiling with Indigenous carvings, masks, family photos and mementos. "Can you feel the lanolin?"
I do, like a light slick on the wool. "The rain will run right off of that," says Dora. "Other wool doesn't have that same amount of lanolin and isn't as durable."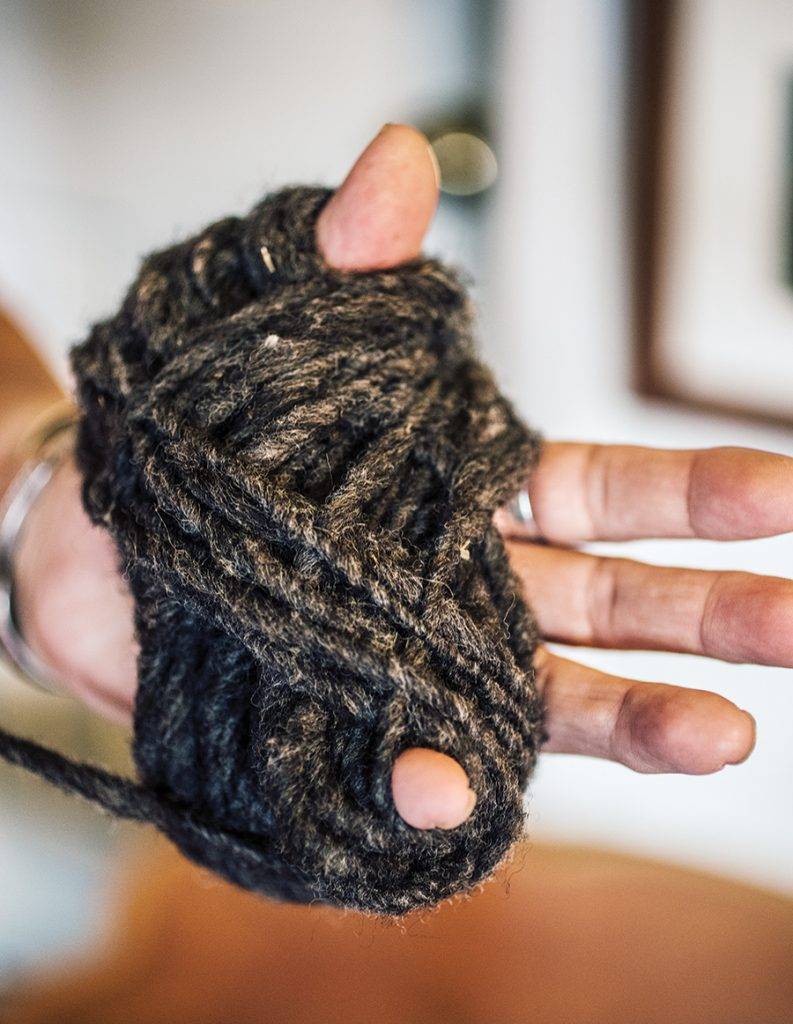 Wool is a hot topic among Cowichan knitters. In days gone by, people bought raw wool from local farmers and had to clean, dry and card it, a vigorous combing with metal-tined brushes.
Mena Williams says even the youngest family members would be enlisted in wool preparation when she was growing up, and fondly remembers her backyard festooned with freshly washed and "plunged" wool hung to dry in the summer sun.
"My grandparents didn't have schooling, but my mom knew to measure a chair-length of wool for a toque," says Mena. "My gran would eyeball for measurements, using her fingers. And they were precise!"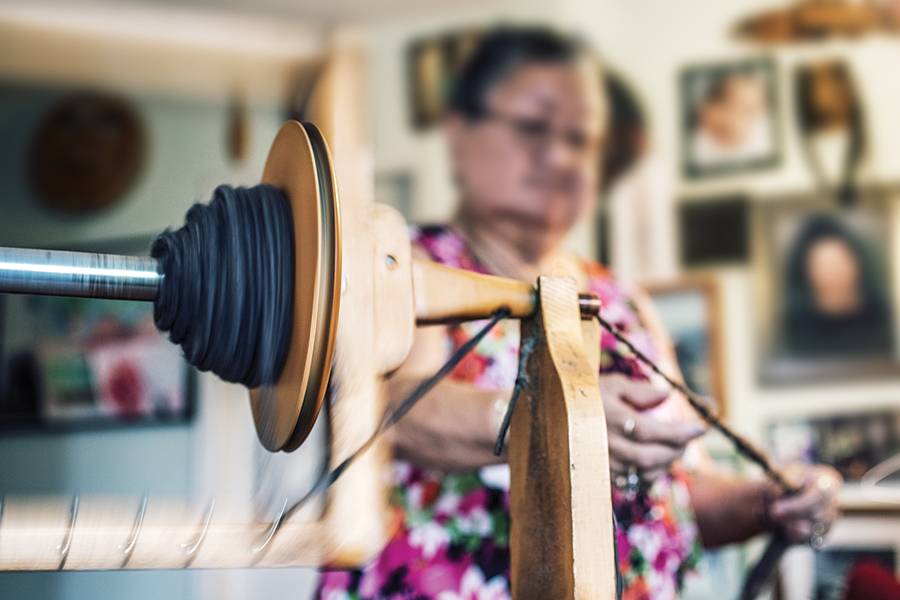 Traditional Cowichan sweaters aren't dyed, and thus are available only in the colours that a sheep comes in. Beyond the slick of rich lanolin and the unmistakable look of a lovingly hand-crafted garment, it's the absence of seams that is the confirmation of authenticity — the only seams are at the top shoulder. (The late Margaret Charlie was renowned for sweaters knit entirely of a single piece, without even the shoulder seams.)
Times have changed. Cowichan knitters nowadays are more likely to buy ready-to-knit New Zealand wool from a Victoria specialty store, though some still buy their wool in long, loose sausages known as rovings and spin it themselves. Wool allergies have emerged as an issue, sparking some knitters to switch to synthetics.
The synthetic colours are beautiful, acknowledge the traditionalists. The black — so black! Sheep just don't come that black very often, says knitter Maude Thomas, which is why the traditional knitters know to pounce fast on any batch of deep black wool that turns up among their suppliers.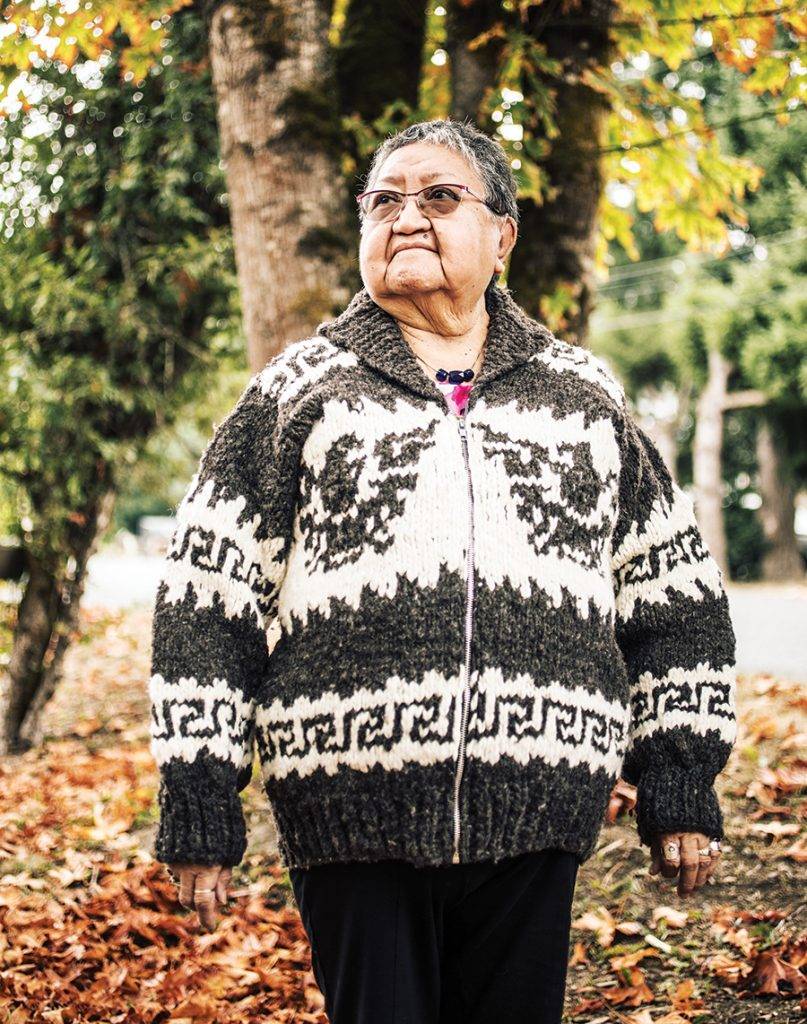 But synthetics can't hold up to a Cowichan sweater knit from Vancouver Island wool, says Dora. Stories abound among the knitters of sweaters lasting decades, of being passed down through families. One of Dora's recent customers asked that she knit him a copy of his own 50-year-old Cowichan sweater, which he brought in to show her.
"It looked exactly the same as 50 years ago, but he didn't," laughs Dora, who agreed to recreate the patterns and unusual yellow colour of the sweater in a much larger size.
PATTERN PLAY
The generally accepted lore among Cowichan knitters is that their ancestors learned to knit from a Scottish woman who arrived in Cowichan by boat sometime in the late 1800s. Historians believe this is Jeremina Colvin, an immigrant from the Shetland Islands. Others suggest it could have been the Sisters of St. Ann who shared their knitting skills.
Dora believes Cowichan people were likely knitting long before the settlers showed up, but that perhaps the Scottish woman introduced them to the idea of knitting patterns into their work.
While a custom-made Cowichan sweater can feature any pattern a buyer wants, each knitting family typically has a big binder of patterns passed down through the generations. The binders are stuffed with paper templates depicting how to knit in a bear, an orca, deer, hummingbirds, wolves, as well as smaller geometric designs used as borders and accents. A few knitters include a "signature" design element in every sweater, marking it as theirs.
"But most of us will do whatever pattern a customer wants," says knitter Alice Modeste. "You should see some of the orders I've had! One man wanted palm trees on the front, lizards on the back."
Cowichan sweaters were arguably at peak popularity in the 1970s and 1980s, when a world dignitary or celebrity could rarely set foot in Canada without receiving one of the iconic sweaters as a gift from one government or another. Alice remembers presenting one to Princess Alexandra in 1979 when she came to Royal Roads Military College in Victoria to mark the 120th anniversary of the Queen's Own Rifles of Canada.
Former Prime Minister Pierre Trudeau was famously photographed wearing one while on an outing with his young family. And over the decades, many designers and corporations have come calling. But Cowichan knitters skilled in producing unique pieces of wearable art simply don't dovetail with corporate needs for guaranteed delivery of hundreds of sweaters that are all exactly alike. Dora recalls a boom time in the 1960s and 1970s when a Japanese company contracted with Cowichan knitters, and Dora's sister, Sarah Modeste, ran a wool mill in the area, but that ended when the Japanese economy faltered.
Knock-offs and look-alikes are everywhere, like the Pendleton-created knockoff worn by actor Jeff Bridges in the movie The Big Lebowski.
Cowichan Tribes have trademarked "Genuine Cowichan" so that it can push back when companies get too blatant, but there's still a multitude of lookalikes out there riding on the coattails of the Cowichan brand. Pendleton markets its Westerley sweater, for instance, as drawing inspiration "from beautiful Cowichan sweaters that are hand-knit by Pacific Northwest tribes."
No Cowichan knitter makes a living from it, say the knitters. One sweater can take 50 hours or more, and requires as much as six pounds of wool at $30 a pound. Some knitters sell through local specialty stores while others sell independently, but nobody's getting rich. Custom-ordered sweaters generally sell for $500 to $600 each, but dealing with people who expect to pay less is still an unpleasant and frequent occurrence for a Cowichan knitter.
ALMOST A LOST ART?
Nobody is sure how many active Cowichan knitters there are nowadays, but the general consensus is that numbers are dwindling. Katie Phillips — daughter of legendary knitter Margaret Charlie — thinks there might be 24 or so, including three or four men.
Nobody is sure how many active Cowichan knitters there are nowadays, but the general consensus is that numbers are dwindling. Katie Phillips — daughter of legendary knitter Margaret Charlie — thinks there might be 24 or so, including three or four men.
Knitting has always been a tradition within individual Cowichan families, not within the tribe itself. So knitters in the 5,400-strong Cowichan First Nation learn about each other only through family connections, word of mouth or spotting a fellow knitter across the room at an unrelated event to keep them in the loop as to who's knitting. The knitters lament the dwindling number of people who know how to craft the spinning wheels, drop spindles and other tools that once were common skills.
Many of the sweaters sold in Victoria stores are now knit by people from Saanich Peninsula tribes. Others hail from the Tofino area or have married into a knitting family. That's all good, says Jen Charlie; Island tribes have always intermarried and shared knowledge. A much more immediate concern is ensuring the tradition carries on at all.
"It's all part of reconciliation — our language, our teachings, strengthening our traditions," says Jen. "I see so much that affects our culture. I really hope our young people will continue to take up knitting. But I worry it's becoming a lost art. There's so little value attached to the work."
The Canadian government has designated the Cowichan Sweater as nationally and historically significant, noting that it brings to life "the spiritual, cultural and physical ties that First Nations have in Canada." It also keeps you warm and dry.
Interested in buying an authentic sweater directly from a Cowichan knitter? Visit the Cowichan Tribes (cowichantribes.com) website for knitters' contact information.