Just in time for the summer, the BC Ale Trail has compiled a list of the Top 10 Summer Beers in BC — many of which include special ingredients, such as berries, peaches, pineapple, grapefruit and even foraged salal berries. Each beer was hand-crafted and inspired by the warm-weather local adventures and experiences BC  is known for. This summer, explore your local breweries and you'll find "New Experiences are Brewing Nearby!"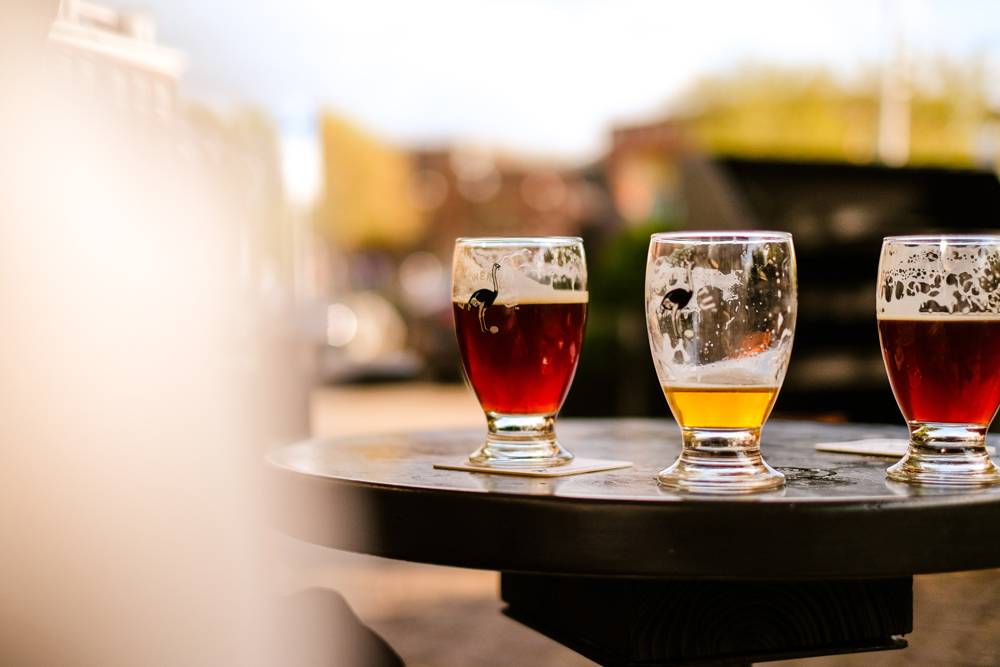 Top 10 BC Summer Beers
Tropicool Smoothie Sour by Parallel 49 Brewing (6.7% ABV)
Brewed to celebrate Parallel 49 Brewing's 8th anniversary, this gorgeous beer was refermented with copious amounts of mango, guava and passionfruit along with lactose to create a soft, creamy, smoothie-like mouthfeel.
Parallel 49 Brewing can be found on the Vancouver Ale Trail.
Forager Salal Berry Saison by Mount Arrowsmith Brewing (5% ABV | 10 IBU)
Brewed in the Wallonian tradition, this classic Belgian-style saison features salal berries that were foraged last fall. It has a rich purple hue and flavours of blueberry and red currant. 
Mount Arrowsmith Brewing (Parksville) can be found on the Vancouver Island Part 2 Ale Trail. 
Barracuda Summer Ale by Small Block Brewing (6% ABV | 60 IBU)
This light-bodied golden ale was brewed with fireweed honey from the Cowichan Valley.
Small Block Brewing (Duncan) can be found on the Vancouver Island Part 1 Ale Trail. 
Currant Swill by Whistle Buoy Brewing (5.5% ABV | 10 IBU)
This refreshing, fruit-forward tart ale was brewed with massive amounts of local currants from Silver Rill Berry Farm in Saanich, giving it a vibrant red colour.
Whistle Buoy Brewing can be found on the Victoria Ale Trail. 
Drew Berrymore Pale Ale by Bright Eye Brewing (5% ABV | 25 IBU)
This beautiful beer was conditioned on fresh blackberry and raspberry puree and then dry hopped with Citra and Strata. 
Bright Eye Brewing (Kamloops) can be found on the Kamloops, Shuswap and Vernon Ale Trail. 
All Inclusive Pineapple & Coconut Sour by Wheelhouse Brewing (5.5% ABV)
This sour ale is brewed with pineapple and toasted coconut. It's like a vacation in a glass!
Wheelhouse Brewing (Prince Rupert) can be found on the Northern BC Ale Trail. 
Jambrosia Raspberry Wheat Ale by Whitetooth Brewing (5.2% ABV)
A bright pink-hued beer that tastes as good as it looks thanks to the addition of a large quantity of raspberries.
Whitetooth Brewing (Golden) can be found on the Kootenay Rockies East Ale Trail.
Pamplemousse Pale Ale by Howe Sound Brewing (4.8% ABV)
This hazy orange beer has aromas of grapefruit, pineapple, mandarin orange, lime, and mango. $2 from every 6-pack of this grapefruit ale goes to support Squamish trails built by Ride BC.
Howe Sound Brewing can be found on the Squamish Ale Trail.
Greg West Coast IPA from Four Winds Brewing (6.5% ABV | 50 IBU)
This classic West Coast IPA was brewed as a tribute to Greg Mills, President and Co-Founder of Four Winds Brewing who passed away suddenly in mid-May. Greg was a family man who was endlessly proud of the legacy that he created with his sons. Cheers, Greg!
Four Winds Brewing (Delta) can be found on the New West, Delta, Surrey & Richmond Ale Trail.
Peach Hefeweizen from Persephone Brewing (5% ABV)
This is a traditional German-style wheat ale brewed with the addition of peaches. Partial proceeds from this beer support the Young Agrarians organization.
Persephone Brewing (Gibsons) can be found on the Sunshine Coast Ale Trail.
Note:
* For lovers of BC summer beers, but newbies to the world of beer classifications, IBU stands for International Bittering Units. Without getting too deep into the details, IBU indicates how bitter a beer is due to the type and amount of hops used in the recipe.
About the BC Ale Trail
In partnership with Destination British Columbia and the BC Craft Brewers Guild, the BC Ale Trail emphasizes how a visit to or around British Columbia is enhanced with a pint of craft beer culture. With an increasing preference for local craft beer in BC and growth of artisanal beer in North America, the BC Ale trail embraces the "buy local" movement, helps showcase independent breweries, and connects visitors with the unique culture at the heart of communities all over the province.
For more information, visit https://bcaletrail.ca/