By Cinda Chavich
There may be nothing quite so serene, centring and quintessentially Canadian as camping out in the woods. Sleeping under the stars, gathering around a campfire and communing with the sights and sounds of nature are all part of a shared summer tradition.
It's good to unplug and get away from it all, but how many grown-ups really enjoy bedding down on the ground? And who has room to store all of that outdoor gear in a city condo? Enter the world of "all-inclusive camping," private resorts and national parks that provide everything you need to spend a weekend in the great outdoors, without all of the planning, packing and schlepping.
Following on the heels of the upscale "glamping" trend — glamorous (and often expensive) tent resorts, complete with ocean breezes rustling the canvas, fireplaces, soaker tubs, masseurs and room service at the ready — there are simpler creature-comfort-camping experiences popping up across the country.
With a variety of options, from yurts and tree houses to vintage Airstream trailers, and rates starting at less than a hundred bucks, they offer an outdoor getaway that's more accessible to the masses. Here's what you might find if you go out in the woods today.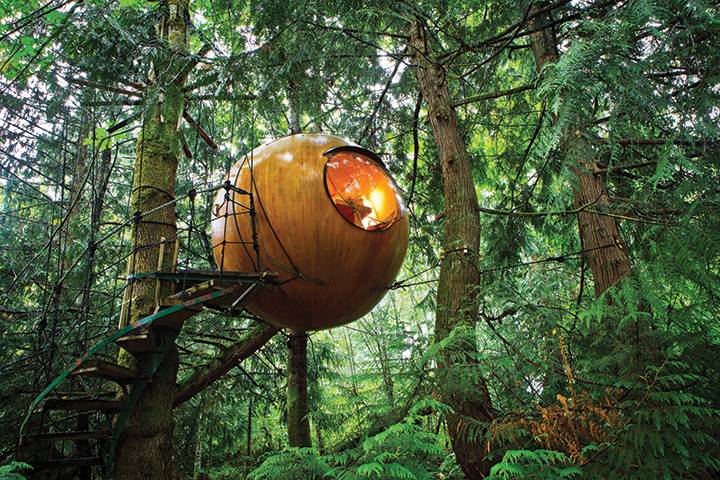 TREE HOUSE SERENITY
Imagine sleeping in a fibreglass ball, swaying in the breeze in the arms of the tall trees. This is where you will bed down (or up) if you stay at Free Spirit Spheres near Qualicum Beach. This is camping in the round — literally a place to hang out in the trees, or as one online reviewer described it: "a rain forest tree house that would entice a hobbit from their hole."
It's a kind of demonstration camp for engineer and craftsman Tom Chudleigh, who built and designed his first sphere in 1998. "We see it as an alternate model for forest use with an ultralight footprint," says Chudleigh, "a unique and magical forest hotel"
"We are the first and only manufacturers of spherical tree houses in the world," he adds, noting the size and interior design has evolved over the years. Using his skills as a boatbuilder, Chudleigh fits the spheres with retractable beds, seating and storage, all artfully built into the curved interior surfaces like a puzzle. The cozy space is reminiscent of a space capsule, each with electric heat, a private composting toilet outside and a shared bathhouse. There's no cooking in the spheres, but the hosts provide a basket of cold breakfast items and snacks, and there's a communal barbecue kitchen.
Spheres are suspended 10 to 12 feet off the ground and are accessed by suspended walkways and spiral stairs, all a feat of Chudleigh's artistic engineering. He calls it "biomimicry — like a nut seed or a seed pod encased in a spiderweb of rope."
WOODS ON PENDER
With self-contained vintage trailers and tents fully serviced with electricity, water, high-speed Internet and Apple TV, you might not think an overnight at WOODS on Pender is really camping. But you do sleep out in the great outdoors — sort of.
"Our niche is design-forward and modern but rustic, not quaffed with lawn sprinklers but with style and tight curation," says Curtis Redel, the Vancouver commercial real estate guy who turned an old motel into a retro-chic outdoor escape, complete with a handful of refitted vintage Airstreams, some retro trailers and cute cabins, all nestled into the tall trees on lazy Pender Island.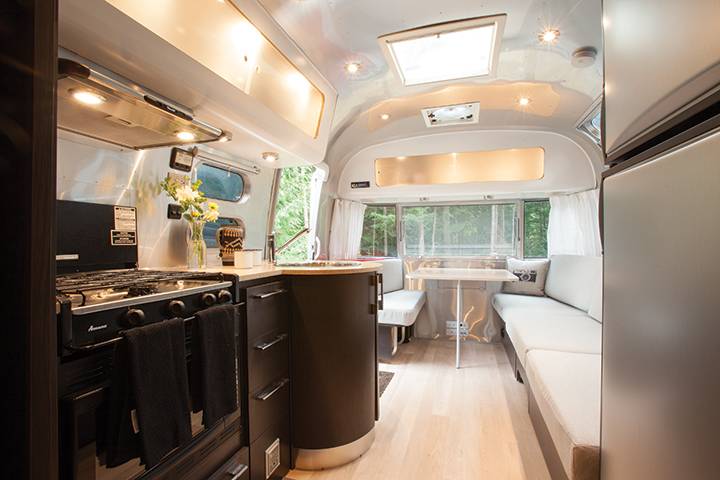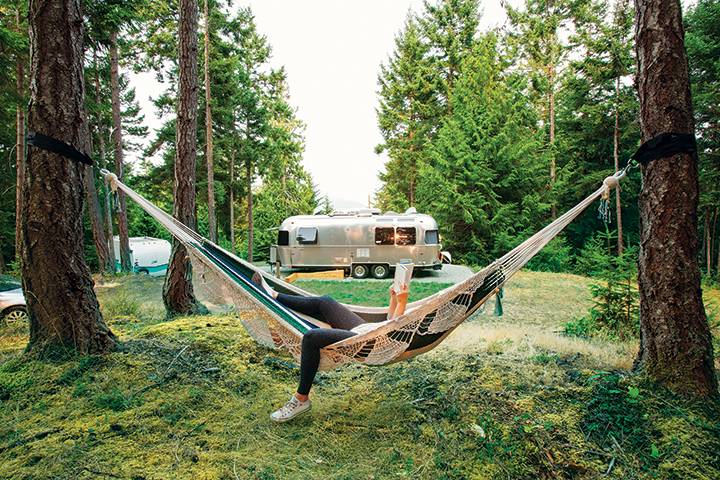 It's camping with hotel prices — a private Airstream starts around $150 in low season — but there's no roughing it required. Imagine the luxury of high-thread-count linens and Fernwood Coffee for your French press, the rustic charm of gas firepits for roasting marshmallows, and hammocks and custom cedar hot tubs where you can chill with a forest or ocean view.
WOODS also has a casual farm-to-table bistro that features fresh produce from Pender's Raven Rock Farm, meats from The Whole Beast charcuterie, local craft wine and beer (seven of the latter on tap), plus 20 signature cocktails. It's sort of a deconstructed boutique hotel, scattered across seven wooded Gulf Island acres.
It's all about escaping the pressures of urban life, with some space for losing yourself in the dancing flames of a campfire or the glittering night sky, says Redel, designed for those who want to "get back to nature" without actually getting dirty.
WILL CAMP FOR FISH
If an adventure involving real food and fishing is for you, Tofino's Tuff City Charters has a new "Eat What You Catch" experience. Complete with crackling fires and fish tales, their tours include fishing for salmon or halibut, dropping a few crab and prawn traps, digging for clams and then collecting your catch to cook on a remote beach. There are guides to help you find the fish and a chef on shore who will teach you everything about filleting halibut, cleaning crab and cooking a big salmon over a smoky wood fire.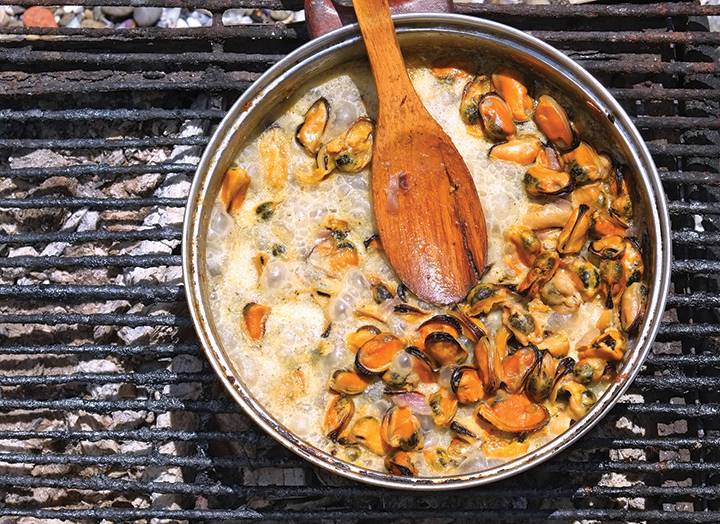 It's a charter experience — you buy the boat and the guides for two to six guests — at the day rate of $1,900 to $2,600 per group, depending on the package you choose. If you want to have a diver on board to find exotic delicacies like geoduck and sea urchin for your dinner, it costs a little more. The overnight option — sleeping in Tentsile "tree tents" suspended among the massive old Sitka spruce and Douglas fir, with a private hot tub — is $3,900.
Owner Brad McAfee is a filmmaker and skipper who says his culinary cruise is designed for the foodie, not the hardcore sport fisher. And to pay it forward, he offers SAM days (for sons and single moms), setting aside a couple of days each month for special free charters "because we believe that every B.C. kid deserves a chance to go fishing on the West Coast." Great food and good karma!
NATIONAL DREAMS
Park's Canada's oTENTik program has made it easier to experience camping for those who prefer less rustic accommodations. At various parks, you can rent a range of options including oTENTik tent/cabins, tepees and yurts, tiny houses, tent trailers and basic camping equipment.
"At 5:30 p.m., all of the visitors have gone and you have this whole place to yourself," says Sophie Lauro, promotion officer for Fort Rodd Hill and Fisgard Lighthouse National Historic Site, as we tour the five tent/cabins available to urban campers in Victoria. Complete with private beach, ocean views and walking trails, this is comfortable camping with conveniences.
Each oTENTik has a deck with Adirondak chairs, an outdoor firepit, dining table, dishes and comfortable bunk beds inside its wood frame and heavy canvas walls — BYO sleeping bag or blankets and food.
"It really appeals to families, even grandparents or folks of a certain age who don't want to sleep on the ground but love to camp," says Lauro, noting the big tents sleep six and rent at $120 per night.
Parks Canada designed its oTENTik program as a "gateway" for non-campers, to help new campers get past any fears they have of a night in the great outdoors. Not all national parks have the cabin tents in place, but you'll find them in B.C. at Kootenay National Park and inside the historic Fort Langley National Historic Site. At Pacific Rim National Park Reserve, there are "equipped campsites," complete with camping gear from Mountain Equipment Co-op (MEC) for visitors who want to sleep outdoors but are travelling light.
Parks Canada also has a camping app to help new campers plan their trips and offers Learn to Camp weekends with MEC. The next course at Fort Rodd Hill is July 22 to 23.
NATURAL LUXURY
If money is no object, there are multi-day, soft outdoor adventures with considerably more exclusivity too. Clayoquot Wilderness Resort, accessible only by boat or sea plane, is the original glampsite. With its posh prospector-style tents in the remote rainforest, antiques and elegant amenities, a team of top chefs and outdoor guides, there's an air of old-world, colonial adventure in this all-inclusive experience, and a price to match (starting at $1,800 per person a day).
Rockwater Secret Cove Resort on the Sunshine Coast (below) offers luxurious, canvas-walled cabins along a boardwalk on a rocky oceanside cliff, complete with fireplaces, jetted tubs and room service. Rates for the tenthouse suites start at $290 per night in the low season.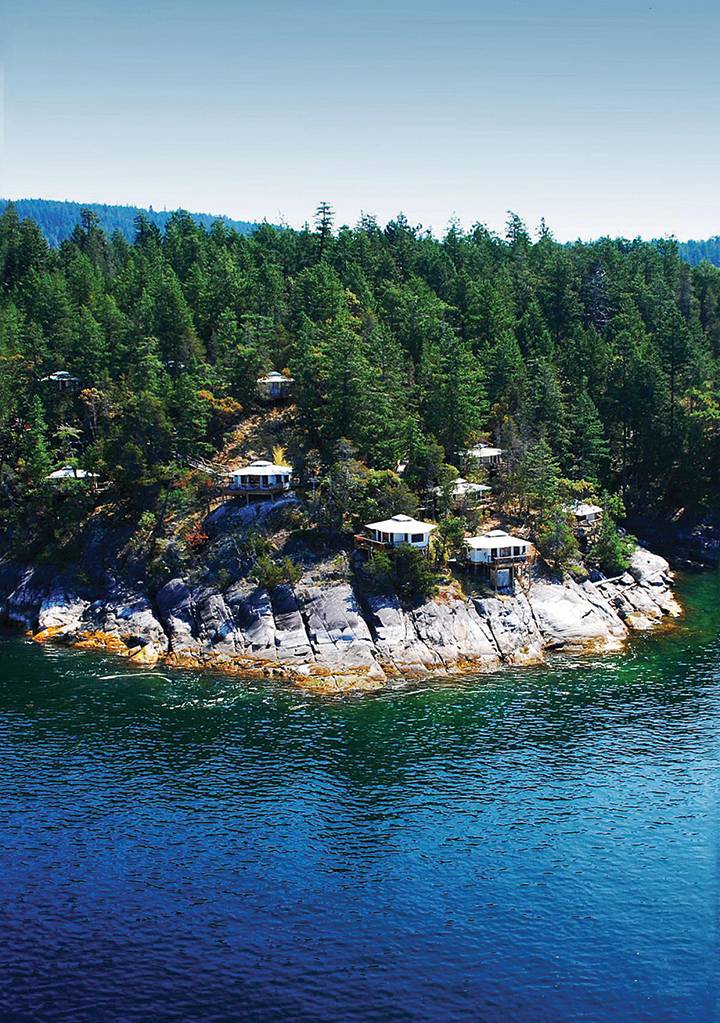 If channelling your inner cowboy — or flyfisher — is the goal, try a day ride on the open range, a little fishing and bedding down in a luxurious prospector's tent (complete with wood-burning fireplace) after the chef cooks up your catch, at Siwash Lake Wilderness Resort in the Cariboo. A three-night "Glamping Getaway" starts at $2,385
per person.
So even if you are not a "camping person," you can still sleep in Canada's great outdoors — and you don't have to stake a tent or unroll a sleeping bag on the ground. Camp well!