By Kerry Slavens
If you think colour blocking is just for the fashion world, think again.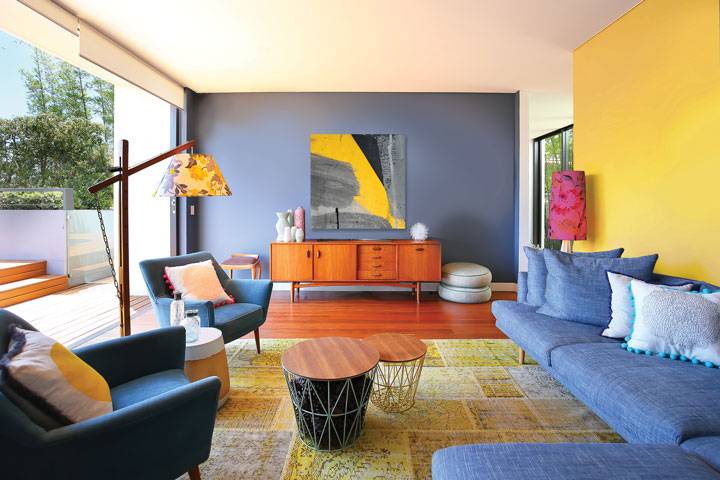 Colour blocking is a stylish way to add pop to rooms and it is making yet another comeback since its big debut in 1956 on an Yves St. Laurent dress inspired by the work of artist Piet Mondrian. Colour blocking has been an on-and-off trend ever since. It's the perfect way to dress up an empty wall or highlight a feature in any room, large or small, whether you are seeking an ultra-sophisticated or trendy fun vibe. Look to your furnishings and accessories, or even a favourite piece of art, for inspiration.
While colour blocking used to focus mainly on the primary colours, modern colour blocking allows for any hue, even ones that traditionally clash. So go bold or go subtle, and if you are stuck for ideas, look to the latest palettes from companies like Benjamin Moore, or check out trending colours from Pantone.
And do remember: colour-blocked rooms aren't just about the walls. Bring a sofa or soft furnishings into play — and then play it up.
---
GET THE LOOK IN YOUR OWN HOME
1. Benjamin Moore's Violet Stone paint (available Pacific Paint & Wallpaper)
2. Linear colour-block crewel pillow cover by Margo Selby (westelm.com, $29)
3. Bluebell-gray rectangular linen pillow (Hudson's Bay, $40)
4. Benjamin Moore's Sun Porch paint (available at Pacific Paint & Wallpaper)
5. A Possible Way by Patty Ripley, acrylic on canvas (Avenue Gallery, inquire for pricing)
6. Glazed porcelain vases (espacedonline.com, right: $120, left: $100)
7. Cerno Silva giant floor lamp (Gabriel Ross, $3,168)
8. Lazar LAX sectional sofa (Parc Modern, starting at $4,999)
9. Ferm Living wire basket tables (available at vanspecial.com, starting at $150, lid sold separately)
10. Turkish over-dyed patchwork rug (kilim.com, starting at $355)
11. 100% alpaca reversible throw (espacedonline.com, $370)
12. Dalian azure accent chair (leannemckeachie.com, $575
13. Metal-capped wood console (westelm.com, $2,499)