You've heard of farm-to-table. This is bean-to-bar.
By Cinda Chavich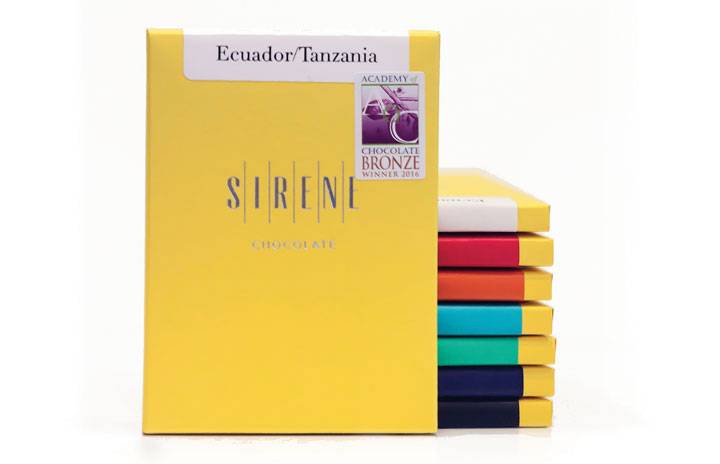 Find Sirene's slim, elegant bars in their understated yellow boxes at several local retailers, including David Mincey's Preservation Foods Chocolate Project in the Victoria Public Market, or buy direct from sirenechocolate.com.
---
The aroma of dark, sweet, melting chocolate elicits a Pavlovian response, stirring memories of romantic fondues by the fire and childhood tales of Willy Wonka.
It permeates the air in the little backyard shop where Taylor Kennedy is making his award-winning Sirene chocolate bars. There's no automated assembly line or cast of thousands here, just a guy with a real passion for his work and a small conching machine humming in the corner, churning some of the world's best cacao beans into some of the world's best chocolate.
Kennedy studied microbiology and economics, and worked as a photographer for National Geographic for 18 years before adding "chocolate geek" to his resumé in 2013. He took the career transition seriously and worked with the methodical precision of a scientist, carefully documenting every experiment with every batch of cacao beans, logging roasting times and temperatures, measuring grinds to the micron.
And it's paid off. This year, Sirene competed against the world's top bean-to-bar chocolate makers and won a fistful of gold, silver and bronze medals. Kennedy's Tingo Maria — created from beans sourced deep in Peru's Amazonian jungle — was named the best dark bar among more than 1,000 North American products at the 2017 International Chocolate Awards (ICA) in New York. Sirene was also awarded silver and bronze medals by the London-based Academy of Chocolate, and silver in the ICA world championships.
One of these awards is especially important to Kennedy — it's for his direct relationship with one of the farms he works with — because it validates his core business philosophy.
"One of the main tenets of Sirene is to improve the life of all involved (farmers, employees and customers), and so it was really gratifying to get that award for that," he says, explaining that he buys directly from individual farmers and pays 10 times the going commodity rate for cacao.
"It really helps tell the story of what Sirene is doing — working directly with the farms and making chocolate, which is still highly unusual."
Kennedy is among a new generation of artisan chocolate makers — about 300 in the world — working outside the global chocolate industry dominated by players like Hershey, Nestlé and Cargill, to make their chocolate entirely from scratch, literally taking raw, fermented cacao beans to bars.
This isn't the chocolate of candy bars or even top chocolatiers who buy commercial, industrial chocolate to create their confections. Bean-to-bar makers like Kennedy are a different breed, as passionate about sourcing ingredients and perfecting the process as any craft beer maker or artisan baker.
He buys the best cacao beans directly from farms in places like Ecuador, Brazil, Madagascar and Guatemala, and then carefully roasts, grinds, conches and tempers the chocolate to create his single-origin bars, each an expression of a particular cacao bean and the terroir where it's grown.
You'll taste maple caramel and a hint of spice in the Guatemala bar, sweet dark cherry in the Tanzanian chocolate and a fudgy, raisony flavour in the bar made with cacao from Brazil's Fazenda Cambo Plantation.
Put a piece on your tongue and let it melt. Savour the nuanced natural flavours and silky texture of the finest chocolate made by people with a passion for their product.
What could be more romantic than that?
This article is from the January/February 2018 issue of YAM.