Victoria has long been a mecca of cannabis culture. Now, with legalization on the horizon, the city is readying for a trendy green future.
By Athena McKenzie
Farm was Victoria's first cannabis dispensary to be licensed. Their Hillside location serves up to 800-plus medical cannabis users each day, and a new location at Douglas and Johnson is expected to open this spring.PHOTO: JEFFREY BOSDET.
---
With Vogue regularly publishing features on stylish cannabis-related activities, products and accessories, it's safe to say the stigma around this controversial plant is fading. Forget reefer madness — there's now a wellness angle with weed-fueled yoga, gourmet aspirations in edibles and Instagram-friendly bud, like Candence's pre-rolls packaged in keepsake-style Hermès orange boxes. Vogue, a harbinger of the cultural zeitgeist, recently declared Bloom Farms' Highlighter (a vaping pen), "sleek and subtle … with a substantive, rose gold sheen that wouldn't look out of place peeking out of a Prada clutch."
While West-Coast-cool Victorians are more likely to go for a Matt & Nat clutch or an Erin Templeton boxcar bag over Prada, our city does have a long history of cannabis as a social norm. One could say we're enlightened — trendsetters, if you will. And with federal legalization of recreational cannabis use looming on the horizon, it will be interesting to see how our cannabis culture will evolve. And other cities in the country will be watching to see how it's done.
"Victoria and Vancouver are generally considered the mecca for cannabis in Canada," says Brandon Wright, founder of Baked Edibles, the longest-running commercial medical cannabis bakery in the country. "The West Coast has always been in a little bit of a bubble out here and that has helped foster innovation and better products … The fact that it is being legalized will foster another explosion of innovation. Cannabis is going to be delivered in ways that we can't know now but that will surprise us. We can't know what's coming because it hasn't come yet."
Baked Edibles might be tucked into a discreet, unmarked building in Rock Bay, but its location is no secret — nor is it meant to be. Wright says everyone from the neighbours to the City to the police to Island Health (Vancouver Island Health Authority) know the bakery is there and what it makes.
Along with cookies, brownies and snack bars produced in the main commercial kitchen, the confectionary kitchen — aptly called "Willow's wonky chocolate factory" after one of their chocolatiers — creates infused treats, from chocolate peanut-butter cups to a Mile-High Mint Cannabar.
What's better than peanut butter and chocolate? Willow, a chocolatier at Baked Edibles's Rock Bay facility, puts the final touches on a batch of Peanut Butter Cups infused with cannabis THC extract. PHOTO: JEFFREY BOSDET.
---
But don't plan on starting your dinner parties with a passed tray of infused gummies just yet. (For those waiting for legalization, that is — cannabis has been a Victoria party norm in many forms for decades.) While edibles are approved for medicinal use, last year Island Health prohibited their sale in local dispensaries, citing that the Food and Drugs Act does not recognize cannabis as a food ingredient. And federal legislation for recreational use won't include edibles until at least next year.
"Edibles are less a part of cannabis culture in Victoria than it used to be, specifically because the dispensaries have been forced to stop carrying them or risk losing their licences," says Wright, who sells his product to online dispensaries.
"Without a doubt there is still an underground edible scene, and for a lot of people it's their favourite method of consumption. I think in the future they will be a much bigger part than they already are. I really believe that the social model of the cannabis cafés, like those in Amsterdam, will ultimately come in in the next five years."
Victoria's Dispensaries Are Well Ahead of the Trend
Despite the ban on edibles, local dispensaries are another area where Victoria is ahead of the cannabis curve. Two years ago, city council put a process in place for business licensing and zoning for dispensaries.
"Victoria and Vancouver have the most progressive and well-developed regimes in terms of the regulatory process," says Mayor Lisa Helps, who doesn't see legalization changing the culture much in Victoria. "How it could look is very much how it does look now."
What does it actually look like now? On a late Tuesday afternoon in March, there's constant traffic through the doors of Farm Dispensary on Hillside, the customers ranging from a grandfatherly gentleman in a Tilley hat to a suit-clad millennial who appears to have run in after work. It's a very different vibe than a deal going down in Centennial Square.
With its live-edge counters and industrial-chic esthetic, Farm feels a little bit like a well-appointed Starbucks, except the display cases contain varietals of dried flower buds — albeit with names like Blue Lime Pie — Phoenix Tears concentrates and cannabis-infused lip balm and bath soaks.
"Those are somewhat of a novelty item," says Allan Lingwood, Farm's chief compliance officer, pointing to the lip balm. "But I've heard the bath salts can be a really relaxing experience."
The inviting vibe at Farm is intentional and cultivated. The founders wanted an environment in which anyone would feel comfortable. A testament to their success is being named to Leafy's North American-wide list of the best dispensaries to take your mom to. So, there's one summer outing already planned.
Farm (formally Farmacy) was created as a space for the medicinal cannabis user to comfortably access the drug. Trained "budtenders" work the counters with an "advise not prescribe" approach. With legalization, Farm, as a dispensary licensed by the City, will transition into the recreational model.
"We do feel that a lot of people will be using cannabis as a recreational drug on a beautiful sunny day on the beach," Lingwood says. "With our current membership, of the 24,000, half are truly medicinal users. The other half does need it for medicinal purposes but also like to get high."
Lingwood says that Farm hopes it will continue to be able to serve the medicinal user and to continue its medical cannabis education program — Cannabis 101, one could call it.
They also worried there could be a period of excess immediately following legalization. "We were considering a half-page ad somewhere to remind everyone to use responsibly," Lingwood says. "While we're all very excited, let's not get carried away."
To his mind, it should be treated like wine in France, where there is not a huge amount of alcoholism because alcohol's use is prevalent in the culture and people consume a little bit each day. "As opposed to this idea of prohibition and then when it's available, people get so excited it can be taken a bit too far," he explains. Given his background as a sommelier, it seems an appropriate analogy. One could also imagine fragrant dried bud replacing a bottle of wine as a hostess gift.
Also much like wine, cannabis has a breadth of varietals, and minutiae, such as growth conditions, tasting notes and the overall experience, which Lingwood says provides a lot of opportunities to "nerd out." Forget wine cellars and cigars — the next luxury collectible could eventually be cannabis, depending on how the ever-evolving experiment that is cannabis legalization proceeds.
---
A Pot Primer
Strains of cannabis are commonly broken up into three groups: indica, sativa, and hybrid.
Indica plants are short with bushy stems and fat leaves, and have short flowering cycles. Indica and indica-dominant hybrid strains are often used for their relaxing and calming effect, due to their high level of mellowing CBD.
Sativa plants are tall with slender bright green leaves. Because of its high ratio of stimulating THC, sativas can evoke an energetic and uplifted sensation.
Hybrids, as may be clear, contain a mix of sativa and indica genetics and can take on characteristics from both.
---
The Question of Where to Consume Cannabis
One thing on everyone's priority list is addressing the question of where to consume. While to many, the skunky scent of a lit joint is as emblematic of Victoria as cherry blossoms, things could change with legalization, when smoking locations will be limited. Cities like Seattle, where cannabis has been legal for a couple of years, have run into the quandary of renters and visitors being able to purchase cannabis but not being able to smoke their wares.
While Lingwood and Wright advise newbies and first-time users to set themselves up "in a comfortable place in their homes, to take a low dose and to go slow," they both acknowledge that not everyone has the option of their own space.
"There does need to be some public spaces for consumption because if people can't smoke in their apartments, they can't smoke outside, where can they smoke?" agrees Mayor Helps. "I think it is a big question. It's something the CRD will be grappling with."
Another fascinating development in the U.S. states that have legalized cannabis is the "bloom" in weed-related tourism. There are airport pickup services that allow passengers to indulge in the vehicle; crafting classes that combine pot and pottery; chef-led cannabis-infused menu tastings; craft-beer and edible pairings; and spas that offer marijuana-infused massages. Denver's "Mile High" moniker now has little to do with its mountainous environs.
At this point, it's not clear if the same opportunities will ever be available in Victoria and B.C. While Tourism Victoria says it will not be exploring any options while recreational cannabis is still illegal, that doesn't prevent some in the industry from engaging in a little blue-sky thinking.
One of Baked Edibles' inventive offerings is its infused massage oil, which according to Wright, has received rave reviews from massage therapists who have used it on clients. It seems a touch of THC makes for the ultimate in muscle relaxation.
"I think that topicals and edibles will be part of packages for vacations, such as spas," Wright says. "It will be certainly possible that someone could enjoy a small edible and a cannabis-infused massage. It would be a relaxing experience and better than it would have been without."
---
The Roll Out
As of April 2018, this is B.C.'s plan for legalization.
Retail therapy: Cannabis will be sold in public and private stores, but not where liquor or tobacco are sold.
Personal stash: Possession of non-medicinal marijuana for people who are at least 19 will be limited to 30 grams.
What's that smell? Marijuana smoking will be allowed in public places where tobacco smoking or vaping is permitted, but not in parks or beaches where children would go.
Garden party: Adults will be permitted to grow up to four plants per household — but landlords are allowed to prohibit cultivation.
Riding high: A 90-day driving ban will apply to anyone caught driving while drug-impaired, and the province will increase training for law enforcement officers to recognize impairment.
---
Three Beauty and Skincare Products With Cannabis
Farmacy's Relaxing Bath Soak
Farmacy's Relaxing Bath Soak is made by a local Victoria topical artisan. The THC-infused soak has an aromatic fragrance of lavender and uses a unique blend of Himalayan Dead
Sea and Epsom salts.
MJ Creams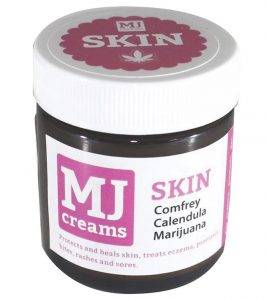 Infused with comfrey, calendula and cannabis, MJ Creams' soothing skincare formula is used to treat skin conditions such as eczema, psoriasis and acne.
Lovebud's Puff Puff Past Eye Cream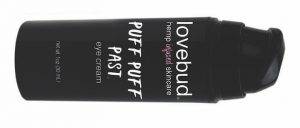 Lovebud's Puff Puff Past Eye Cream combines natural anti-aging oils extracted from the cannabis plant with other natural anti-inflammatory oils to reduce the appearance of
under-eye puffiness.
This article is from the May/June 2018 issue of YAM.