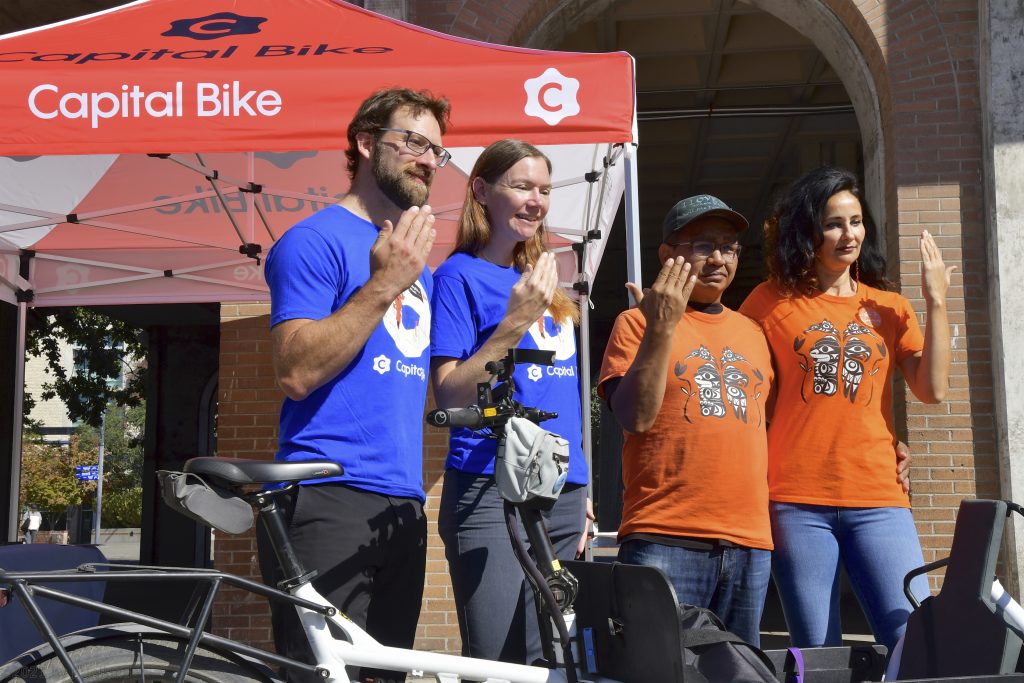 Xe xe Smun eem-Victoria Orange Shirt Day and Capital Bike, the producers of Go By Bike Week, are organizing the first-ever National Reconciliation Day Ride on September 30th in Victoria, BC. It will be held as part of this year's Go By Bike Week, in recognition of the National Day for Truth and Reconciliation.
South Vancouver Islanders are invited to wear orange and participate in the ride on September 30th from 10 AM until noon. The ride begins at Centennial Square, with stops at locations of significance to the lək̓ʷəŋən (Lekwungen/Songhees) and W̱SÁNEĆ (Saanich) People on whose lands we live, work, and ride.
The organizers will share stories about these locations so that participants can learn about the histories of places that local cyclists ride past every day. The end of the ride coincides with the start of the Xe xe Smun eem-Victoria Orange Shirt Day: Every Child Matters Ceremony at Centennial Square.
Eddy Charlie and Kristin Spray are the leaders of Xe xe Smun eem-Victoria Orange Shirt Day. Spray says the Reconciliation Ride is "the right thing to do, to be here, where people want to know more about Canada's true history. And not just the past but the present too."
Eddy Charlie adds, "I want to release what is inside of me. All that fear. All that anger. All that pain. I want all of Canada to know why we are the way we are today."
Adam Krupper, Executive Director for Capital Bike, says "It's really important to us, as an organization, to support reconciliation in any way we can. Since Fall Go By Bike Week coincides with the National Day of Truth and Reconciliation, we felt that we had to do something in recognition of this historic day."
Eamon Murphy, Managing Partner, Woodward & Company Lawyers LLP, who are sponsoring the Ride, adds, "we are proud to contribute to the very first National Reconciliation Day Ride, and to participate in an event that serves to educate and raise awareness and respect for the First Nations people whose land we live on. As a law firm that advocates for Indigenous peoples, we are committed to the advancement of truth, reconciliation, and decolonization."
It's free to participate in the Reconciliation Ride. Participants are encouraged to register for Go By Bike and log their ride at https://gobybikebc.ca/. For more information, visit: capitalbike.ca/.