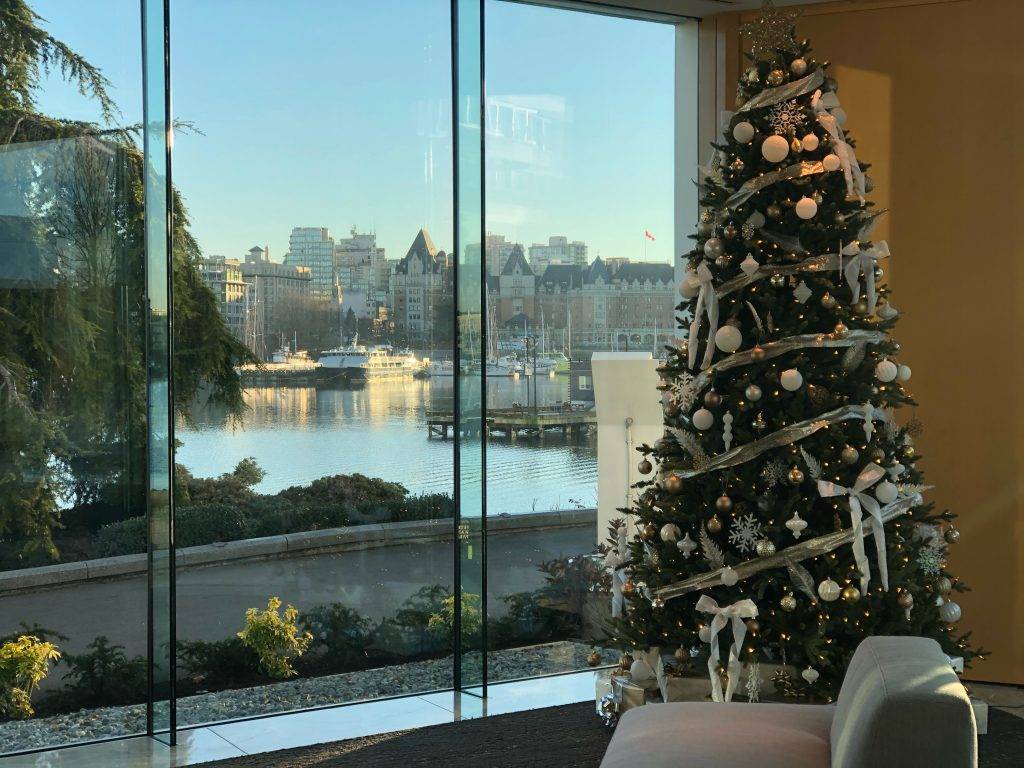 The Inn at Laurel Point is only a five-minute drive — or 20 minute walk — from my home in Chinatown, but it feels like a world away. Situated at the entrance to Victoria's Inner Harbour on Laurel Point, it is the perfect place for a night of peaceful relaxation. Given that both my partner and I are now working from home, and find it more difficult to find extended down time, a nearby getaway offered the chance to step away.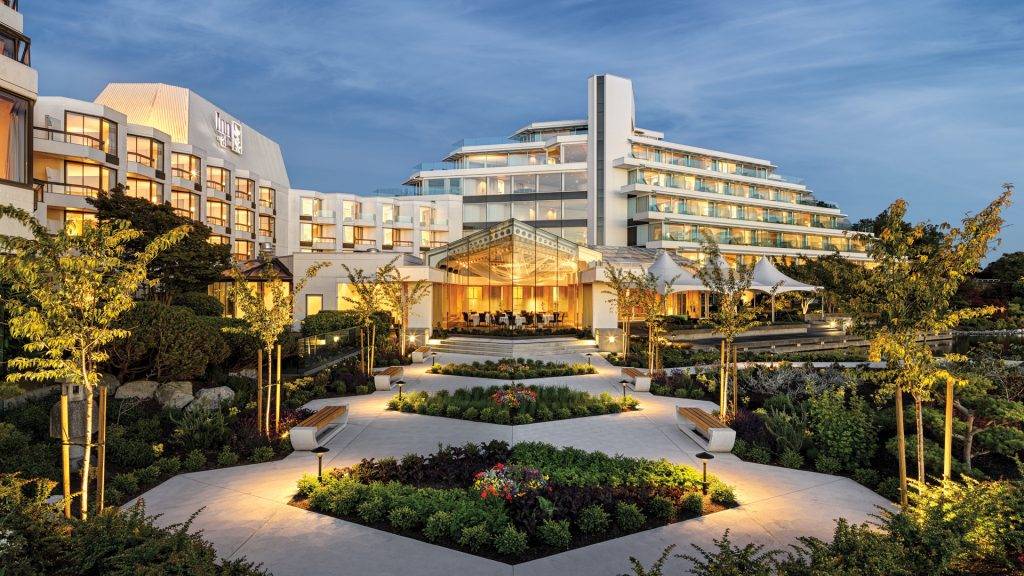 Walking into the lobby, with its striking circular fireplace and stunning Christmas tree, it was also the first time this year I've felt the stirrings of some festive spirit. (And it made me remember that one of the first times I visited Victoria as an adult, I stayed at the Inn at Laurel Point at Christmas time, when it was home to a Gingerbread house showcase.)
Early in 2020, the hotel reopened following a stunning transformation. The multimillion-dollar renewal included the lobby. Doubling in size, the space now features floor-to-ceiling windows and the view is breathtaking. Architect John Graham — who worked as the junior architect alongside Arthur Erickson on the construction of the hotel's Erickson Wing, 30 years ago — oversaw the recent renewal, and wanted guests to feel as though they were on the prow of a ship right in the Inner Harbour.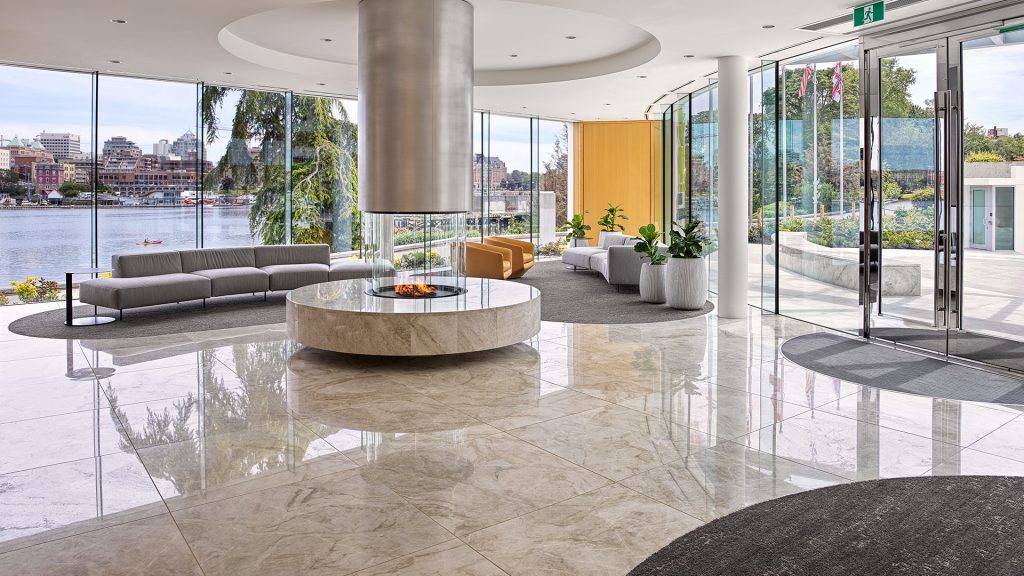 Paul and Artie Arsens, the founders of the Inn at Laurel Point, collected art throughout their years of travel around the world. On our way to our room in the Erikson Wing, we stop to admire various pieces from their collection, which is on display in the hallways and common areas. It's a satisfying taste of something we've missed a lot this year: visiting galleries on our travels.
Our room is sleek and modern, with a tempting soaker tub in the marble-finished bathroom, as well as a striking glass terrace with incomparable views of the harbour.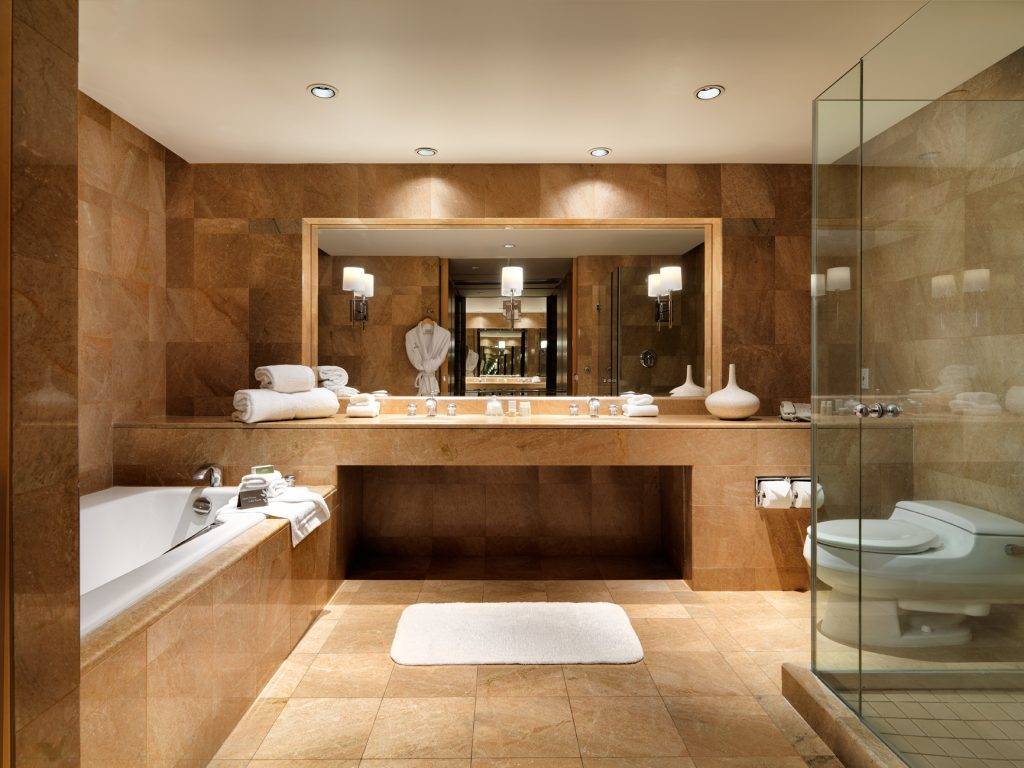 We do tear ourselves away for a leisurely stroll to Fisherman's Wharf, along the David Foster Harbour Pathway, before dinner at Aura.
Executive Chef Ken Nakano — who came from the Shangri-La Hotel in Vancouver — now oversees the hotel's entire culinary program, which includes the iconic Aura Waterfront Dining + Patio and its new small-plates approach. He prioritizes farm-to-table and is known for marrying local ingredients with Asian flavours. Our dinner exemplifies this approach, from the moreish "KFBC" (Korean fried broccoli and cauliflower) and elegant Pea and Ricotta Tortellini with Red Thai Curry, to the special feature, Kimchi Braised Beef, which melts in the mouth. One of the benefits of the small plate service is the ability to try a bunch of different dishes (great for people like us, who have difficulty choosing).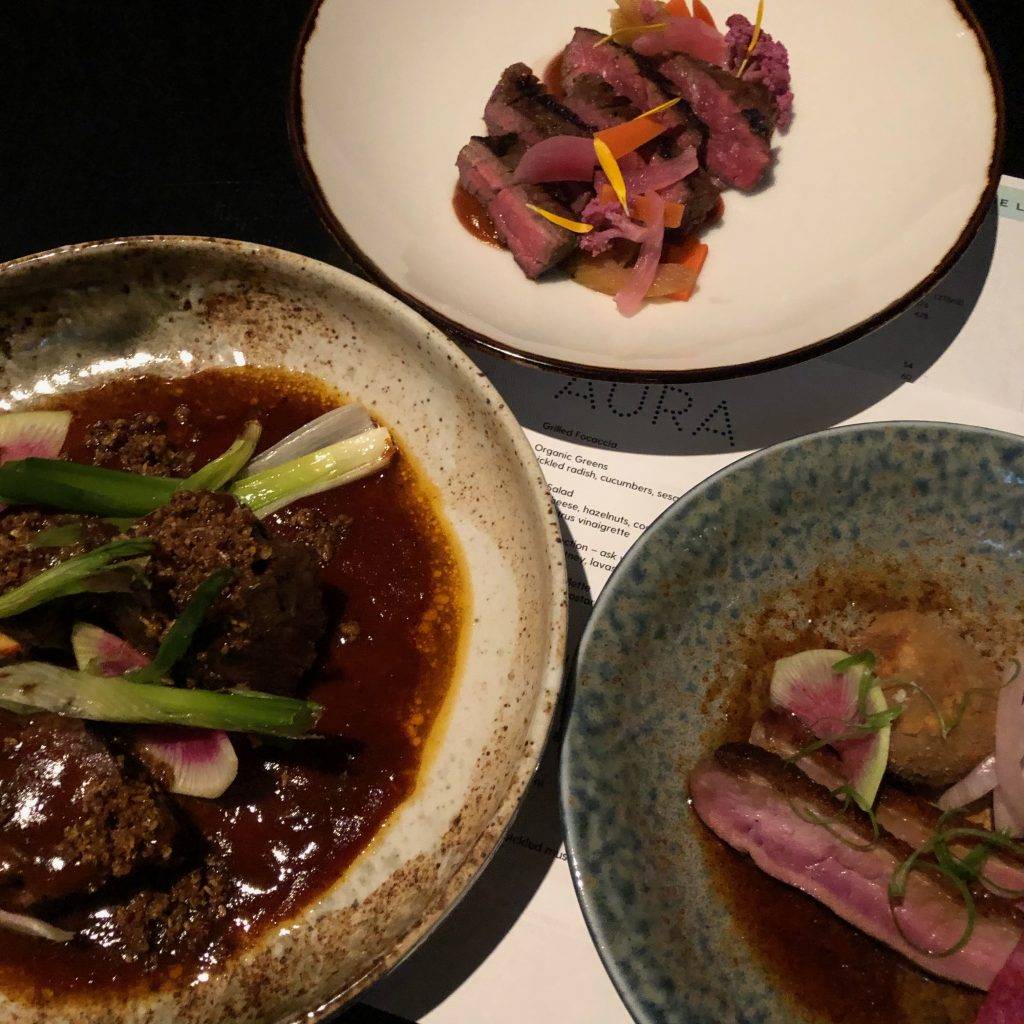 To go with the small plates, Aura has created a wine flight program, to allow diners to experiment with different food and wine pairings. The night of our visit, assistant manager Frances von Aesch recommends the featured flight of rieslings, which includes a remarkable aged option, the 2010 "Old Vines" from Tantalus.
I'm also a huge fan of Aura's pastry chef Kimberley Vy (who we have worked with in the past in YAM Holiday Issues) and was excited to learn about the hotel's new Goodies from the Inn,  which has a curbside pick-up option. Islanders can order treats like Vy's incredible Eggnog Ganache Filled Double Ginger Cookies and Inn Made Chocolate Bars (the Salted Egg Cereal options have a wonderful spicy kick).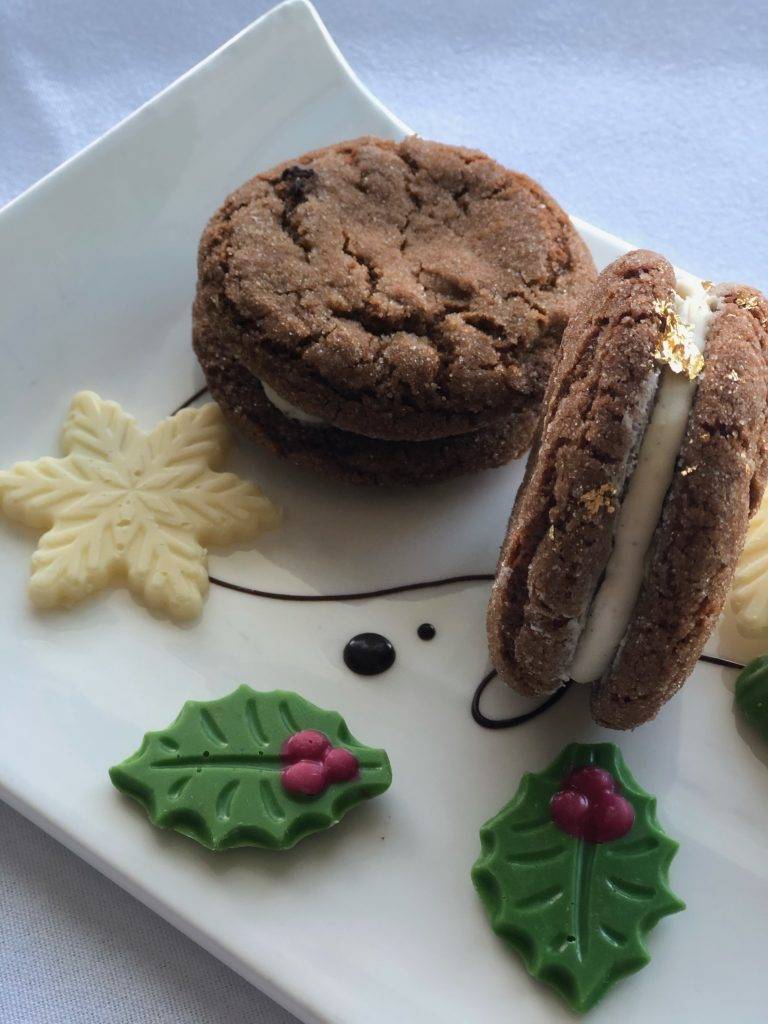 Another holiday treat, small plate brunch is back at Aura for the month of December. It's a lovely way to celebrate the holidays with your bubble. I highly recommend the chicken and pancakes, a twist on traditional fried chicken and waffles that features karaage style chicken.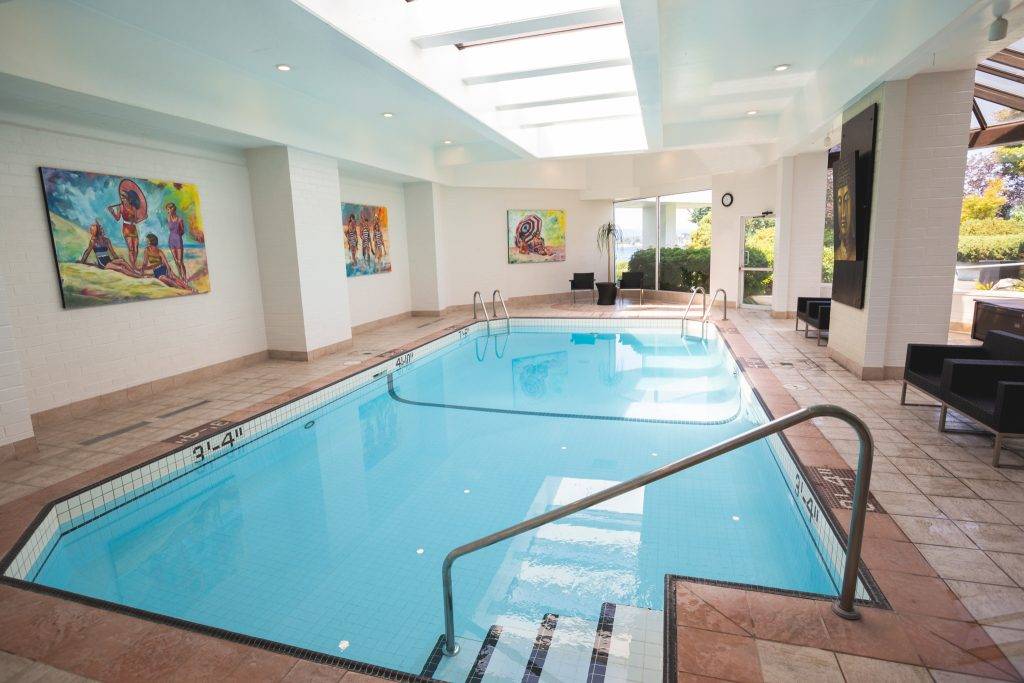 We enjoy our brunch after a leisurely swim in the hotel's pool, which guests can reserve privately by the hour. It's the fitting end to our staycation, which allowed us to unwind and reconnect with each other. It's actually surprising when we return home to realize how close we were. It really felt like we got away.
You can read about the Inn at Laurel Points COVID-19 safety protocols here.