At Crust Bakery, Tom Moore crafts sweet moments (and exquisite tarts) for the holidays.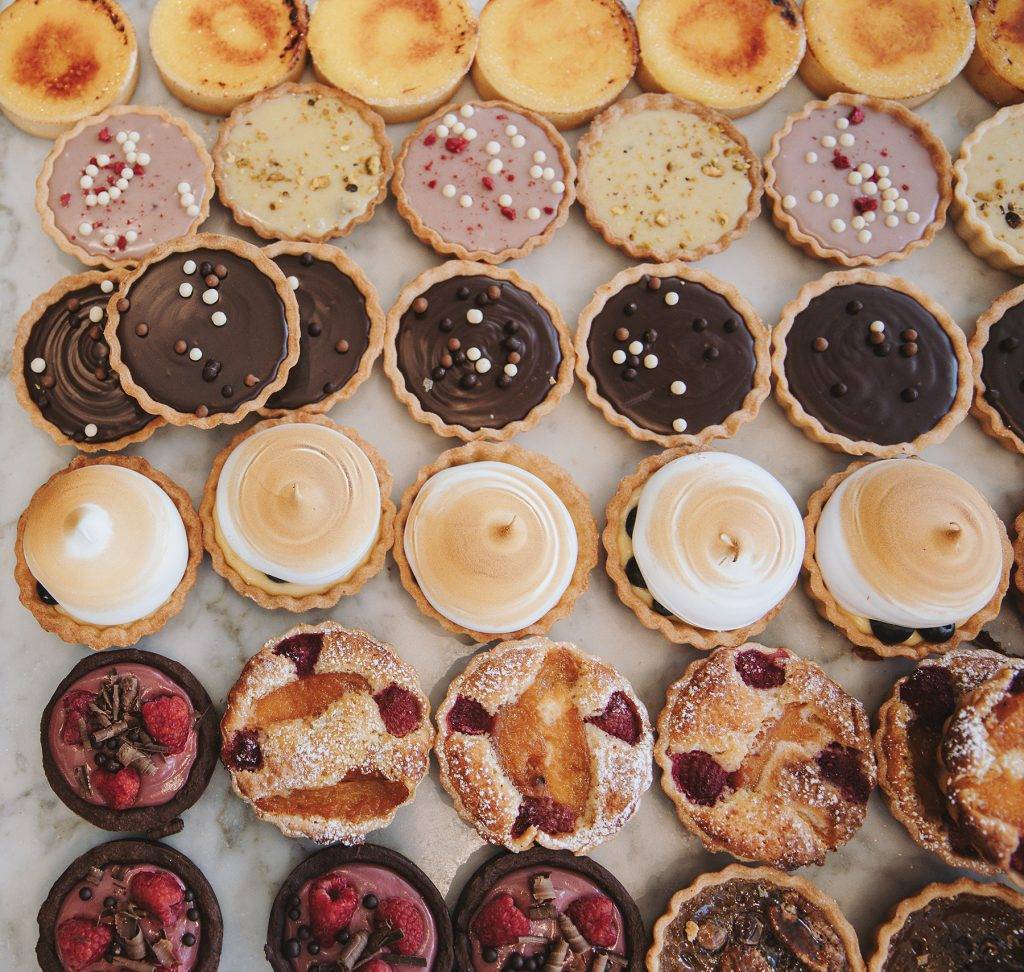 BY CINDA CHAVICH | PHOTOS BY MICHELLE PROCTOR
Few images conjure up the magic of the holiday season like kids gazing longingly into a shop window at the array of shiny toys and treasures inside. But these days, that could be all of us, standing on the sidewalk outside our favourite eatery, waiting for something delicious to take home.
At Crust Bakery, with its streetside windows filled with beautiful, seasonal mince tarts, cranberry danishes, individual eggnog brûlées and chewy gingerbread, the anticipation is palpable. And baker Tom Moore says sharing those sweet moments is what makes his business such a joy.
"The main reason I went into baking in the first place, from cheffing, was this satisfaction that it brings me, by seeing people really enjoy it," says Moore. "I can literally stand there and watch people as they're eating, even if they're eating with their eyes — it's 'Ahhhh, this is soooo good!' There's not many times as a chef where you really get to see that."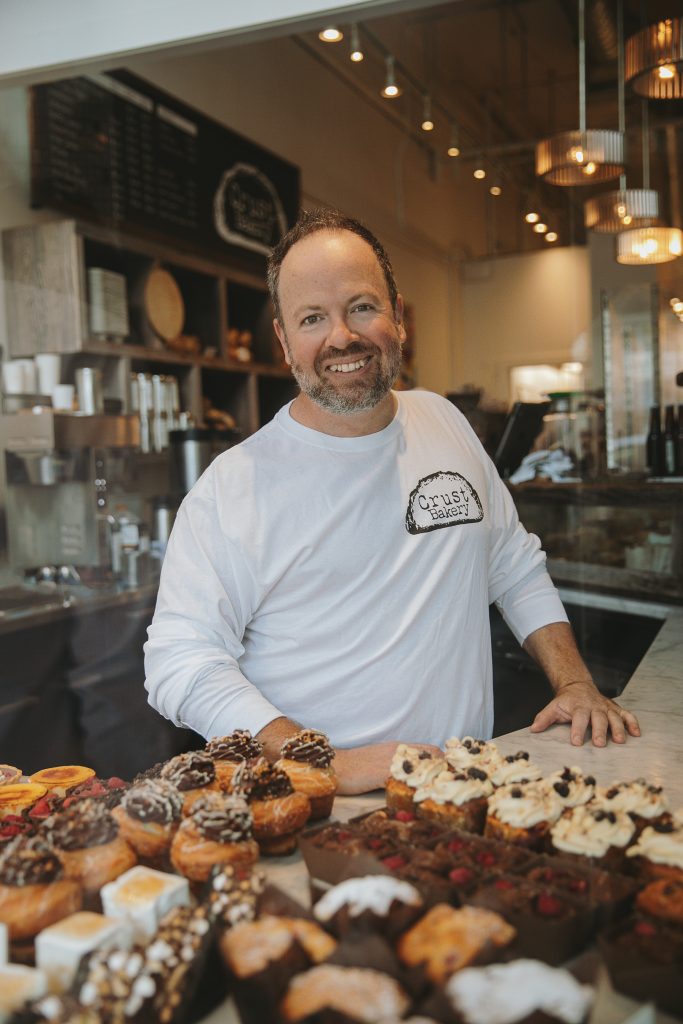 Moore started his professional career as a trained chef in Australia, opening two restaurants in Canberra before embracing the world of baking. He moved to Victoria and opened Crust downtown on Fort Street in 2013, and continues to run the popular bakery with his ex-wife and current business partner, Crystal Moore.
Like many bakeries in the city, Crust has become a bit of a lifeline for locals over the last two years, a constant we can count on for a daily loaf of fresh sourdough, a buttery croissant or a pretty pastry. While so many businesses faced closures, Moore kept Crust open with online ordering and delivery, even expanding to a second retail shop, an outdoor glass kiosk in the courtyard of the Uptown mall. He hired two drivers to make deliveries and, with a staff of 35, nearly doubled his output.
As demand from hungry tourists and downtown office workers dwindled, new customers discovered his ever-changing menu of innovative tarts and seasonal danishes via the virtual shop window of social media, then lined up outside his bakeries to buy.
Delicious flavours and consistency are Moore's first priority, but beautiful food is also his mantra.
"I'm a strong believer in this. Something that has a lovely esthetic and looks pretty, and then you eat it and it's even more amazing, really makes you feel good," he says. "They're little treats, a release when things aren't going well. [People] walk past the bakery and just get swept up in this happy place."
His signature sweets — including lychee, rosewater and raspberry danishes, chocolate pecan tarts and blueberry vanilla cream pastries — are constants, but seasonal ingredients and holidays offer Moore ongoing inspiration. "It's a chance to be really creative and show people what I can do," he says.
"I got some plums in, and I cooked them in cherry juice with some star anise and some orange purée, and we put them on a pastry of the moment. Yum, right?" He laughs with typically candid enthusiasm. "It's fun to be creative and use this beautiful produce. I love Vancouver Island for that."
Moore equates his array of individual tarts and pastries to a chef's degustation menu, allowing customers to graze through a variety of flavours.
"It means you don't have to buy a full-sized pie. It means you can have one that's a few bites, and you can get a chocolate one, too, or share it with someone, or give it to someone, and you don't have to have a whole pie."
The holidays are not just a time for creative inspiration, they are also a time for people to enjoy cooking and eating together, says Moore, who is now remarried with a blended family of four children. Gingerbread is one of his specialties, so a gingerbread house is always a Christmas project.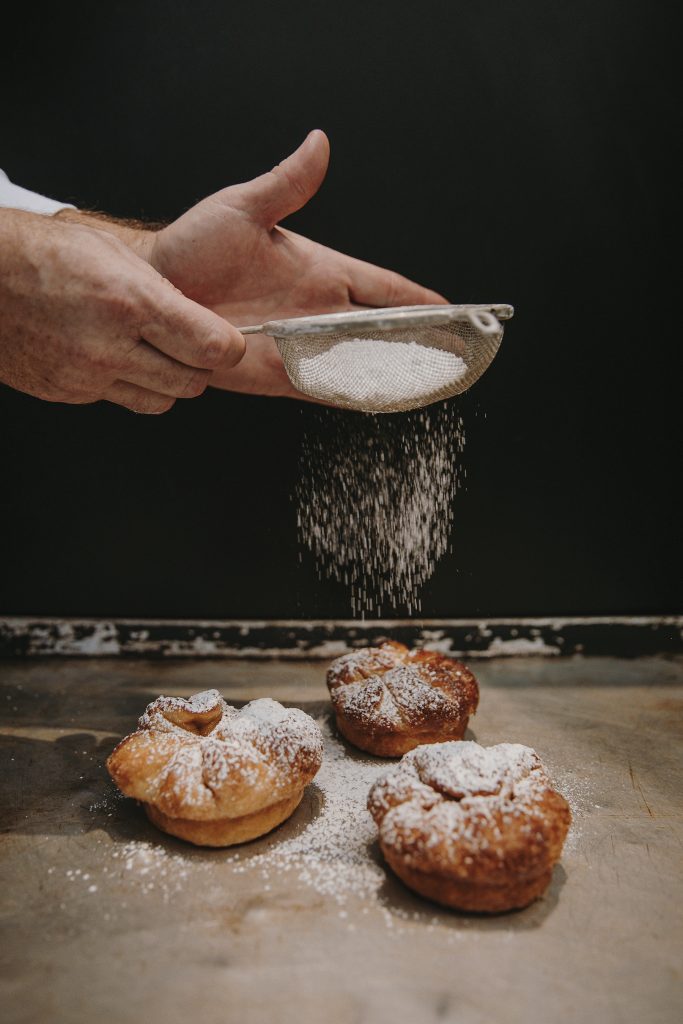 "My daughter and I did a gingerbread house one year for a big gingerbread showcase," he says. "I built the Parliament Buildings out of gingerbread, this massive thing; I was so in over my head — we always look back and laugh at that. But we still build a gingerbread house at home. I let the kids do it however they want. That's their thing."
Moore says his grandmother was "a really, really good baker," producing brandy-soaked Christmas cakes and "burnt butter biscuits (brown butter cookies) with a jam drop in the middle." He recalls other nostalgic Australian treats, from chocolate-dipped Lamingtons to his mother's caramel date slice and whimsical "fairy bread" with colourful sprinkles.
But Moore leaves the holiday home baking to the family. "I'm so busy baking at work that it's kind of the last thing I like to do at home, so that's when I rely on my kids to do baking for me," he says. "They love making cookies."
Crust sits near the corner of historic Fort and Douglas streets, in a building that has housed a long list of bakeries over many decades. Along with the iconic Dutch Bakery and the Chocolat & Co. collective of local chocolatiers nearby, Crust has a devoted following. Moore says that's a gift to him, too.
"I love the impact I can have, even for a little while, on people's lives," he says. "People really get swept up and it changes their day. Most chefs don't get to experience that satisfaction, and it means a lot to me."