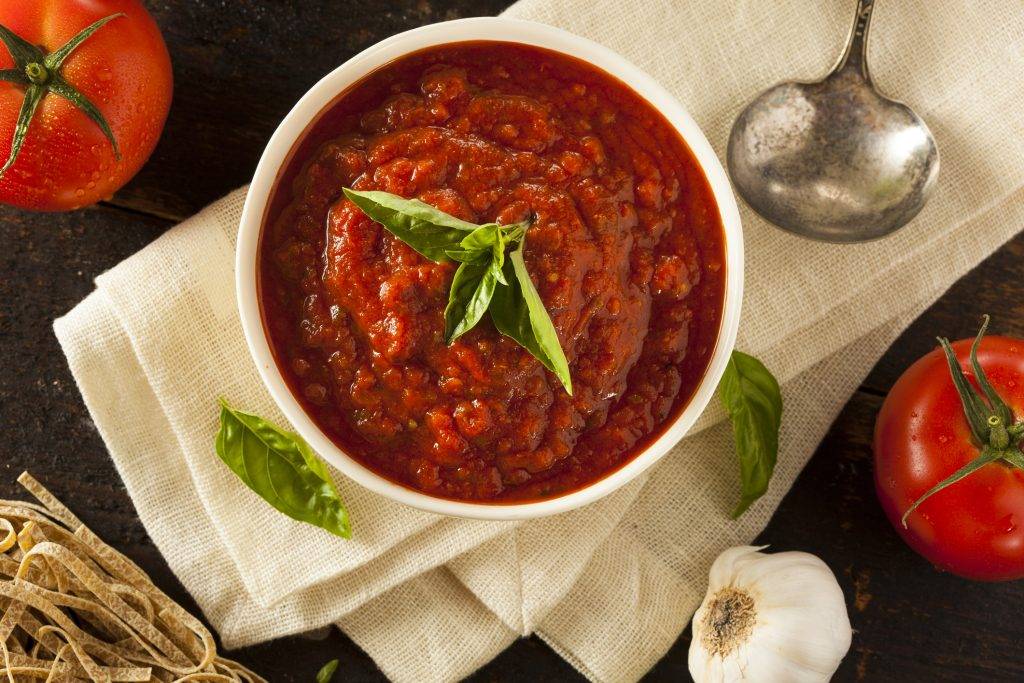 PASTA POMODORO
Tomato Sauce:
• 3 Tbsp olive oil
• 1 large yellow onion, finely chopped
• 4 cloves garlic, minced with a little salt to make a paste
• 2 (28 oz / 796 mL) cans plum tomatoes and their juices, puréed in a blender (or 2 bottles tomato passata)
• 2 Tbsp tomato paste
• 1 cup water
• 1 bay leaf
• 2 Tbsp chopped Italian parsley
• 1/2 tsp crushed red chilies or chili paste (or more to taste)
• Salt and freshly ground pepper
• ¼ to 1/2 cup whipping cream (optional)
• Pinch of sugar (optional)
Make this basic homestyle tomato sauce to serve over any shape of pasta. For a creamier rose sauce, add a splash of whipping cream to the sauce and bring to a simmer, just before serving. This is a great sauce for spaghetti with meatballs.
Pasta:
• 1 pkg pasta of your choice
• Salt to taste
• Grated Parmesan cheese
• Fresh basil (for garnish)
Heat olive oil in a medium saucepan over medium heat. Add onions and garlic and cook until soft but not browned.
Add puréed tomatoes with their juices, tomato paste, 1 cup water, bay leaf, parsley and chili pepper. and bring to a boil. Season to taste with salt and pepper. Reduce heat and simmer until slightly thickened, about 30 to 45 minutes. Remove the bay leaf.
If using cream, add it now. Bring the sauce back up to a boil and simmer a minute to thicken slightly. If needed, adjust seasoning with additional chili pepper, salt, pepper or a pinch of sugar.
Cook the pasta of your choosing in plenty of salted water, following package instructions, until al dente (just cooked but still quite firm). Drain, reserving some of the cooking water, and return drained pasta to the pan. Add enough sauce to the drained pasta to coat and bring to a simmer. Add a splash of the starchy cooking water and continue cooking until the sauce is reduced, and the pasta is nicely coated with sauce.
Serve pasta garnished with grated Parmesan and fresh basil. Serves 4.
TIRAMISU
This is my recipe for tiramisu, a simple Italian trifle of booze-soaked cake (a.k.a. ladyfingers) layered with a creamy cheese custard and chocolate. You can make it in a glass dish and cut it into squares to serve, or create individual desserts in small, wide-mouth mason jars or brandy snifters.
• 1 (1lb / 500 g) tub Italian mascarpone cheese
• 6 large, very fresh organic eggs, separated (see note)
• 6 Tbsp granulated sugar
• 1⁄2 cup espresso (or double-strength coffee)
• 1 1⁄4 cups liqueur (sambuca, Grand Marnier, Kahlúa, amaretto)
• 2 pkg lady fingers
• 1 cup grated top-quality bittersweet chocolate (with at least 60% to 70% cocoa mass)
Put the mascarpone into a mixing bowl and add the egg yolks and sugar. Beat with an electric mixer or whisk until smooth.
In another bowl, use an electric mixer to beat the egg whites until stiff. Pour the beaten egg whites over the cheese mixture and, using a spatula, fold in the whites, just to combine and lighten the mixture.
In another bowl, combine the espresso and liqueur.
Lightly dip the ladyfingers into the liqueur mixture and fit them tightly together in a 9-x-12-inch (3.5 L) glass dish, completely covering the base of the pan. Top with half of the mascarpone mixture and half of the grated chocolate.
Repeat with a second layer of soaked ladyfingers, mascarpone mixture and chocolate. Cover with plastic wrap and refrigerate overnight.
Cut into squares to serve. Serves 8 to 10.
Note: The eggs in this dish are raw, which may be a concern for consumers with compromised immune systems. Note, however, that issues of salmonella and other contamination largely affect U.S. eggs — Canadian eggs go through an intense inspection process that covers mandatory salmonella testing, strict on-farm hygiene practices, a standardized code of quality production practices and safe handling guidelines for grocery stores, restaurants and consumers.
BREADSTICKS WITH PROSCUITTO
This is more of a technique than a recipe. Get some good Italian breadsticks, thinly sliced Italian prosciutto di Parma (preferably di Rotondo or San Daniele brand) and grainy mustard. Smear a little mustard over a strip of prosciutto and then roll the meat around the breadstick, starting at one end and rolling diagonally to cover the top half to two-thirds of the breadstick.
Make several and stand them upright in a tall container to serve as part of the antipasto selection. (If you prefer a warm, crispy breadstick, broil them briefly on a baking sheet before serving.)