To celebrate halibut season, try this elegant Halibut en Papillote with Butternut Squash recipe from the Inspiralized cookbook by Ali Maffucci.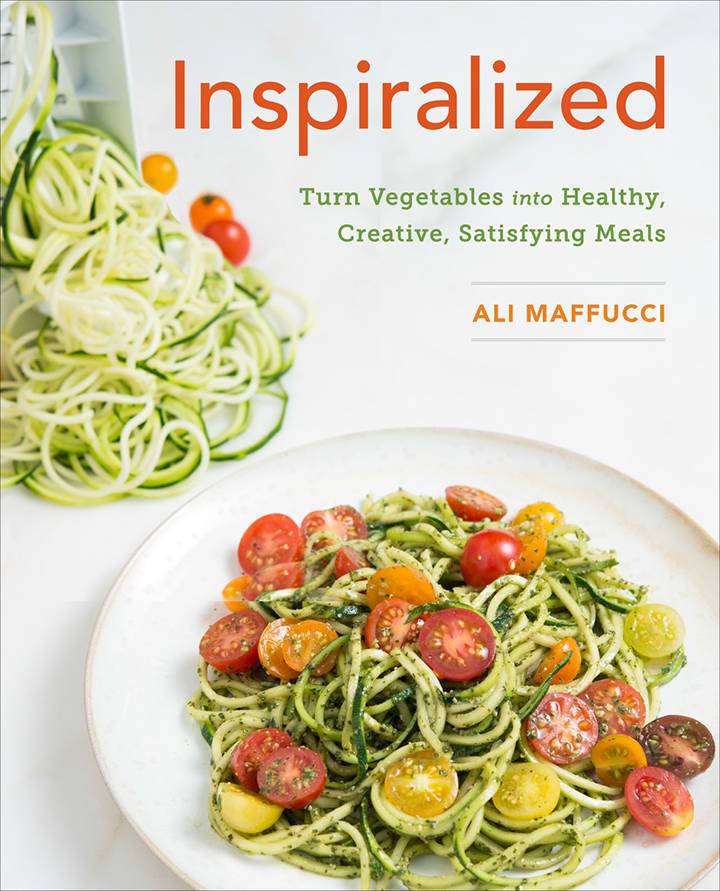 Based on her popular blog, Inspiralized  is a great resource for making the most of your spiralizer — that fun kitchen gadget that creates spiral cuts, shoestrings and vegetable "noodles" for pasta dishes, stir-fries and salads.
In this recipe, the juices from the halibut seep into butternut squash noodles and steam them, locking in the flavour. According to Maffucci, when you open your parchment pouch, "the aromatics are elegant and everything is cooked to perfection."
TIP: All spiralized vegetables bake well in parchment except for cucumber noodles (they're too wet).
Halibut en Papillote with Butternut Squash
Makes: 4 servings
Time to prepare: 20 minutes
Time to cook: 15 minutes
1 small butternut squash, peeled and bulbous end removed, spiralized with BLADE C
2 tablespoons olive oil
1 cup thinly sliced leek
2 medium garlic cloves, thinly sliced
½ cup halved green olives
Black pepper
4 (4-ounce) pieces of halibut fillet, skin removed
¼ cup fresh lemon juice
8 fresh thyme sprigs
Salt and pepper
1: Preheat the oven to 400 degrees. In a large bowl, toss together the butternut squash noodles, olive oil, leek, garlic, and olives. Season with pepper.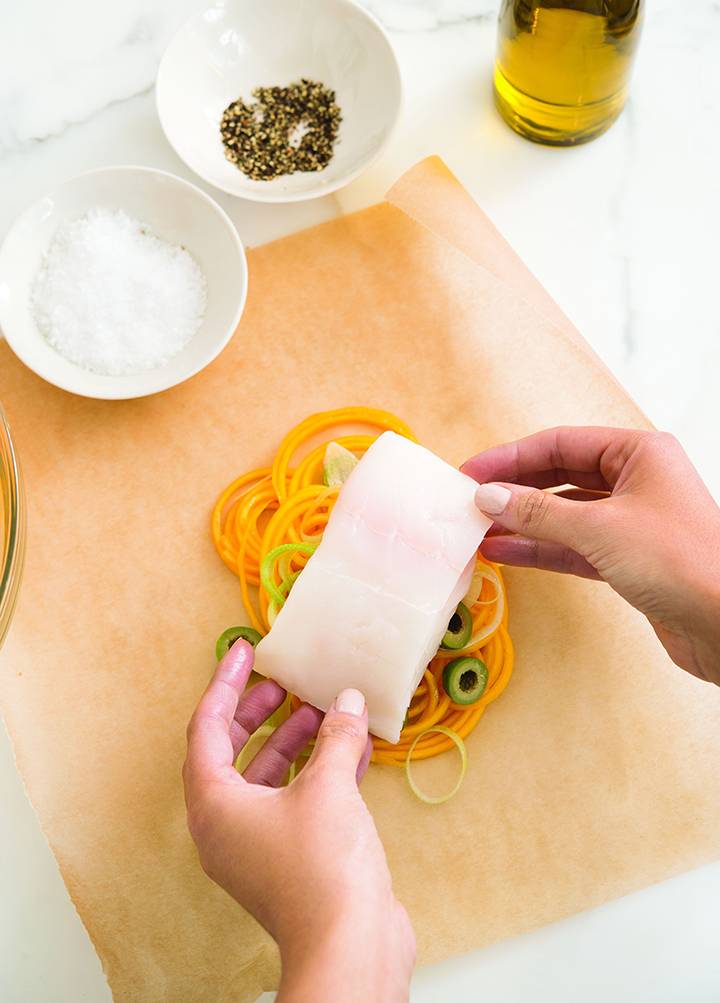 2: Lay out four large pieces of parchment paper, about 10 x 10 inches. In the center of each, place some of the squash noodle mixture. Top with a halibut piece and drizzle each with 1 tablespoon lemon juice. Add 2 thyme sprigs to each bundle and season with salt and pepper.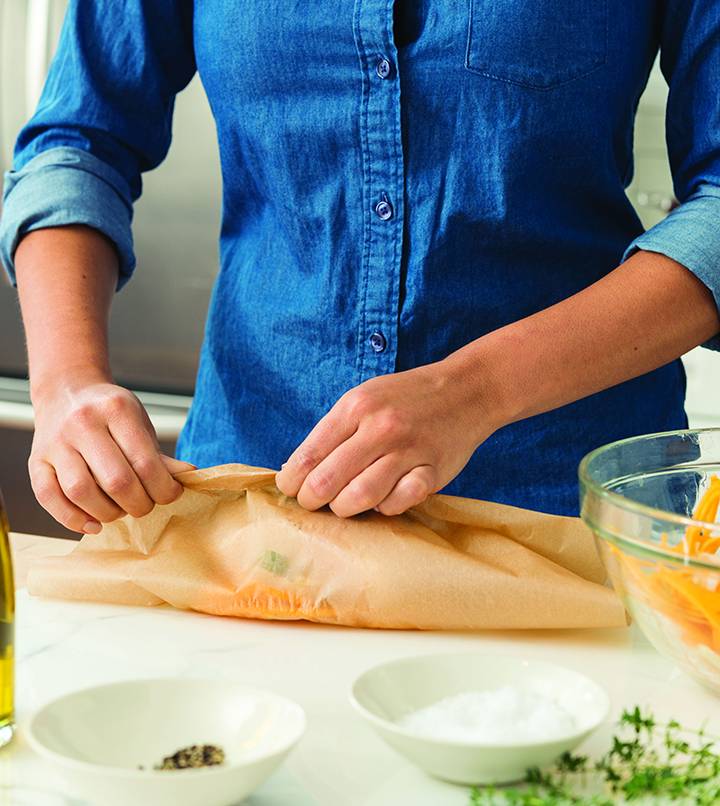 3: Seal the parchment packets by crimping the edges together to make a pouch, folding over once. Place on the baking sheet and bake for 10 to 13 minutes. Place the packets on plates, slit open, and serve.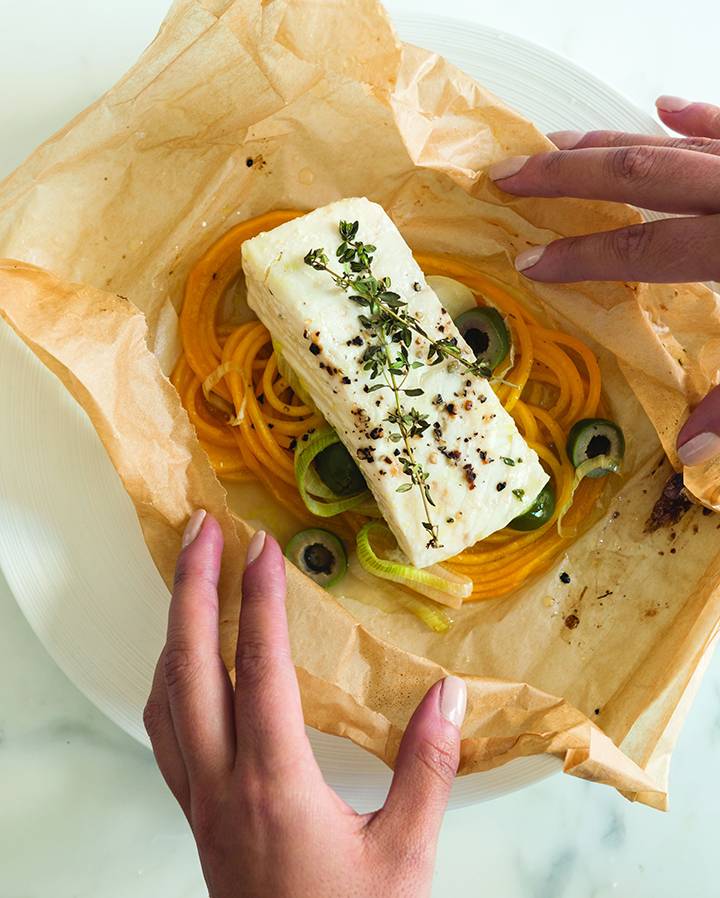 NUTRITIONAL INFORMATION SERVING SIZE: 1 cup of pasta and 4 ounces halibut steak
Calories: 323
Fats: 13g
Carbohydrates:22g
Sodium: 207
Protein:30g
Sugar: 3g
Reprinted from Inspiralized Copyright (c) 2015 by Ali Maffucci. Published by Clarkson Potter, an imprint of the Crown Publishing Group, a division of Random House, LLC, a Penguin Random House Company.