June is National Indigenous History Month and June 21 marks National Indigenous Peoples Day. Indigenous Tourism BC (ITBC) is encouraging communities across British Columbia to get creative with this year's celebrations.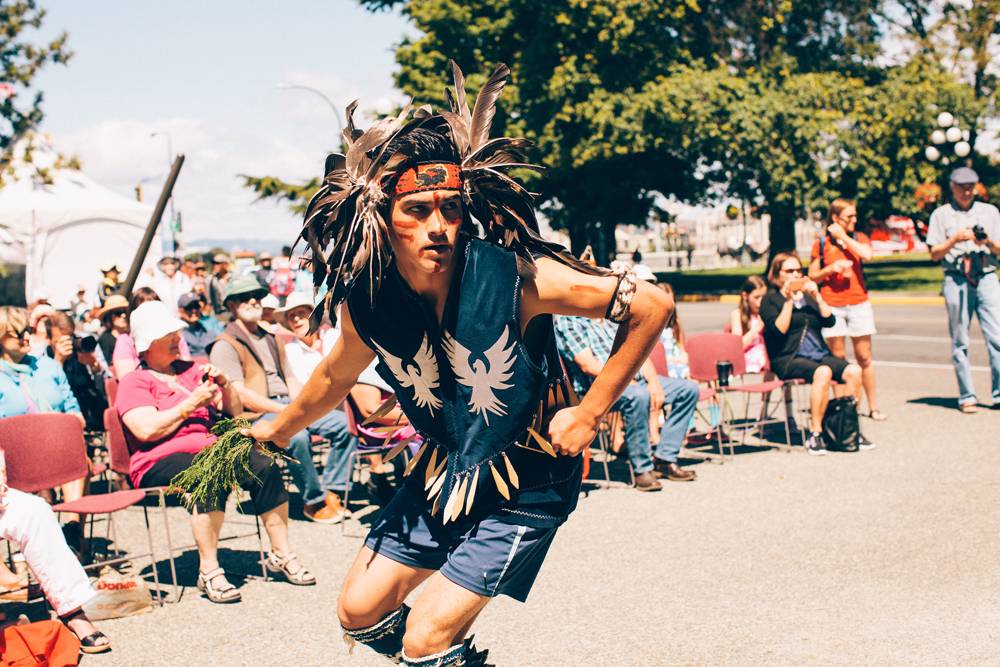 Due to ongoing travel restrictions and limitations on social gatherings due to COVID-19, ITBC is celebrating online throughout this month and a signature experience on June 21, 2020. ITBC is encouraging responsible activities that support Indigenous businesses, culture and artists. 
National Indigenous History Month was first instituted in June 2009, as a way to educate, connect and promote reconciliation in Canada. National Indigenous Peoples Day was declared in 1996, with the date of June 21 chosen to coincide with the summer solstice and the start of berry-picking and fishing season. Both holidays invite Canadian residents not only to celebrate Indigenous culture, but also to reflect on the rich history of Indigenous peoples in BC.
For the past seven years, ITBC has hosted the Indigenous Cultural Festival in Victoria to honour BC's 200-plus First Nations with a weekend dedicated to lively performances, engaging tours and traditional artisan goods. This year's event has been cancelled to respect requirements for physical distancing; instead, ITBC has compiled a series of actions outlining how the public can safely pay homage to Indigenous peoples throughout the month.
Please remember to honour physical distancing requirements in Indigenous communities. Follow local travel recommendations to protect Indigenous elders, children, resources and lands.
6 Ways to Celebrate Indigenous History
Add Indigenous tourism experiences in BC to your travel plans.
Download the Indigenous Tourism BC app to find local tourism operators. Include Indigenous tourism in your travel plans.
Connection to Land, People and Culture.
Commit to learning about the land where you live!
Support Indigenous digital economies.
Resourceful entrepreneurs are now serving patrons through online orders, delivery service and virtual events. Shop online for Indigenous fashion, food, wine and art to show your support for Indigenous lands, cultures and businesses.
Join a virtual gathering.
Summer events might be cancelled, but virtual gatherings are going strong! Online conference and streaming tools make it easy to attend virtual powwows and drum sessions, and new means of connection are emerging daily. Follow ITBC's social media channels to stay in-the-know about upcoming virtual celebrations.
Explore educational tools.
Set aside time to learn about the historic keepers of our land – one suggestion is First Voices, which offers interactive language learning tools. You can also enhance your child's homeschooling with resources that explore Indigenous perspectives on contemporary curriculum content.
Browse Indigenous culture.
Whether literature, film, music or artwork, Indigenous culture is rich with stories told by local artists. Browse online collections hosted by museums in BC, check #IndigenousReads for recommendations of captivating books, and search free collections of Indigenous film.
Whether buying arts and crafts, visiting tourism businesses that are open and accepting guests, or following ITBC on social media to enjoy celebratory content throughout June, there are plenty of ways you can dive into the enthralling history, culture and storytelling of BC's diverse First Nations. For more ways you can celebrate National Indigenous Peoples Day and National Indigenous History Month in BC, visit http://www.indigenousbc.com.
---
About Indigenous Tourism BC
Indigenous Tourism BC (ITBC) is a non-profit, Stakeholder-based organization committed to growing and promoting a sustainable, culturally rich Indigenous tourism industry.
Through training, information resources, networking opportunities and cooperative marketing programs, ITBC is a resource for Indigenous entrepreneurs and communities in BC who are operating or looking to start a tourism business. ITBC works closely with tourism, business, education and government organizations to help BC's Indigenous tourism businesses offer quality experiences and actively promote these experiences to visitors and local residents. Indigenousbc.com 
This article was provided by ITBC.