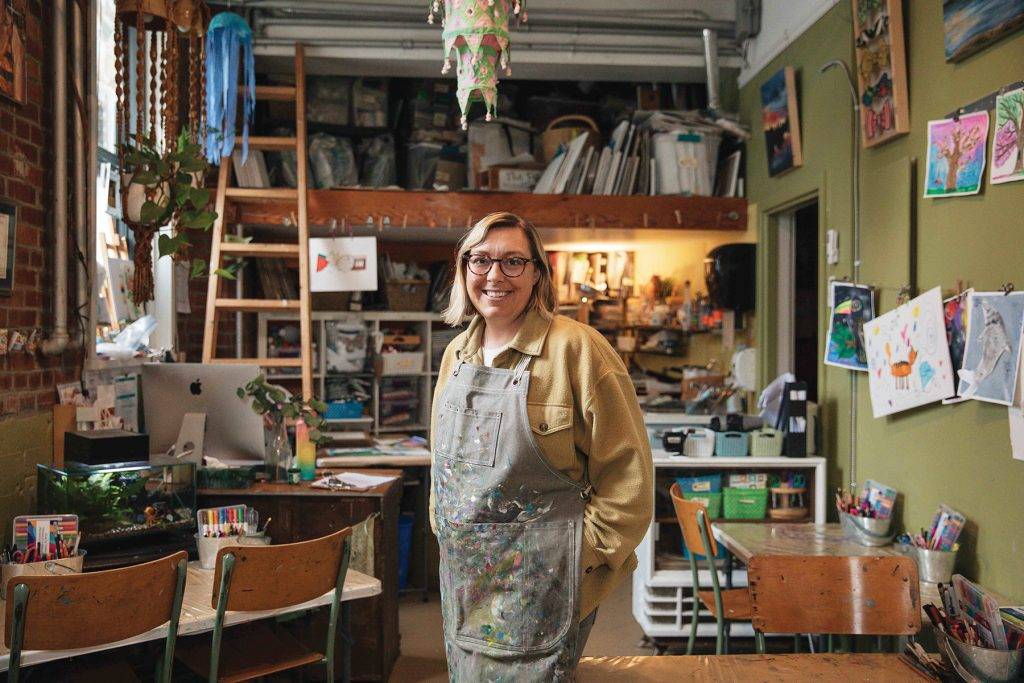 Get those creative juices flowing to boost your brain.
Isn't it fabulous to once again focus on living after the last couple of years of holding our collective breath? While the pandemic experience has been difficult for all of us, there were some constructive outcomes. One of the positive lessons is a clearer understanding that mental health is health.
In 2021, the BC Alliance of Arts + Culture conducted a survey that looked at creativity during COVID-19. It found that many of us turned to creativity to support our mental health.
Before the pandemic, 36 per cent of respondents indicated they were creative to "have fun," while 21 per cent said they were in it to "experience new things."
Only 12 per cent of us thought the most important reason for engaging in creative activities was to support our mental health. That's shifted. While "having fun" continued to be the most important reason during the pandemic, this percentage dropped considerably to 26.7 per cent, and "improving mental health" took second place at 24 per cent. In other words, the number of us who to turned to creativity to boost our mental health doubled.
Creativity comes in many shapes and sizes. The study used a broad definition of activities including listening to music, trying a new recipe, reading a book, making crafts, taking dance classes, watching movies or TV, viewing a live show or learning a language. What creativity is really about is discovering new ideas, new approaches and opening pathways in your brain.
Plucking a guitar string, bellowing out your favourite tunes in your living room, finding animals in the clouds with your kids, knitting, making rock formations on the beach, doodling, colouring — it is about those pathways. The creative process releases those important feel-good hormones (dopamine) in your brain.
Creative Arts, Happy Mind
Other studies show that the creative arts can reduce stress, decrease anxiety and depression and improve cognition. That will come as no surprise to our city's talented artists. Given we are so blessed with such a vibrant artistic community in Victoria, you can tap into their expertise to explore that side of yourself, and don't worry about being a Picasso — it's all about the process.
Emily Grav, owner of The Paint Box School of Art, offers art classes for people of all ages and skill levels. She says her experience reflects the BC Alliance study: "People come for a variety of reasons, but all of it is to improve their mental health. They want to get out in a different space and access materials they've never tried before." (Exactly the point of creativity.)
Ryan Citron is new to painting and has found comfort in creative exploration. He works in the tech sector and recently turned to art to express himself. "Finding new hobbies is so critical for everyone — to find new ways of engaging yourself and building new skills. It's been a little too easy to be stuck at home, getting depressed. Just try something. If it doesn't work out, that's fine. Don't judge yourself."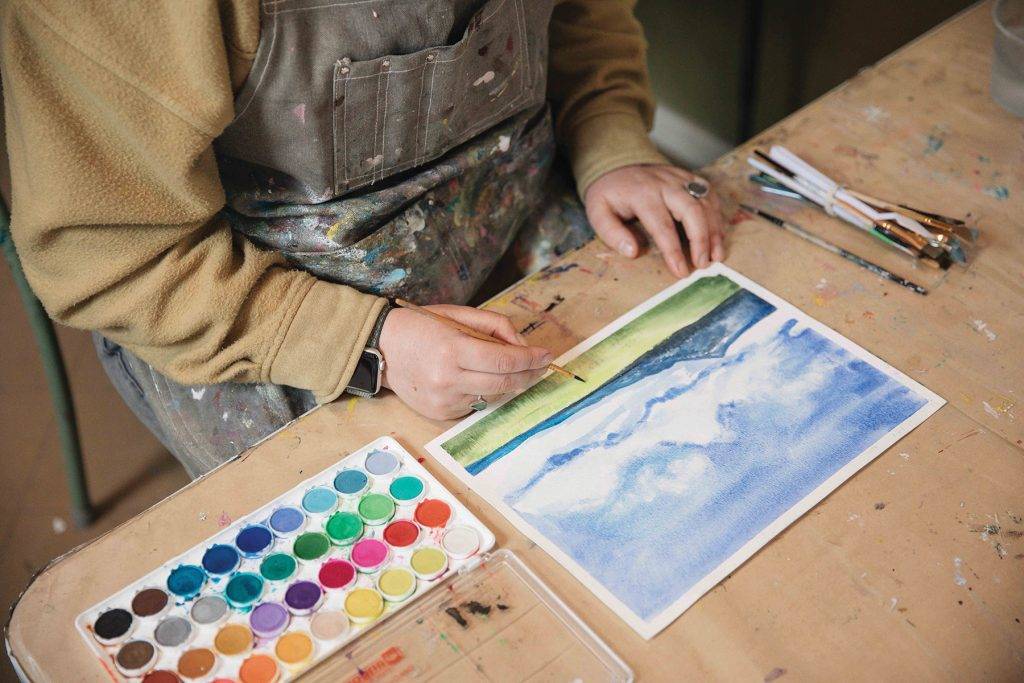 For others, singing, and the opportunity to do so online, was a silver lining of COVID. Kimberly Denness-Thomas of South Island Studio and Tumbleweeds Theatre attracted a range of new singers — and brought former ones back into the fold. "I think [people] really needed something [to focus on], other than how hard everything was," Denness-Thomas says. "They needed something that fed their soul."
Civil engineer Lois Boxill, who grew up singing in church in the West Indies and performed her first solo at just 11 years old, is one of them. Boxill wanted to do something she loved, just for fun. "It's beyond a head decision. It's a body decision; it's a heart decision. All of me is saying 'yes.' "
Exploring creativity in community is an option, too. Grav coordinates "Paint & Sip" parties at The Paint Box. "Participants have a laugh, and there's always wine involved, which helps people relax," she explains. "It's really cathartic for people to get together and be creative."
It's not only students who embraced new creative outlets in the recent past. Grav did as well. "I'm a painter. I love painting. But now I'm part of an outdoor painting group. It's just a casual 'show up at this location and paint outdoors activity.' That is new to me."
Denness-Thomas also explores her own creativity, and is trying her hand at watercolour painting. "I promised myself I wouldn't care if I was terrible and gave no attachment to an end result," she says. "I could paint bubbles all day long and they look beautiful … And now I'm painting ferns and foliage."
Don't worry, be flexible
When people are stressed and worn down, the idea of making the time, space and energy for something new can be daunting. One of the beautiful things about exploring creativity is that it doesn't have to be complicated, time-consuming or expensive.
"I would encourage people to try something, whatever that might be. It may not be the first thing they try that works out," says Citron. "As Bob Ross [the creator and host of the 1980s show The Joy Of Painting that ran on CBC] said, 'there are no mistakes, just happy accidents.' He had a calm approach to the process of creating art that is soothing and speaks to me."
Denness-Thomas also emphasizes the importance of flexibility. "If you find something and it's every Tuesday at seven o'clock, you need to be present. That's an obstacle already. Find something that meets what you can do with realistic expectations. Take that first obstacle away, and then only do it if you want to."
She's embraced this approach on her adventure with watercolours. "I'm trying to give myself permission to be present in it. That's it. Surrender to the idea of it not as the finished project, surrender to the working, surrender to something new coming into your life and the curiosity that can arise."
As we move forward and finally see the back end of the pandemic, we have an opportunity to put into practice those life-enriching experiences we may have discovered along the way. Creating is good for every part of us, and as we mark Mental Health Week in May, let's celebrate our beautiful minds and get those creative juices flowing.
---
5 ways to fuel the creative fire
Maybe it's feeling clay through your fingers or singing, dancing or knitting. Here are a few ideas to open those mental pathways.
1. Dance! Put on your dancing shoes — and get some exercise, too.
• SEDA Dance
• The Beat Dance Studio
• Raino Dance
2. Make some noise. Take singing lessons or learn a new instrument — no experience necessary!
• Tapestry Music
• Victoria Conservatory of Music
• Long & McQuade Musical Instruments
3. Count your stitches. The methodical rhythm of knitting needles can be calming.
• Knotty by Nature
• Beehive Wool Shop
4. Discover your inner artist. Sign up for an outdoor sketch class or take a weekend workshop to light that creative spark.
• The Paint Box School of Art
• Vancouver Island School of Art
• Cedar Hill Recreation Centre
5 Spin the wheel. Drinking coffee or tea out of a homemade mug or enjoying dessert on a plate you created can be extra rewarding.
• Fired Up! Ceramics (take-home kits available or paint a premade ceramic in the studio)
• Hands-on Clay Collective
• Earth and Fire Pottery Studio