Incorporate more beets into your diet this season, and to start, try these two tasty recipes.
By Cinda Chavich
Spring Greens Pie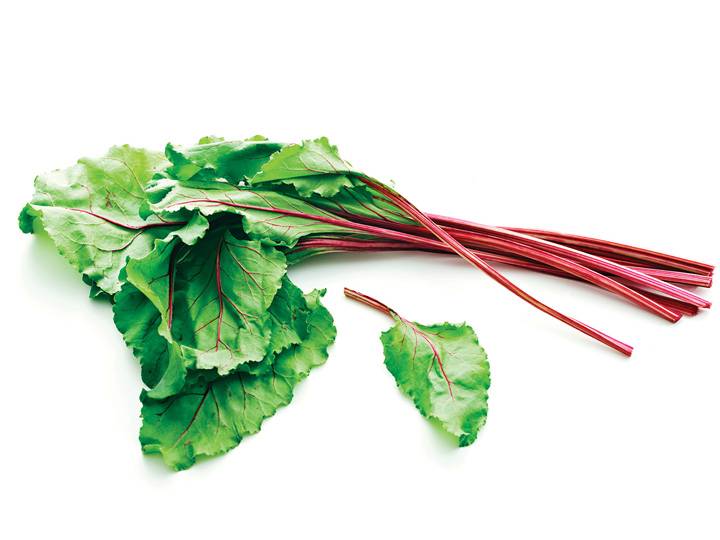 This is the perfect way to get healthy beet greens into your diet — a crustless quiche for a lovely brunch or simple supper. Substitute chopped green garlic scapes (the sprouted tops of spring garlic) for the leeks and garlic if available.
Ingredients:
• 1 1/2 pounds shredded greens (beet greens, Swiss chard, dandelion greens, arugula, mustard greens), about 16 cups
• 1 medium zucchini, shredded
• 1/4 cup olive oil, divided
• 2 cloves garlic, minced
• 2 cups sliced leeks or chopped white onion
• 1/2 red or yellow bell pepper, finely chopped
• Salt and freshly ground black pepper
• 1/2 cup chopped fresh parsley
• 1/4 cup chopped fresh basil or dill
• 4 large eggs
• 1/4 cup heavy cream
• 1/2 cup grated Parmesan, divided
• 1/4 cup grated Swiss cheese
• 1/2 cup fresh bread crumbs
Method:
Remove the stems from the beet greens and chard and chop, then set aside. Roll the leaves tightly and slice into thin ribbons. Repeat with remaining greens.
Heat 2 tablespoons of the oil in a large non-stick sauté pan and cook the shredded greens and zucchini over medium-high heat until tender and most of the liquid is gone, about 10 minutes. Transfer to a strainer and set over a bowl (or sink) to drain for 15 minutes.
Place in a large bowl.
In the same sauté pan, heat another tablespoon of the olive oil over medium heat and sauté the garlic, leeks (or onion), beet and chard stems and bell pepper until tender, about 10 to 15 minutes. Season with salt and freshly ground black pepper and transfer to bowl with greens. Stir in the chopped fresh herbs.
In another bowl, whisk the eggs with the cream and half of the grated Parmesan. When the vegetables have cooled slightly, combine with the egg mixture.
Pour into an shallow oiled 10-inch gratin pan. Combine remaining Parmesan, Swiss cheese, bread crumbs and remaining tablespoon of olive oil in a bowl. Sprinkle evenly over the pie.
Bake in a preheated 350°F oven for 40 to 45 minutes, or until pie is set and browned. Let stand 10 minutes before cutting into wedges.
Makes six servings.
---
All About Beets
---
Golden Beet Soup
This is my version of the gorgeous, award-winning golden beet borscht created by Pawlina Demchuk MacQuarrie for the Borschtfest at Victoria's Ukrainian Cultural Centre.
Ingredients:
• 6 to 8 medium yellow beets, roasted
• 1 tbsp olive oil
• Salt
• 1/3 cup butter
• 1 1/2 cups finely chopped onion
• 1 1/2 cups chopped fresh mushrooms
• 3 cups shredded cabbage, divided
• 1 cup diced potatoes
• 2 cups diced rutabaga
• 1 cup shredded carrots
• 1/2 cup chopped fresh dill, divided
• 8 to 10 cups broth (mushroom or chicken broth)
• 2 tsp salt
• 1 tsp black pepper
• 1 to 2 tbsp lemon juice or white balsamic vinegar (to taste)
Method:
To roast beets, wrap loosely in foil, drizzle with olive oil and season with salt. Bake at 375°F for 45 to 60 minutes, until beets can easily be pierced with a knife. Cool slightly, peel and set aside.
Meanwhile, melt the butter in a large pot and sauté the chopped onion over medium heat for 5 minutes, until starting to brown. Add the chopped mushrooms and continue to cook, stirring, until the mushrooms are softened.
Stir in half the cabbage and sauté five minutes longer. Then add the potatoes, rutabaga, carrots, remaining cabbage and half the dill. Add the broth, bring to a boil, then reduce heat to low and simmer for 30 minutes, just until the potato and rutabaga are cooked.
Shred or chop the roasted beets. Add to the soup with the remaining chopped dill, and heat the soup for 10 minutes. Season to taste with salt, pepper and vinegar. Serve immediately or chill overnight and reheat for serving.
NOTE: You can also shred the beets raw and add them to the soup after the first 30 minutes of cooking. Simmer until the beets are cooked — 20 to 30 minutes longer — then stir in the dill and seasoning before serving.
Makes eight servings.
This article is from the March/April 2018 issue of YAM.