Looking for some Victoria home inspiration? This beautiful home looks off a steep embankment in Cadboro Bay and is a true oceanside retreat from urban life.
By Danielle Pope // Photos by Joshua Lawrence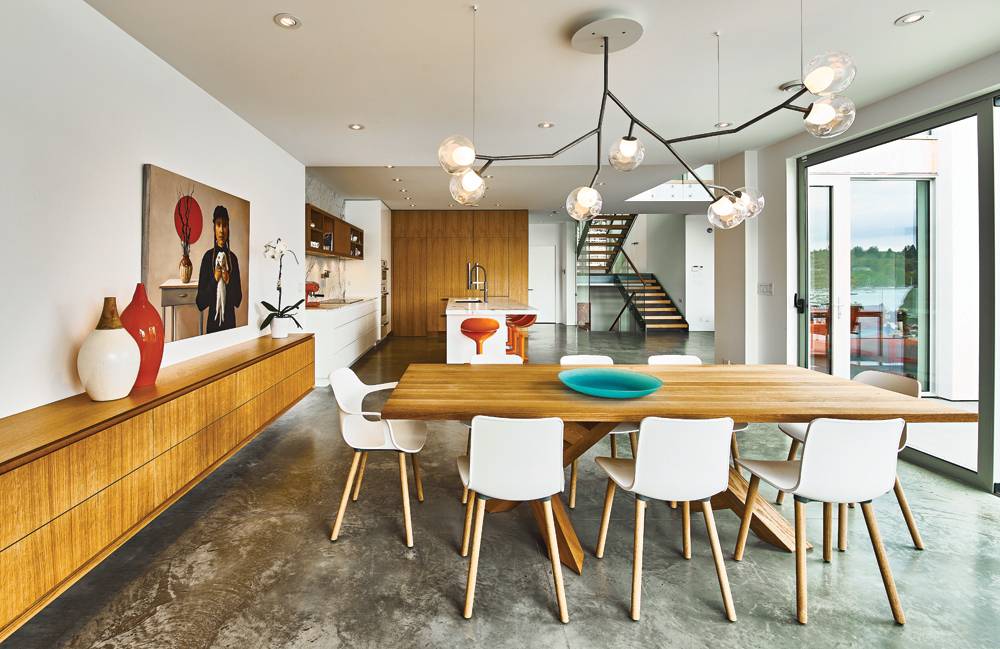 When architect Chris Foyd first saw the site of the house he would design above Cadboro Bay, he understood why the homeowners had purchased this lot sight unseen. High above the water with striking views of the bay, the 10,000-square-foot property was perched amongst its own trees, with private access to the water.
It was also a property that reflected how rare a place like Victoria is — where people can escape the urban core in minutes without sacrificing city life.
Victoria Home Inspiration
Yet this site came with an obvious challenge that explained why it had rested on the market for three years while a neighbourhood grew around it. Under the overgrowth, the property predominately occupied a jagged cliff, with a sharp drop toward the water. The build would need to be constructed at a complicated angle, all while keeping the legal setbacks in mind.
Yet Foyd, a Canadian-educated, Danish-registered architect and the co-principal of 519 Design + Build, was confident the spot could work, and would be the ideal location for an athletic family relocating to the Island.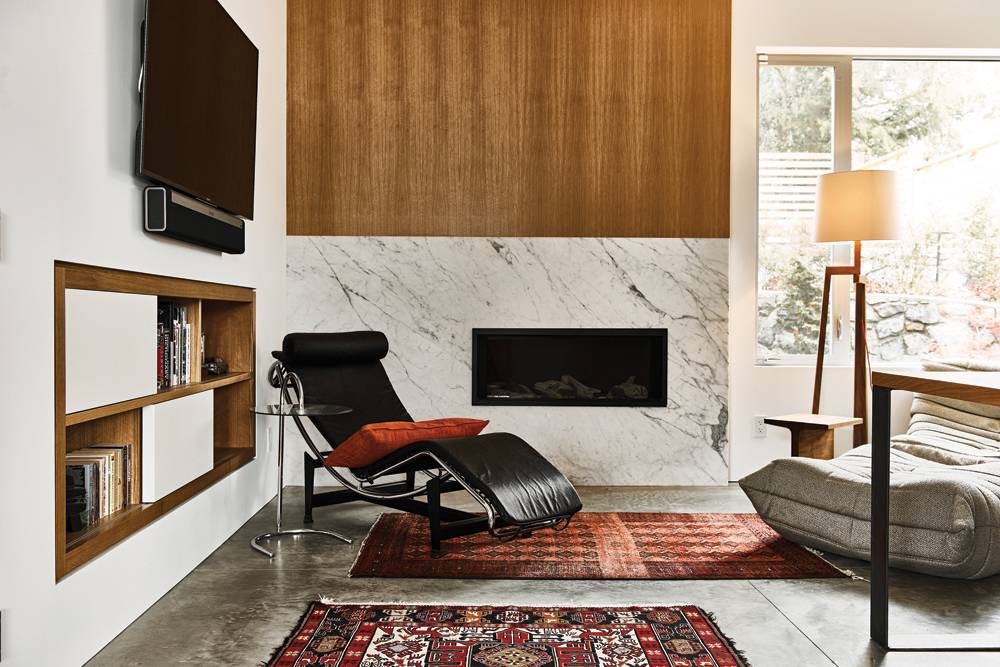 That family was Kari Ericksen, Tom Wilson and their three children, who were moving to Victoria from Edmonton after their twin boys had been accepted into a prestigious lacrosse program. Ericksen says they needed to be centrally located — close to town and schools — but also wanted to be near the water.
This spot was a perfect match. However, when she and Wilson realized the land was actually a steep embankment, they were a bit concerned.
"Coming from the flatlands, it's hard to imagine how you build a home on a steep hill," says Ericksen. "I suspect if you're from here, you wouldn't think twice about it, but we were lucky to have Chris's vision to guide us."
A Challenging Project
Another challenge Foyd and his team would face was that the house needed
to be completed within 11 months to accommodate the move date, and had to incorporate a list of needs from the family — which included identical rooms for the twins, a personal gym, a two-car garage and a modern Scandinavian atmosphere, to name a few. That, along with building the house over a deep crevasse, would prove a formidable task.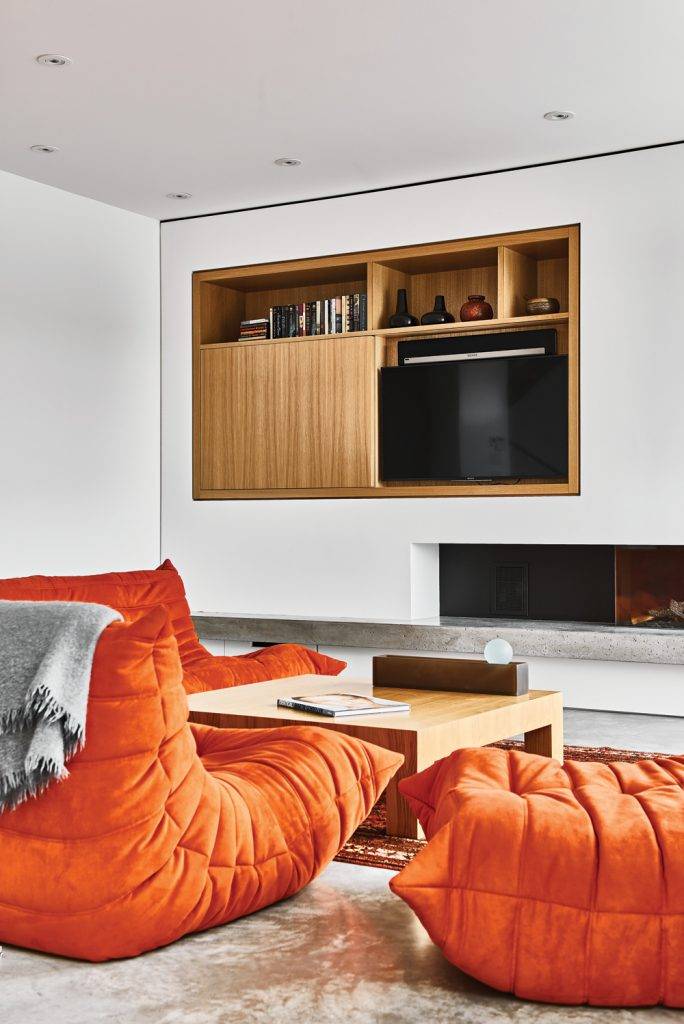 "The entire structure is really hanging above the water, so we created a floor plan that's in reverse to your traditional multi- level home. You're nearly eye-level with the roof from the road, then the levels fall away dramatically towards the water," says Foyd. "We wanted to break up the journey you take through the home by creating interest along the way, and we found some creative ways to do that."
Foyd was able to achieve interest from the entryway with a wooden "bridge" over the chasm that connects the garage to the house. From there, elegant steps lead people up to the master level, or down through the home's main landing and basement levels. The 4,000-square- foot home hosts five bedrooms, including a separated master suite and twin rooms for the boys, as well as five bathrooms, a gym and media room in the lower level that overlooks the water, a walk-out spa area and a spacious two-car garage. An esplanade along the property hosts a small orchard of passion fruit trees, easily grown in this sunny, wind-sheltered, west-facing location. Much of the property's landscape, designed by Demitasse Garden Design & Build, is, in fact, edible.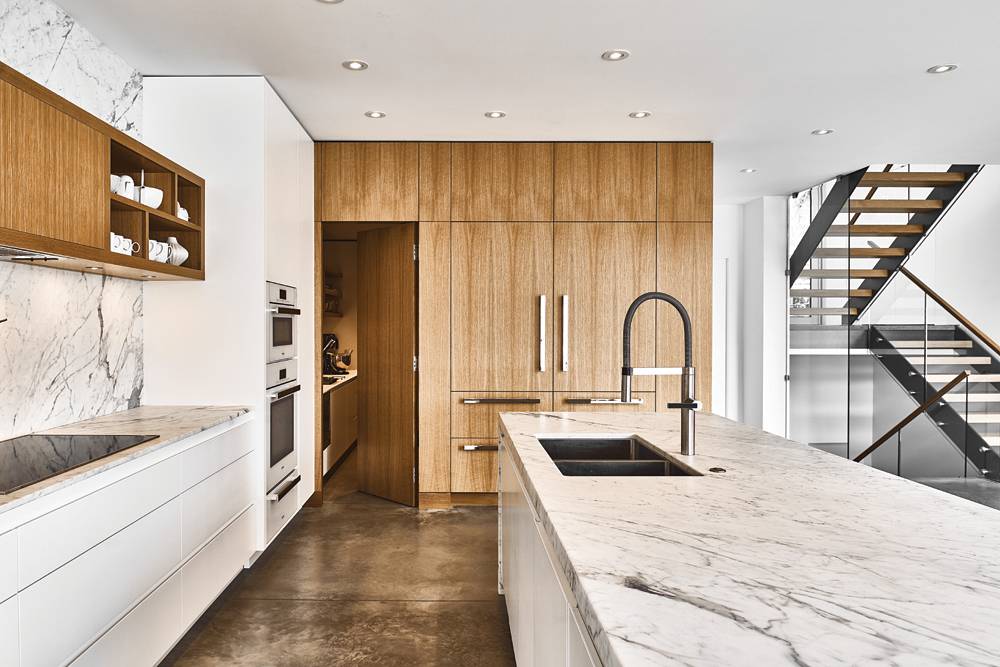 "The house itself is very open, and it was wonderful to be able to work with Kari, who has a strong vision for her home and knows what she wants," says Foyd. "This home has many intricate details that show a real attention to functionality for this family, and it's great to see those elements come to life."
Working with the Landscape
Al Southall, the primary contractor on the house, says with a project like this, the hardest part is the complexity of the worksite.
"You meet every obstacle as it arises, and really that starts with the architect. We had an excellent team on this project, and even though we faced some real challenges with the site and that sharp drop-off, everything went pretty smoothly," says Southall. "You can achieve just about anything with the right planning."
One structural emergency turned into a boon when the neighbouring lot began caving in and a concrete retaining wall had to be created. That wall, with sand beneath it, turned into the perfect lacrosse practice area for the boys.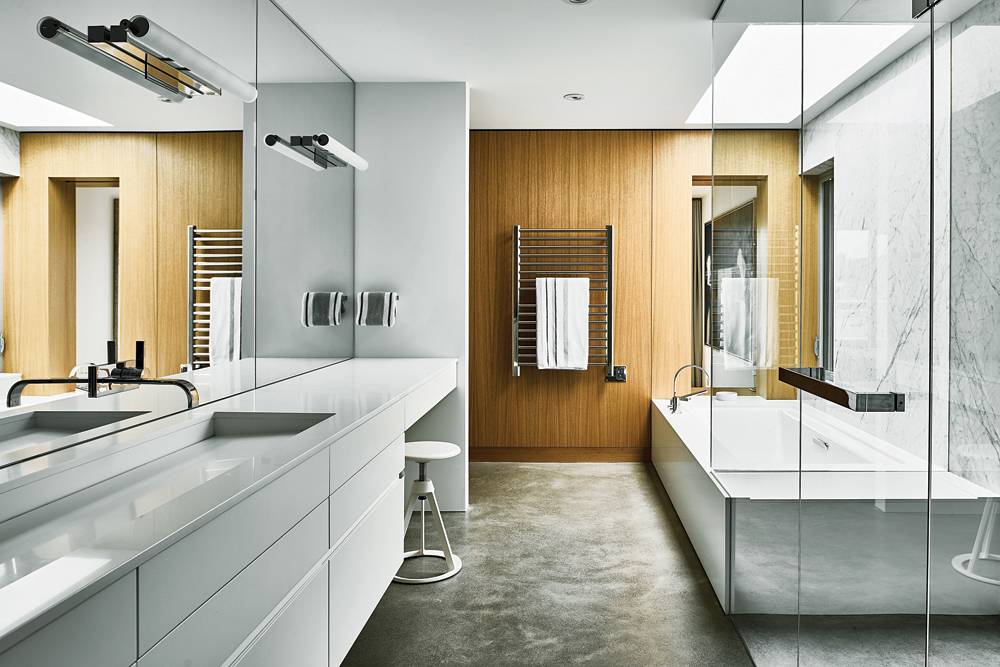 "When we envisioned this house, we needed something that suited
our lifestyle, so we went for durable elements like the concrete flooring," says Ericksen. "There have been times when we've had 15 kids playing floor hockey in our living room, and nothing is bothered by it."
Teamwork Makes the Dream Home
Ericksen brought her own passion for design to this project, and worked with Foyd and the contractor to create an environment that could showcase her love of contemporary art with broad gallery walls, as well as pay tribute to her bright, modern minimalist style. The open-concept kitchen and living area helps the family stay connected throughout the house, but separated floors — like the boys' lower level — offer privacy and space for all.
Natural materials, like wood, stone, concrete and glass build a West
Coast motif throughout the house. The marble steam shower presents a special feature in the ensuite, and custom millwork by Jason Good Custom Cabinets creates a stylized look, including a custom bed with an integrated panel wall. Comfort is added through in-floor heating, windows with privacy views and an entryway custom designed with storage for a bustling family.
That said, Ericksen says her favourite feature of the house is a spot nearly everyone gravitates toward: the window seat in dining room.
"That seat is the place we all sit and visit. With the way it looks out over the water and opens into the kitchen, you feel like you're connected and visiting with someone, even while they're busy cooking," says Ericksen.
"It's my favourite place for us to all be together."
Resources
DESIGNER: Chris Foyd, BoForm
BUILDER: Al Southhall, Southall's Construction
MILLWORK: Jason Good Custom Cabinets
COUNTERTOPS: Stone Age Marble
WINDOWS: Starline Windows
LANDSCAPING: Demitasse Garden Centre
Find more Victoria home inspiration: Home Designed with Nature in Mind