Located on a dramatic headland above the crashing waves of the Pacific Ocean, Black Rock Oceanfront Resort is surrounded by the Wild Pacific Trail and the rugged rocky coast of West Vancouver Island. The resort is a year-round destination for travellers looking to experience life on the edge. This stunning Ucluelet resort is minutes from some of Vancouver Island's most amazing beaches, forests, restaurants, and attractions, including Pacific Rim National Park Reserve, Ucluelet Aquarium and Barkley Sound. Experiences with these wild shores and dense temperate rainforest, take the spirit to a deeper level.
Experience a Vancouver Island vacation at Black Rock Oceanfront Resort for winter storm watching, spring whale watching, summer adventures, a romantic fall retreat, or a relaxing spa getaway anytime of year. With breathtaking vistas of the Pacific Ocean and tucked away in the rainforest, the comfortable suites offer a magical perspective to Vancouver Island's rugged West Coast.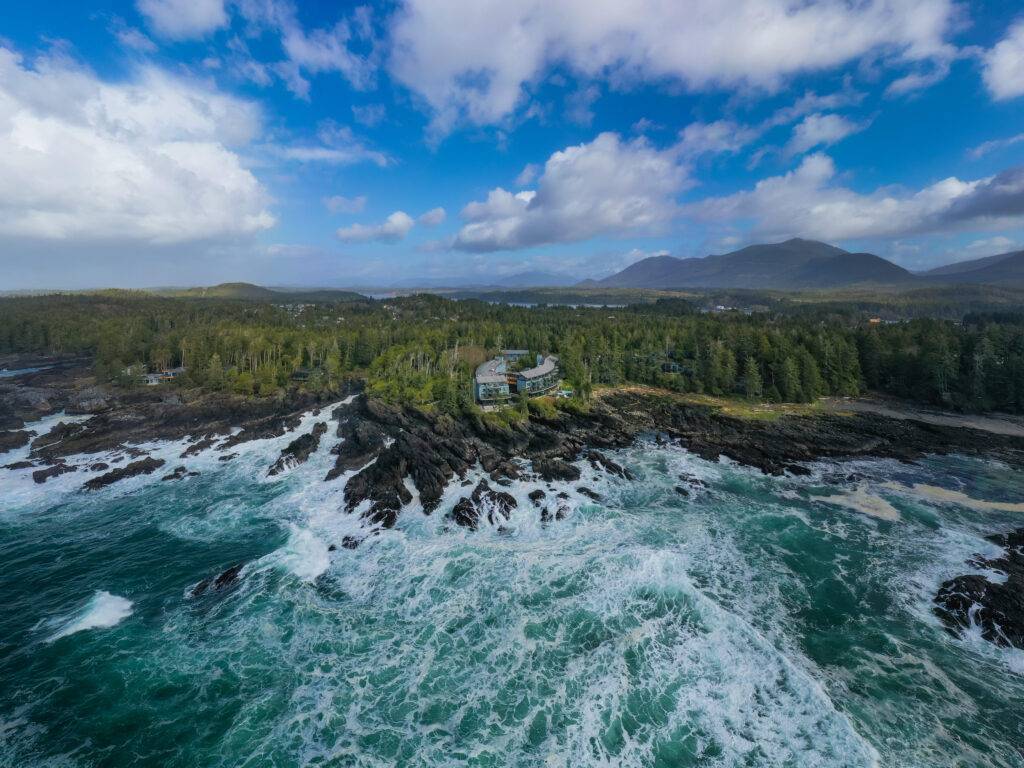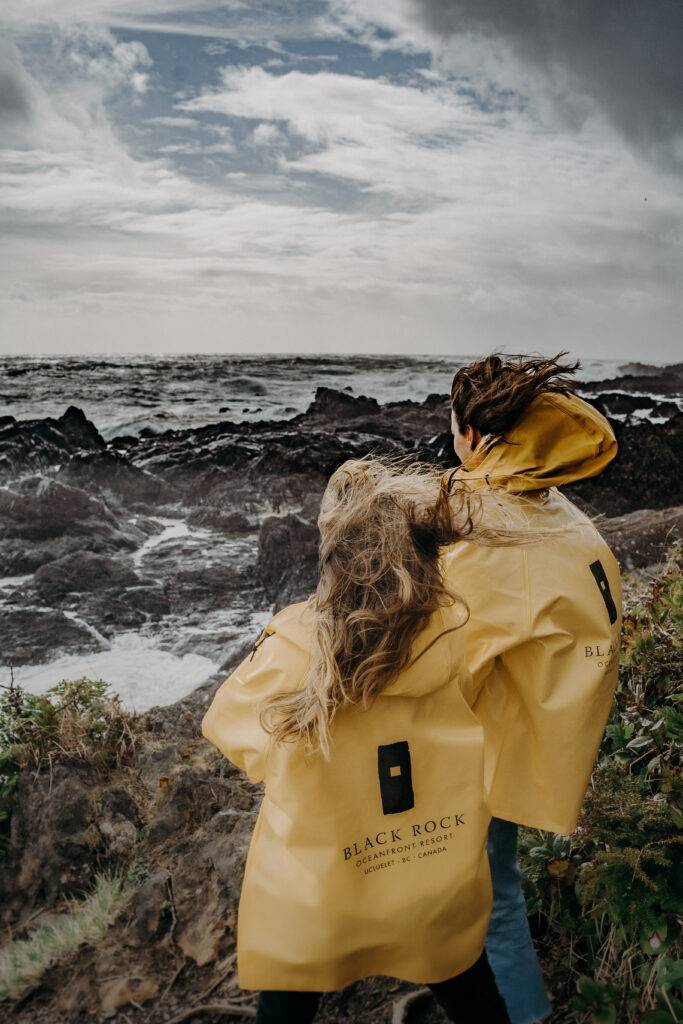 Featuring 133 comfortable and contemporary studio, one and two-bedroom suites, guests can stay in the Main Lodge or Wild Pacific Trail Suites. The resort features spectacular views of the ocean and surrounding old-growth rainforest. Guests unwind in spacious suites, equipped with kitchenette, gas fireplace, flat-screen TV, spa-inspired bathroom with soaking tub, rain showers, and a furnished balcony. Suites accented with wood and stone, featuring floor-to-ceiling windows offer pacific nature views, surround guests in natural elegance enhanced by the drama and serenity of the west coast.
When you have finished exploring – transcend into a realm of calm and balance in a spa sanctuary where nature's beauty and innovative luxury rejuvenate the soul. Elevate the sense of wellness as guests revitalize, renew and Drift away to luxurious tranquility at Drift Spa. Feed the body and spirit with natural essentials from the sea. With an exclusive line of body and skin care, Drift Spa features Seaflora Skincare, a wild, certified organic seaweed product made on Vancouver Island. Hand-harvested from the cold, clean Canadian Pacific Ocean, all natural, wild seaweed skincare products are nutrient-rich with vitamins, minerals, and trace elements creating the most nourishing, healthy, and vital seaweed skincare products for the body. Unwind in one of the two outdoor hot tubs perched on the edge of the rocks or take a dip in the plunge pool.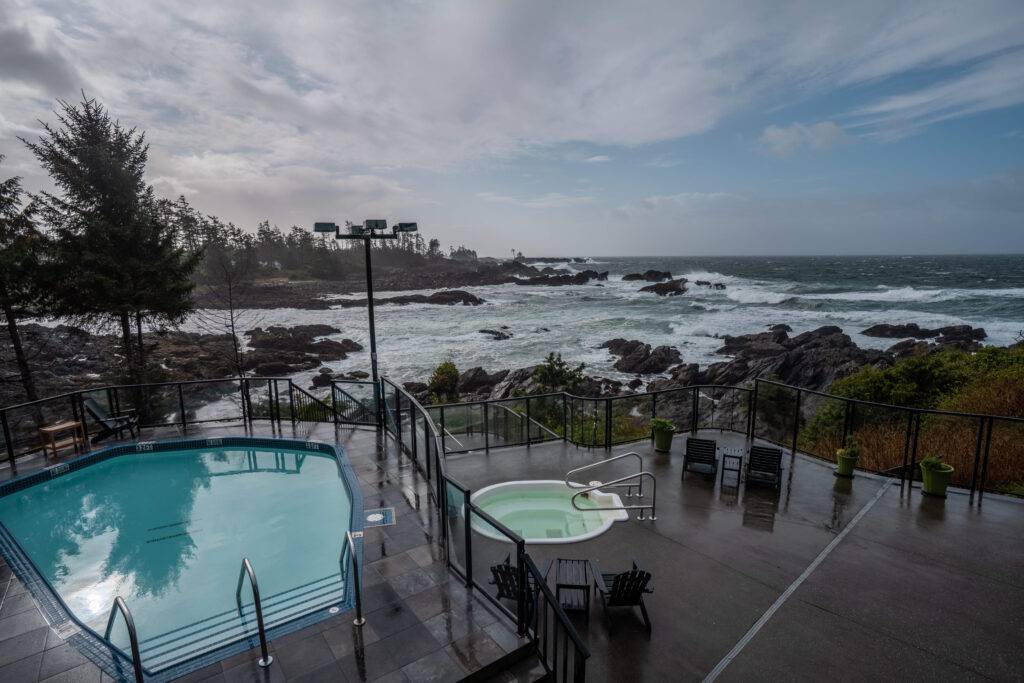 Dazzle the senses at Currents Restaurant where the menu celebrates the best Vancouver Island has to offer. Guests may even glimpse the spray from the spouts of grey whales from their tables while they dine. Guests can gather with friends at Big Beach Lounge where the Wave Bar is a backdrop to the stunning ocean views. Cocktails feature local and Vancouver Island beers, wines, and distilleries.
Black Rock Oceanfront Resort has partnered with veritree to support reforesting, rewilding, and restoring nature. Now, for every night guests stay and opt-out of stayover room cleaning service they will plant 5 kelp! They've chosen to plant kelp off the Pacific Coast of British Columbia. Not only will these kelp act as carbon sinks, help to restore our ecosystems, and support biodiversity, but when guests choose to opt-out of stayover servicing, they're also reducing energy expenditure and saving water! To learn more about the species of kelp they're planting, the impacts of the project they're supporting, and to see their collective progress to date visit their Impact Hub.
The UN World Tourism Organization defines sustainable tourism as "tourism that takes full account of its current and future economic, social and environmental impacts, addressing the needs of visitors, the industry, the environment and host communities."
Each year, Black Rock Oceanfront Resort commits to measuring and improving their sustainability performance in the following ways:
• All cleaning products are locally made, natural cleaning product – Mint Cleaning.
• Offering guests – Oneka Elements as their in-room bath amenities – removing the single-use plastic. Oneka Elements is a Canadian company that has created a high-quality product.
• Forage – their gift shop features local arts and crafts.
• You will not find any single-use plastics in either of their restaurants or Forage.
• Support local wherever they can.
So, escape the everyday and experience the extraordinary with a visit to Black Rock Oceanfront Resort and Ucluelet.
Black Rock Oceanfront Resort resides within the Yuułuʔiłʔatḥ – Ucluelet First Nation traditional territory, of whose ancestral lands we work and play.