By David Lennam  |  Photography by Joshua Lawrence
At first glance, it could be a number of modest houses jumbled together. Or thrusting prows of a small armada coming into port. But the roofing elements, like the folded wings of a bird, play with perspective and invite the eye to roam.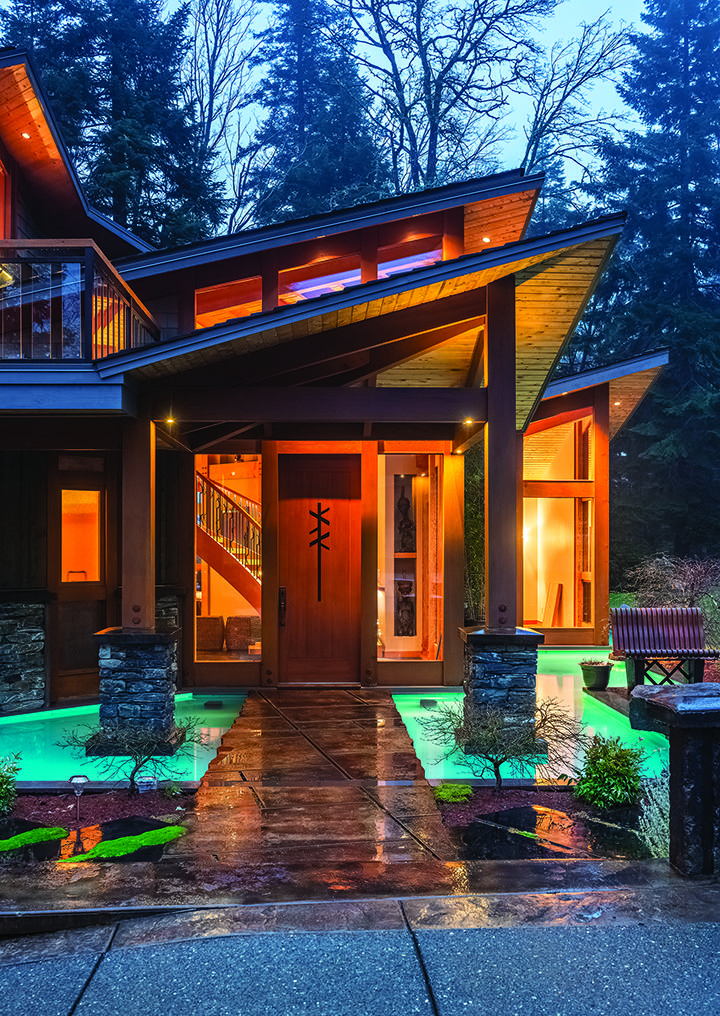 ---
The key rooms are all corner rooms and each, framed with walls of glass and timber, engages two view aspects rather than just one. Light is caught from more than one side. And it is light and air, bringing indoors the surround of nature that the Eagles Aerie house is all about.
"I like homes that, even though they might be quite complex to build, though not necessarily complex to look at, are visually interesting," explains celebrated West Coast architectural designer Etienne de Villiers. "No matter where you are in the home, you're always discovering new things to look at."
That's exactly what the homeowner wanted with this brand new, custom, 4,135-square-foot timber-frame structure.
"We set out to design this thing so it looks great from every angle," he says. "Wherever you walk, I want you to keep looking at the endless detail."
Set in a forested acreage on a bluff above the Pacific, with unobstructed views of the close-enough-to-touch Coastal mountain range and the endless wash of the tides, this four-bedroom, six-bathroom eye-catcher is all about light and air — and bringing the natural splendour of the setting right into the rooms. Walls open to allow the outdoors in. Landscaping flows into the forest and down to the sea.
Wary of all that old growth Douglas fir in the interior, the owner was specific that he didn't want a rustic, hunting-lodge feel. Instead, the cabin-y warmth of 350 timber beams is enhanced by the addition of 145 windows. It's truly West Coast modern with all the expected amenities: state-of-the-art media room, steam shower, infrared sauna, acid-stained concrete decking, in-floor heating, outdoor gas fireplace and a triple-bay garage with its own carriage house.
"It's a showpiece that blends with the environment," notes Carl Tessmann of Island Timber Frame, the local firm whose European craftsmanship is evident throughout.
"We get excited as soon as we see a design like this. You might think that too much wood would be a bad thing, but Douglas fir looks warm — like home. And when you approach the place, it looks like it's just meant to be there."
And meant to be there for a long, long time, assures Tessmann.
"To me, quality, longevity and building something for generations that will still be there in 200 years — that's green construction. Building with timber is just that."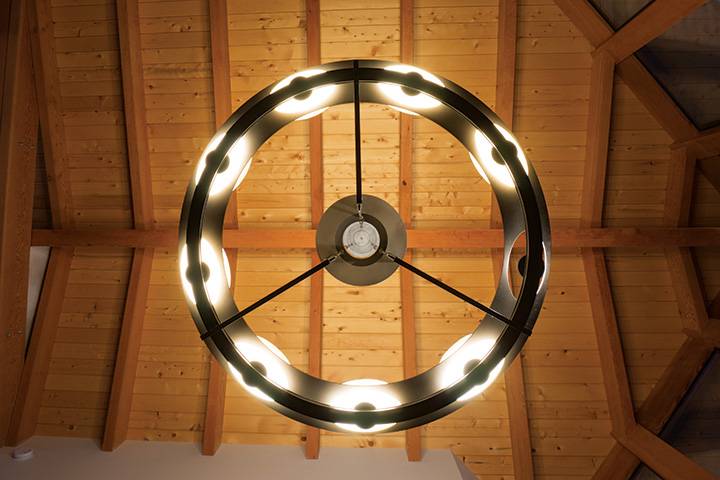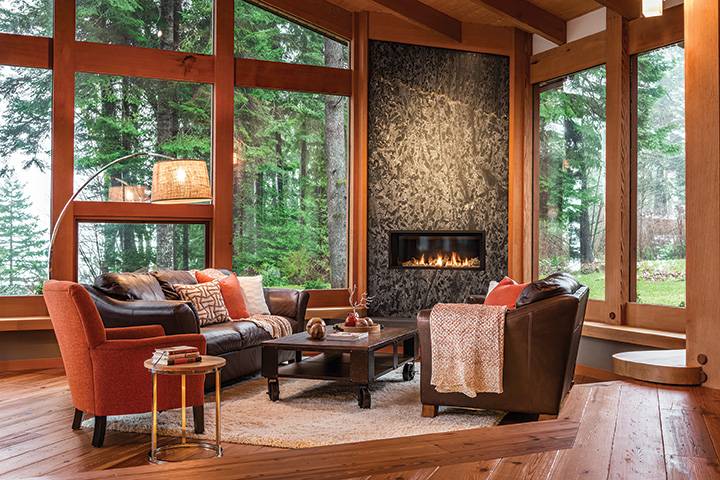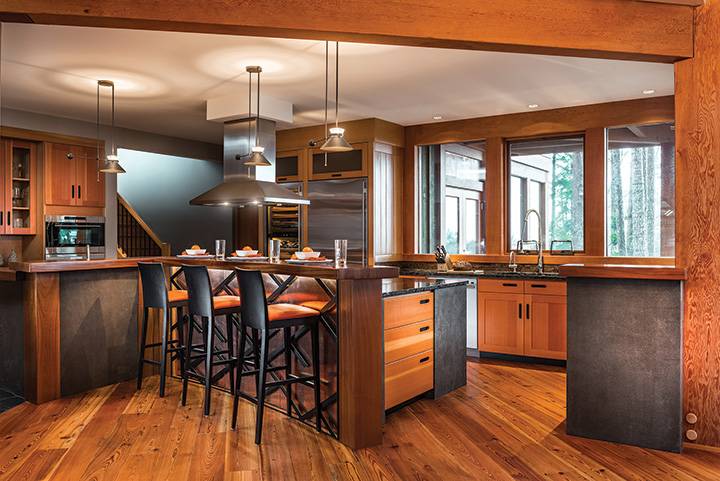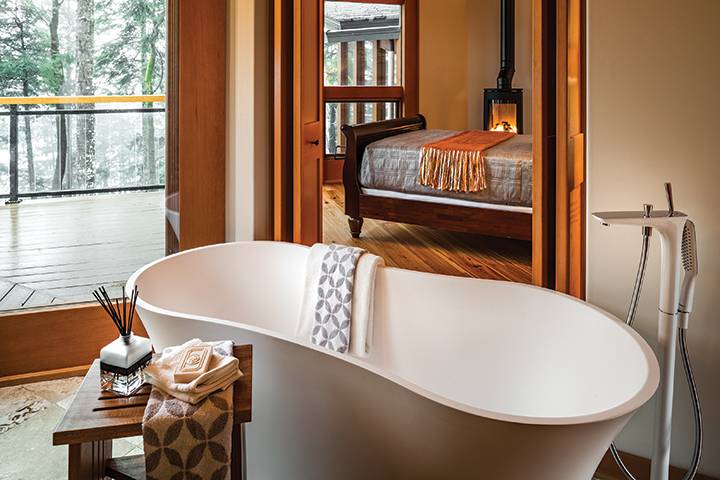 ---
RESOURCES
Home Builder: Brad Jefferson, Luc Trepanier
Home Designer: Etienne DeVilliers, Etienne Design
Timber Work: Island Timber Frame
Structural Engineer: Hiedema Engineering
Curved Staircase: Zane Smith, Montana
Landscaping: Brad Jefferson, Deborah Bishop and Etienne DeVilliers
Lighting Fixtures: Hubbardton Forge Lighting and Accessories
Millwork/Cabinetry: Luc Trepanier
Bathroom Fixtures: Splashes
Roofing: Imperial Cedar Products; flat work and flashings by Nelson Roofing
Iron Work: Les Colville Welding