Skewered foods, known as kushiyaki, feature mini bites of chicken (yakatori), salmon and tofu — perfect for the picnic bento box. Chef Moto Nozawa of the House of Boateng shares this recipe for making these simple skewers.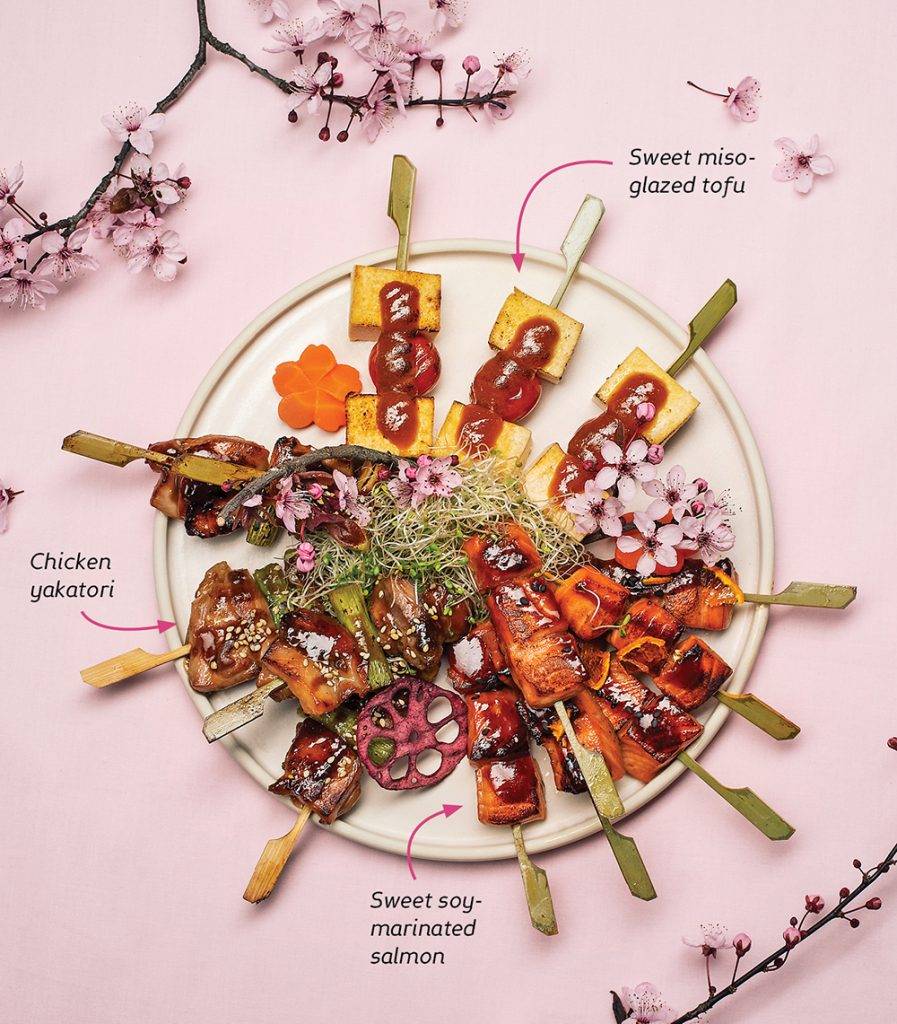 ---
Chicken Yakatori
1 pound chicken tenders
Marinade:
½ cup soy sauce
½ cup mirin (sweet Japanese rice wine)
¼ cup sugar
Sweet Soy Marinated Salmon
1 pound boneless salmon filet
Marinade:
¼ cup soy sauce
2 Tbsp mirin
2 Tbsp apple juice
2 Tbsp sesame oil
2 Tbsp canola oil
2 Tbsp sugar
Sweet Miso-glazed Tofu
1 pound tofu
Marinade:
2 Tbsp miso
3 Tbsp sugar
2 tsp mirin
2 tsp sake or white wine
Cut the chicken, salmon and tofu into bite sized, 1-inch cubes and set in separate dishes. Combine the marinade ingredients for each, separately, in a saucepan and simmer over low heat until reduced by half. Cool the marinades, and pour over the proteins. Cover and refrigerate for 4 hours or overnight.
Soak small bamboo skewers in water. Cut chicken, salmon and tofu into bite-sized pieces and place two pieces on each skewer (add a small grape tomato with the tofu if you like).
Pre-heat oven to 350˚F. Bake or grill chicken for 5-7 minutes, or until the juices are clear. Bake or grill salmon for 3-5 minutes. Bake or grill tofu for 2 minutes.